Fuel price: NLC's call for strike hypocritical, not in interest of the masses, says NYCN
- The NYCN has opposed the planned mass action by labour unions in the country
- Labour leaders have threatened to go ahead with their plan over the increase in fuel price
- The NYCN alleged that the plan by the labour leaders is not in the interest of Nigerians
PAY ATTENTION: Click "See First" under the "Following" tab to see Legit.ng News on your Facebook News Feed!
The National Youth Council of Nigeria (NYCN) have alleged that the planned mass action by the Nigerian Labour Congress (NLC) and Trade Union Congress (TUC) over the increase in fuel price and removal of subsidy is only for selfish, political reasons and not in the interest of Nigerians.
The council alleged that top officials of the union have already been compromised and induced opposition elements to frustrate reforms in the petroleum sector and score political points.
Solomon Adodo, president NYCN, while addressing a press conference in Abuja on Thursday, September 24, said the labour unions are only being unpatriotic and hypocritical in their move and consequently misleading Nigerians.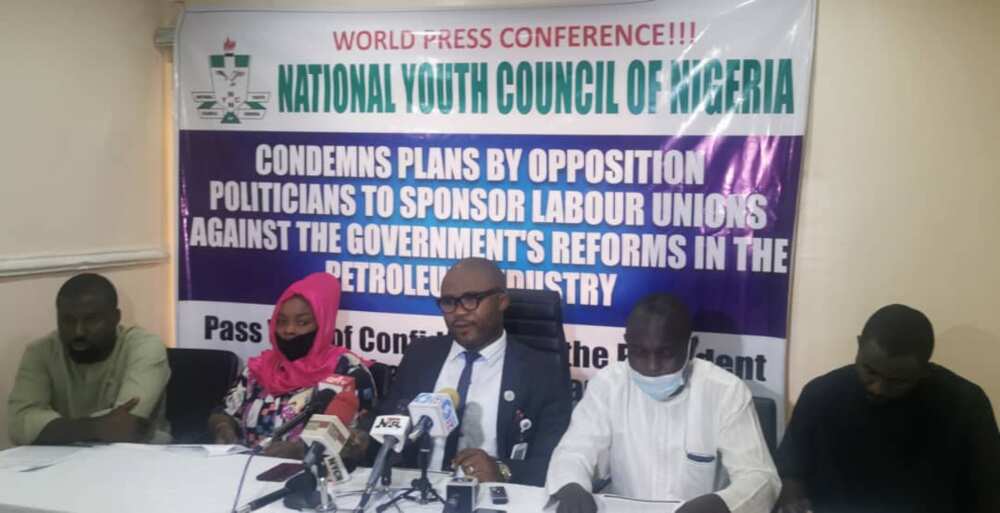 Adodo argued that the NLC and TUC are aware that subsidy was withdrawn months ago, when the Nigerian National Petroleum Corporation (NNPC) Group Managing Director, Mr Mele Kyari announced that subsidy was gone forever.
His words:
"It is surprising and hypocritical that they are now trying to blackmail the federal government and advance unfounded arguments. This gives clear credence to the fact that the labour unions have been seriously compromised to score political points.
"If the NLC and TUC did not see the need to argue over the withdrawal of subsidy some months ago, simply because the prices were lowered, it will amount to hypocrisy to start a threat of strike now that the economic reality of a global oil market is before us. It is a show of inconsistency and lack of understanding of the implication of converging economic issues.
"This is no more agitation for the improved welfare of the masses but a serious attempt to subvert the government for political purposes."
Adodo added that the argument of Nigeria returning to the needless and retrogressive subsidy regimes is unsustainable and cannot sail through.
PAY ATTENTION: Install our latest app for Android, read the best news on Nigeria's #1 news
Recall that the federal government recently addressed the recent issues surrounding the price of fuel and electricity tariff.
Minister of information and culture, Alhaji Lai Mohammed, at a press briefing in Abuja on Monday, September 7 said the angry reactions that have greeted the latest prices of petrol are "unnecessary and totally mischievous."
Alhaji Mohammed added that the federal government can no longer afford to subsidize petrol prices, "because of its many negative consequences."
Civil societies kick, plan mass action against fuel price hike | Legit TV
Source: Legit.ng