Nigerians unite to proudly celebrate #NaijaLikeNeverBefore this Independence Day
With the world at the cusp of entering into a new 'post-pandemic' normal, Coca-Cola has taken on the task of rejuvenating and uplifting the Nigerian spirit through it's Open Like Never Before campaign. As an extension of this, to celebrate Naija @ 60, Coca-Cola has assembled an enviable line-up of top music stars to produce an epic and exclusive virtual music concert and National Anthem sing-off aimed at celebrating and reuniting Nigerians under our most acclaimed area of commonality, our music.
The virtual experience is one in a robust schedule of activities by Coca-Cola Nigeria to mark the 60th Independence Day celebrations. Having been in the country since 1951, this celebration also marks a significant milestone in the company's operations in Nigeria.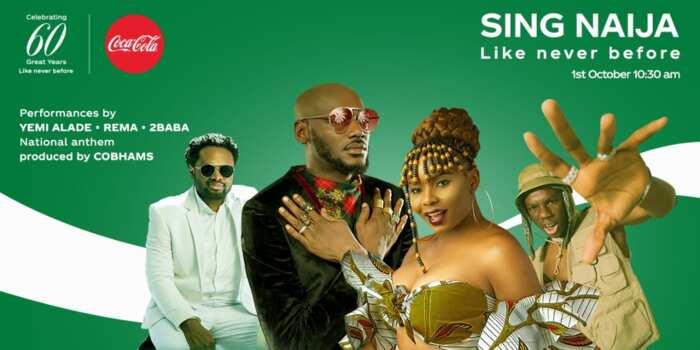 Speaking about the #NaijaLikeNeverBefore initiative, 2Baba commented: "I am really excited to join Coca-Cola to fully portray the buoyant spirit and pride of our people. We want to honour and celebrate a nation that shows its resilience time and time again."
2Baba urges Nigerians to: "Tune in to the Coca-Cola Nigeria YouTube channel on October 1st, 10:30am (West African Time) for an exclusive virtual concert, it's going to be a first! It's going to be epic! Come let's paint the internet green and white to celebrate #NaijaLikeNeverBefore!" Monali Shah, marketing communications director. West Africa Business Unit Coca-Cola, explains: "We created the music experience to celebrate and honour the nation as one indivisible country. #NaijaLikeNeverBefore will uplift the spirit of togetherness, foster authenticity and positivity of Nigerians as we celebrate Naija @60."
The aim of this experience is to drive Nigerians in Nigeria and around the world to renew their commitment to our great nation in a sensational and awe-inspiring virtual concert, featuring performances by Nigeria's biggest and coolest acts, including, Rema, Yemi Alade, Cohbams and 2Baba.
To learn more about Naija @ 60, follow Coca-Cola Nigeria on Twitter and YouTube.
[Sponsored]
Source: Legit Newspaper