Fuel, electricity price hike: NLC says there is no going back on protest
- NLC says it is not going back on its planned protest action
- According to the labour body, the FG is yet to reverse the hike in fuel and electricity
- Meanwhile, there are mixed reactions from Nigerians on the proposed action
PAY ATTENTION: Click "See First" under the "Following" tab to see Legit.ng News on your Facebook News Feed!
Nigerians should be prepared for a nationwide protest over fuel and electricity price hike, the Nigeria Labour Congress has insisted.
The NLC said there is no going back on September 28 action, NLC president, Ayuba Wabba, said in a press briefing.
He said the protest action was inevitable since the federal government has refused to reverse the increase in electricity and fuel prices, Channels TV reports.
"Whereas the entire privatisation process, the entire sector was sold at about N400 billion. We are also surprised that government, within the last four years, injected N1.5 trillion over and above the amount that was used to sell these very important assets.
"And therefore NEC came to the conclusion that the entire privatisation process has failed and the electricity hike is actually a process of continued exploitation of Nigerians."
He added that things will be harder for average Nigerians with the increase in the price of Premium Motor Spirit (PMS).
"On the issue of the refineries and also the increase in the pump price of PMS, these have further eroded the gains of N30,000 minimum wage.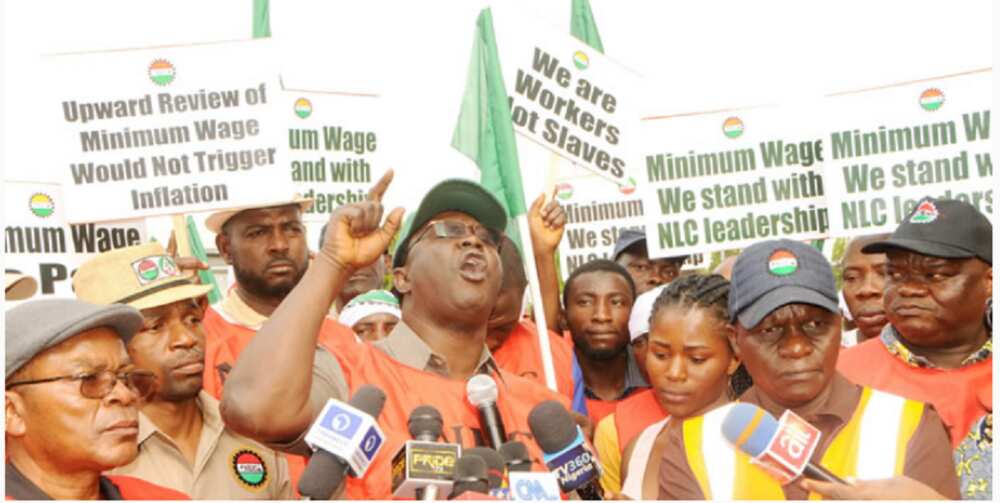 Meanwhile, Nigerians on Facebook have started reacting to the issues raised above. Here are some reactions curated.
Abdullahi Tanko wrote:
"If the Refinery left in the hands of government it will continue to experience the same problem it is experiencing now. I do not think that it is the business of the government to run the Refinery. It should be the business of the private sector to run the Refinery."
Sunday Amos commented:
"Push and start NLC, on the last day of the threat, when money might have exchange hands, they will abandon the protest. Nobody is trusting this present day NLC, a big shame."
Uzezi Akugha wrote:
"What is wrong with all these unionist people? Is it that up till now they don't understand simple economics? First, they ask for salary increase without increase in production- then the govt have to source for d money elsewhere - see where it landed us."
Chibueze Uchenna wrote:
"Nigerians should be careful with Ayuba Wabba who told u he was not aware before the increments were made. Follow him and see the end."
Lucas Francis:
"APC came to power with a lot of protest and demonstration but now Nigerians can not protest in their own government without being shot at, arrested and abused by security operatives."
Meanwhile, Legit.ng had reported that the Trade Union Congress (TUC) in Nigeria collaborating with the NLC resorted to a nation-wide strike and protest as their means of kicking against the petrol price and electricity tariff hike.
5 years after, Nigerians speak about Buhari's administration | Legit TV
Source: Legit.ng