Opinion: How Oshiomhole lost to Obaseki
In this opinion, Aanu Adegun writes on the winner and loser of the just concluded governorship election in Edo state by scoring the warring duo of Obaseki and Oshiomhole in terms of their loses and wins.
PAY ATTENTION: Click "See First" under the "Following" tab to see Legit.ng News on your Facebook News Feed!
It is their fight and their war. We have no justification to gloat or take sides. Whether we accept it or not, they are one. However, as spectators, there is no crime in us helping them keep scores, given the fact that we are a football-loving nation. With this, permit me to score the two political gladiators. (Please note that Oshiomhole's name was not on the ballot paper but he has everything riding on the election)
Here are my analysis of the scores.
Adams Oshiomhole - 1
The former Edo state governor won the first round of the game by denying Obaseki a second term ticket on the platform of the All Progressives Congress (APC). This led to the eventual exit of the governor from the ruling party. This is a big win for the former labour leader.
Governor Godwin Obaseki - 2
Score 1 - Before exiting the APC, the governor orchestrated the suspension of Oshiomhole in Etsako Ward 10. This eventually led to the former governor's sack as the national chairman of APC.
Score 2 - It is a common knowledge that Oshiomhole invested everything in ensuring that his prefered candidate, Pastor Osagie Ize-Iyamu emerges victorious in the just concluded governorship election. The former governor knelt down, begged people, did everything he could probably do and at the end of the day, Ize-Iyamu lost gallantly. He lost with over 80,000 deficits. Hence, Obaseki won this round.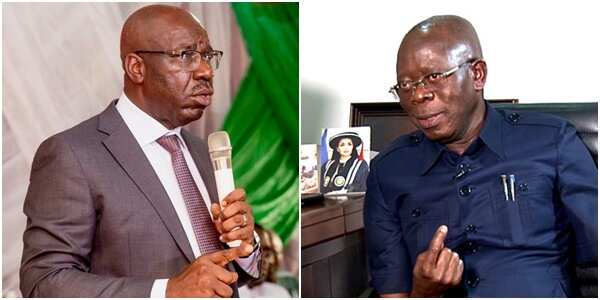 Conclusion
Even though the final score is out, we are yet to know the full impact of it on the long term political future of the one-time outspoken national chairman of APC. This defeat might be his political end or we might see him in another capacity on our political landscape soon or later but as it stands today, 'Obaseki's victory over him' is complete and final. It will always go before and after Oshiomhole.
Your own opinion articles are welcome at info@corp.legit.ng— drop an email telling us what you want to write about and why. More details in Legit.ng's step-by-step guide for guest contributors.
Contact us if you have any feedback, suggestions, complaints or compliments. We are also available on Twitter.
Source: Legit.ng