Abule-Ado explosion: BBC's new evidence contradicts NNPC report
- New contradictory reports concerning the real cause of the Abule-Ado explosion in Lagos that took place in March have emerged
- The BBC Africa Eye in its investigation revealed that the fire outbreak was as a result of too much pressure caused by the weight of a heavily laden truck that rested on gas pipeline
- Earlier, the NNPC in Lagos had claimed that the disaster started when the truck hit some cylinders that were close to its pipelines
PAY ATTENTION: Click "See First" under the "Following" tab to see Legit.ng News on your Facebook News Feed!
An investigation carried out by the British Broadcasting Corporation (BBC) has revealed new truth concerning the cause of the gas explosion that ravaged the Abule-Ado area of Lagos in March 2020.
After the devastating inferno that killed not less than 23 persons and brought down girls boarding school in the Soba part of the area, a report from the Nigerian National Petroleum Corporation (NNPC) claimed that the fire outbreak erupted when a truck hit gas cylinders close to its pipelines.
However, after its investigative work, the BBC Africa Eye revealed in its report that prior to the explosion, there was a massive leak of vaporised liquid at the same spot where pipelines belonging to the NNPC stretch under the ground.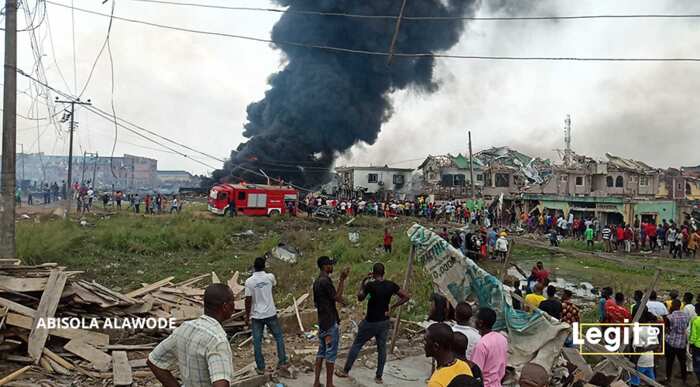 Apart from stating that there was no gas processing plant at the scene of the disaster, the BBC in its analysis disclosed that gas cylinders reportedly hit by the vehicle could not have been at the epicentre of the explosion.
The BBC evidence made it clear that the said truck stopped on an eroded road softened by flood and thus pressured the pipeline to breaking point, releasing a cloud of vapourised flammable petroleum product.
PAY ATTENTION: Install our latest app for Android, read the best news on Nigeria's #1 news app
Admitting this fact, Dr Ambisisi Ambituuni, a petroleum pipeline safety expert, told the BBC that the System 2B pipeline network has "been in existence for way over the lifespan of the pipeline. How is it so difficult for the operator to maintain the safety of those pipelines?"
Moreover, on his part, Ebun Olu Adegboruwa, a human rights activist and senior lawyer said:
"Incidences of fire disasters have become commonplace for Lagosians. It just more or less reiterates the need for the government to be responsive and to hold accountable those who are working in the sector in terms of maintaining global best practice in their operation."
Meanwhile, Legit.ng reported that Kennie Obateru, a spokesperson of the NNPC, disclosed that the blast which occurred on Sunday, March 15, happened after a truck hit some gas cylinders stacked in a gas processing plant located near the corporation's System 2B pipeline right of way.
Citing preliminary findings, the NNPC spokesperson said the report indicated that the impact of the explosion was huge that it led to the collapse of nearby houses and damaged some NNPC pipelines.
We don't have a government in Nigeria - man laments after Abule Egba explosion | Legit TV
Source: Legit