Reactions as Buhari's government plans to mark independence with one year celebration
- This year's anniversary will be celebrated for a full year and many Nigerians are unhappy about it
- Nigeria will mark 60 years of independence on October 1, 2020, and the FG wants to make a statement with it
- According to the government, the ceremony will end September 30, 2021
PAY ATTENTION: Click "See First" under the "Following" tab to see Legit.ng News on your Facebook News Feed!
The federal government has come under heavy criticism over its plan to mark Nigeria's 60th Independence anniversary for a whole year.
Chief among the critics are ethnic nationalities and socio-cultural organisations like the Pan Niger Delta Forum (PANDEF), the Middle Belt Forum, Arewa leaders and stakeholders within the Aka Ikenga, an Igbo socio-cultural organisation and Afenifere.
They all condemned the plan, labelling it "a joke."
According to them, Buhari's administration lacks focus on what Nigeria actually needs to progress and unite.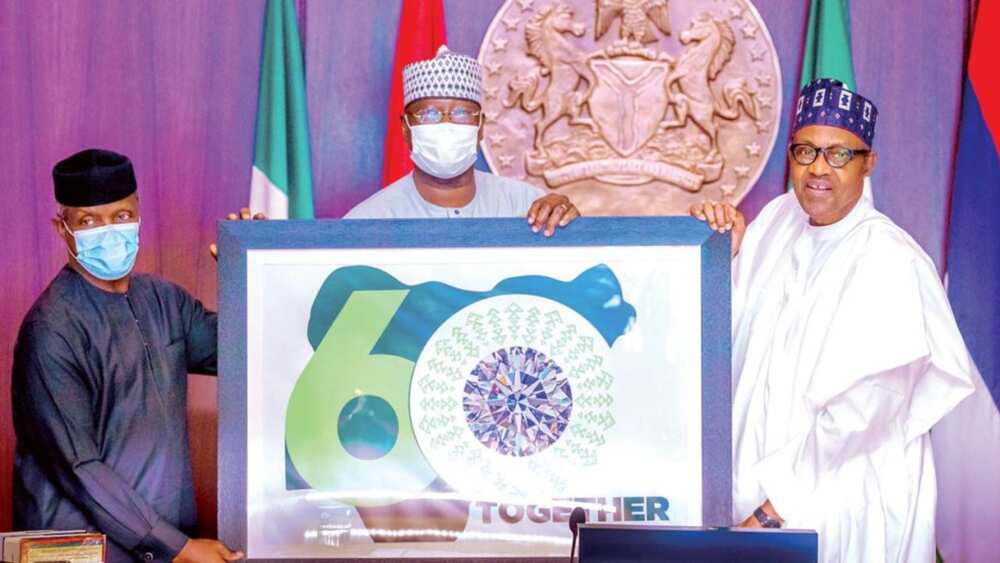 Chief Ayo Adebanjo, an Afenifere chieftain, said President Buhari and his party were "joking and unfortunately toying with the destiny of the country. How can someone tell us he wants to spend a whole year to mark the anniversary of a nation that is in a crisis? Before we are talking of restructuring but today each of the ethnic nationalities is clamouring for secession and to stand on their own."
On his part, Isuwa Dogo, a former commissioner in Kaduna state, said: "If Buhari truly meant to unite Nigeria what he should do is to simply adopt the report of the 2014 National Conference and implement it. "Instead of spending 365 days to mark Independence, he can as well spend three months to study the contents of the 2014 National Conference report and use it to restructure the country. The unity that has escaped would return immediately."
Recall that Legit.ng had reported that Nigeria will be celebrating its 60th independence anniversary on October 1, 2020, and the federal government said the celebration will be observed for a year, ending on September 30, 2021.
This information was disclosed on Wednesday, September 16, while President Muhammadu Buhari announced the theme for the independence celebration at the Council Chambers of the Presidential Villa, Abuja, The Guardian reports.
According to the Nigerian leader, the theme of this year's Independence Day celebration is "Together Shall We Be." He explained that the theme had been chosen to forge a more united and cohesive Nigeria.
Legit.ng had also reported that President Buhari unveiled the logo for the celebration of Nigeria's 60th independence.
The president unveiled the Nigeria at 60 emblem during the Federal Executive Council (FEC) meeting held in Abuja on Wednesday, September 16.
The weekly FEC meeting was attended by Vice President Yemi Osinbajo and some ministers.
Who's the better leader between President Buhari and Dr. Goodluck Jonathan? | Legit TV
Source: Legit.ng