Nigerian lady says she wants to return to Libya despite being tortured and molested
- Irene Ehime, a lady that returned from Libya, says she will like to go back to the North African country because things are not easy for her in Nigeria
- The young lady shared the terrible experience she had in Libya, including being tortured and raped
- Ehime said if she had anyone that could help her and her kids in Nigeria, she would not think of travelling to Libya in the first place
PAY ATTENTION: Click "See First" under the "Following" tab to see Legit.ng News on your Facebook News Feed!
A Nigerian lady identified as Irene Ehime has shared the terrible experience she had while she was in Libya.
In an interview with Legit TV, the 25-year-old lady said she travelled to Libya for the purpose of migrating to Spain afterwards.
The single mother-of-two, who recently lost the father of her kids, said she was tortured and raped in Libya by two men.
She said she was not told by her trafficker that she would be molested in Libya, adding that she felt bad after going through such horrible experience because she did not see it coming.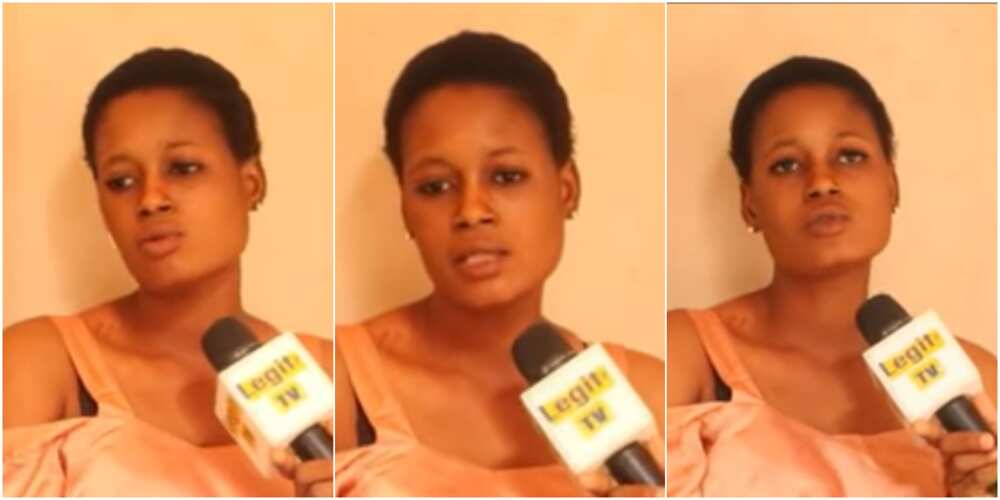 Irene, however, said she would like to go back to Libya because things are tough for her in Nigeria.
She said: "I'm suffering seriously because I really want to take care of my children and give them good education."
Apart from Irene, other Nigerian ladies have returned to the country and the horrible experience they had in the North African country would not make anyone think of going back there.
A 24-year-old Nigerian lady identified as Omolara Akintayo said she regrets travelling to Libya in search of greener pastures.
Omolara said she travelled to Libya in search of greener pastures because her parents were languishing in poverty.
The young lady narrated the ordeal she went through on her way to Libya, saying she spent 14 days to get to the North African country.
According to her, while they were in the desert, some people lost their lives and others were forced to drink water mixed with faeces as there was no clean water and food.
Omolara said two of her friends were raped in the desert during their trip to Libya.
She said: "Many things happened on our way. If I had heard about them before leaving Nigeria, I wouldn't have travelled to Libya."
My Migration story: I went to Libya because my parents were poor | Legit TV
Source: Legit.ng