Generous teen helps kids from poor homes, gives them desks to study
- A teen has warmed many hearts after deciding to build study desks for less fortunate kids
- Colby Samide from Purcellville, Virginia, realised that students will be doing a lot of schoolwork at home due to the pandemic
- He also noted that many of them would not be able to afford pricey desks and so he set out to build new ones for them
PAY ATTENTION: Click "See First" under the "Following" tab to see Legit.ng News on your Facebook News Feed!
Colby Samide from Virginia in the US has touched many hearts and lives with his great act of kindness. The coronavirus crisis has resulted in tough and uncertain times for many all across the world. Those hardest hit by the unfortunate pandemic are the poor.
Many changes were made to accommodate the fight against Covid-19, including learners staying away from their schools to avoid spreading the deadly virus. This meant that students soon needed comfortable and conducive spaces to do their homework.
Unfortunately, not everyone could afford the pricey desks sold at local stores. This is something that 16-year-old Colby, who is a learner himself, took into consideration. He then set out to find a way to remedy the problem.
This is when - according to The Western Journal - he thought of the great and laborious idea to build the desks for the needy students himself. Colby first discovered his special skill for building desks when he built one for himself.
He then set out to award others the same satisfying feeling of having a comfortable space to complete their studies.
"It's sad knowing there are kids that can't afford them," the 16-year-old said.
He then set up a page called 'Desks for Distance', a Facebook fundraising page to help him get supplies to build the desks. Within 48 hours Colby received over R38,000 in donation money, something he was absolutely thrilled about.
"It absolutely blew up," he told PEOPLE magazine. "People kept sharing it."
Soon Colby, who teamed up with other kindhearted locals, was able to build around 50 desks a day, helping many students in need.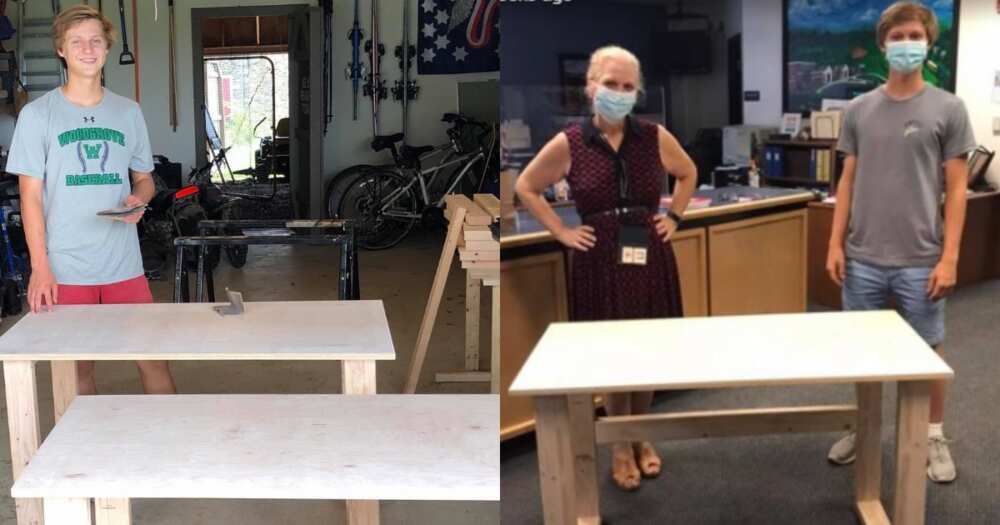 PAY ATTENTION: Download our mobile app to enjoy the latest news update
Meanwhile, Legit.ng earlier reported that good fortunes smiled on a 21-year old armless lady, Ada Aniwetalu, as she was gifted a newly built three-bedroom bungalow and a scholarship award by the church.
Ada was born without arms but she was determined to pull through the rigours of life with the aid of her legs.
She does not only walks with her legs, but she also writes and does domestic chores required of humans with her toes.
Moro: Community, school without water get massive help after Legit tv report | Legit TV
Source: Legit.ng