Woman receives postcard 100 years after it was mailed
- According to Brittany Keech, the postcard she found was sent on October 29, 1920
- Posting on a Facebook group identified as Positively Belding, she asked netizens to help her trace the family
- The woman found the card in her mailbox on September 9, 2020
A woman has taken to social media to share an interesting story of a postcard that she received in her mailbox.
According to the lady identified as Brittany Keech, the card is dated back to 100 years ago and she received it on September 9, 2020.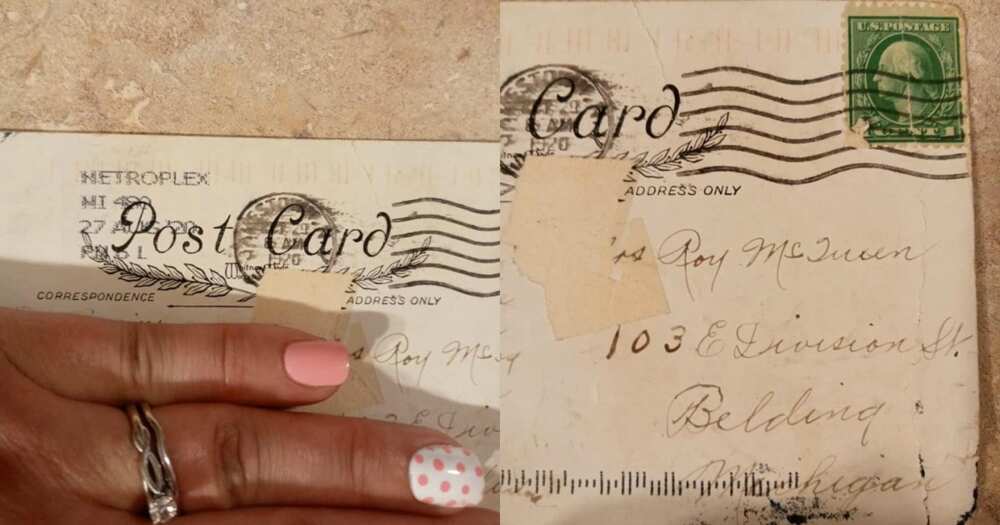 Brittany shared a photo of the card in a Michigan Facebook group identified as Positively Belding asking if anyone knew anyone who goes by the name on the letter.
In her post, the lady said that the old postcard is dated October 29, 1920.
"Ok so i received this in the mail today. It appears to be a really old letter. I would like to get it to the or to a family member. Does anyone know this person? Their first name is missing. Just saw that it is dated for October 29th 1920. Any help would be great," wrote Brittany.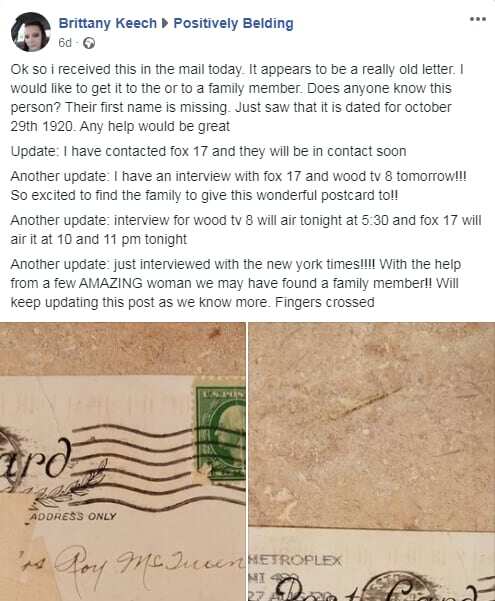 Brittany said she had contacted Fox 17 and will soon be going for an interview so as to trace the family.
"Update: I have contacted fox 17 and they will be in contact soon. Another update: I have an interview with fox 17 and wood tv 8 tomorrow!!! So excited to find the family to give this wonderful postcard to!" She wrote.
Meanwhile, Legit.ng previously reported that a 200-year-old Valentine Day's card was rediscovered as people from around the world celebrated 2020 Valentine's Day.
The card was bought by Gavin Littaur, a fan of old school Valentine's Day cards.
PAY ATTENTION: Install our latest app for Android, read the best news on Nigeria's #1 news app
Littaur bought the card two decades ago and it has been sitting in an album ever since.
The Valentine's card dating back to 1818 is one of the oldest known in existence.
Littaur said: "I'm a bit of a romantic and just talking about this Valentine rekindles my love for it. It's beautiful -- exceptionally so, in fact."
He, however, cannot remember how much he purchased the card, but said it was expensive at the time.
Source: Legit