List of President Trump's fulfilled and abandoned campaign promises
The president of the United States, Donald Trump, is seeking a second term in office in the forthcoming November presidential election.
PAY ATTENTION: Click "See First" under the "Following" tab to see Legit.ng News on your Facebook News Feed!
With roughly four years in office, BBC evaluated the promises made by the president when he was seeking the office in 2016, highlighting those he achieved and the ones he did not.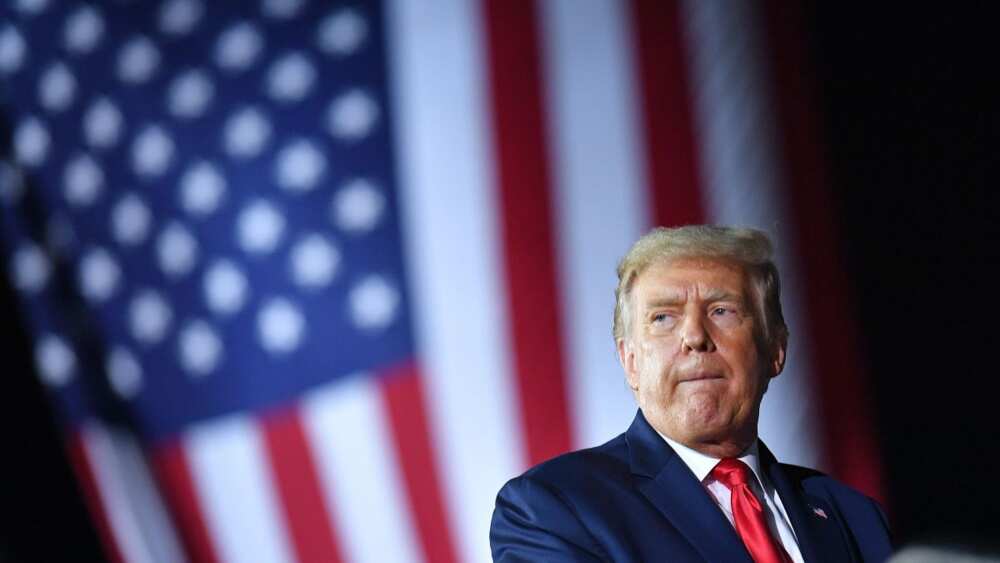 Legit.ng lists the promises below:
Delivered promises:
1. Tax cuts
While seeking the election, President Trump promised to lower the corporate tax rate and bring in huge tax cuts for working Americans.
BBC rates this promise as delivered, noting that the Republican tax plan passed in December 2017 largely ticks the box for the American president
2. Paris climate deal
President Trump believed climate change is a hoax concocted by China and alleged that the Paris climate deal is stifling American growth.
He has pulled the US out of the deal and the official exit takes effect in November.
3. Supreme Court nominee
President Trump promised to appoint a conservative justice if elected. So far, he has appointed two - Neil Gorsuch and Brett Kavanaugh.
4. Bombing IS
In 2015, President Trump warned that he would bomb the terrorist group Islamic State group into obliteration.
So far, he has ordered the biggest non-nuclear bomb in the US arsenal on an IS-stronghold in Afghanistan.
5. Moving Israel embassy
Amid widespread condemnations, Trump in 2017 formally recognised Jerusalem as Israel's capital and approved moving the US embassy.
Partially delivered promises
6. Bringing troops home
Trump has long called for the US to leave the Middle East, saying the region was a "total and complete mess".
In 2018, President Trump ordered the withdrawal of all US troops from Syria, though about half the troops, approximately 500, still remain.
7. Trade deals
Trump fulfilled his pledge to withdraw from the Trans-Pacific Partnership (TPP). He later said he would consider re-joining the TPP if he got a better deal.
The US and South Korea also signed a revised trade pact in September 2018, amid others.
8. Ban on Muslims
Trump had promised to ban all Muslims entering the US. So far, one of the travel bans he introduced has scaled through.
The US Supreme Court ruled that his ban on six mainly Muslim countries can go into full effect, pending legal challenges.
The current ban restricts travellers from Iran, Libya, Somalia, Syria, Yemen, Venezuela and North Korea.
9. Cuba diplomatic deal
President Trump had in 2016 said he would reverse the deal President Barack Obama had struck to reopen diplomatic relations and improve trade.
In 2019, he announced a ban on travel to Cuba for American group tours as well as cruise ships journeying to the island.
10. Obamacare
President Trump also promised to repeal and replace Obamacare, a healthcare initiative put in place by former president Obama.
While the US president has managed to dismantle parts of the law, the Republicans have been unable to pass a repeal or reform bill.
11. A border wall paid for by Mexico
The US president also vowed to build a wall along the US-Mexican border, adding that Mexico would pay for it.
While he could not get Mexico to pay for the wall, Trump has reportedly redirected defence and some other funds to build or replace sections of the wall, amid legal challenges.
12. Labelling China as currency manipulator
In line with his pledge, the Trump administration officially named China as a "currency manipulator" in 2019.
However, in January 2020, the US reversed its decision when China had agreed to refrain from devaluing its currency to make its own goods cheaper for foreign buyers.
Below are the promises where he has made no progress according to BBC:
13. Deporting all illegal immigrants
14. Rebuilding infrastructure
The promises he has abandoned:
15. Ditching The North Atlantic Treaty Organization (NATO)
16. Torture: Trump had said he would approve waterboarding and make it worse, saying "torture works".
17. Prosecuting Hillary Clinton
PAY ATTENTION: Install our latest app for Android, read the best news on Nigeria's #1 news app
Meanwhile, major polls conducted so far have indicated Democrat's candidate, Joe Biden, is ahead of President Trump in battleground states.
Poll analysis experts such as The Economist has also predicted that Biden is likely to beat Trump
4 implications of Trump's ban on Nigerians from the USA | Legit TV
Source: Legit.ng