Edo election: You can't plan Edo economy on optimism, Obaseki chides Ize-Iyamu
- Obaseki has faulted Ize-Iyamu's proposed plan on Edo economy
- According to the governor, the economy cannot be planned on optimism
- The governor was reacting to Ize-Iyamu's answers during governorship debate on a national TV
PAY ATTENTION: Click "See First" under the "Following" tab to see Legit.ng News on your Facebook News Feed!
Edo state governor and candidate of the Peoples Democratic Party (PDP), Godwin Obaseki, has chided candidate of the All Progressives Congress (APC), Osagie Ize-Iyamu over the latter's speculative answer to the governor's question during the Channels Television Edo state governorship debate held on Sunday, September 13.
During the question and answer session of the two-hour debate, Obaseki asked his opponent: "In the light of the post- Coronavirus pandemic (COVID-19) economy, and going through your Simple Agenda, in the first year alone, you will require close to about N500 billion to do all the things you want to do for Edo people. How and where do you intend to get that money from?"
In his response, Ize-Iyamu said: "With what we have in mind, we are very optimistic that COVID or no COVID, our revenue will improve and we will be able to do most of the things that we plan to do."
In his post-debate note made available to journalists by Mr. Crusoe Osagie, Special Adviser to the Edo state governor on Media and Communication Strategy, on Monday, Obaseki said:
"The APC candidate doesn't know how the economy works. You can't plan an economy, or the Edo economy for that matter, on optimism and speculation. Governance requires much more than optimism. You must have time-tested solutions well laid out in a development plan, and that is prepared in advance. That is why managers or leaders must have development plans.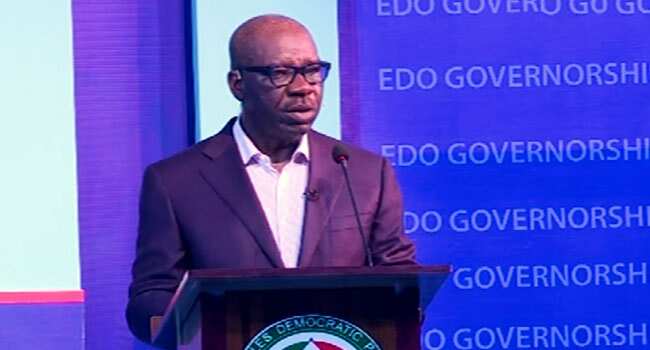 "It is a good thing to be optimistic, but Ize-Iyamu needs to understand that there are over four million mouths in the state that must be fed daily through a mix of job creation strategies. This requires hard thinking, planning ahead and ultimately, effective execution of development plans."
The governor stressed that "merely hoping that things will be fine is not sufficient. There must be deliberate efforts on the part of government to attract investment into the state, so that these investments will create jobs for the greater majority of Edo people.
"We are already doing that with EdoJobs, an agency that is matching job seekers with employers; creating direct and indirect jobs and training thousands of young people on industry skills that are in high demand across the globe."
Obaseki maintained that "Ize-Iyamu again missed the point when he dismissed the impact of COVID-19 with a wave of the hand," noting that: "dismissing COVID-19 and its negative impact on the economy is to live in denial. No leader who is abreast of current socio-economic trends will say COVID or no COVID, I will do this and I will do that.
"The pandemic has altered our lives, no matter which part of the world we are in, and irrespective of the sector we find ourselves. In the aviation sector, we have seen the unprecedented job losses. In agriculture, COVID-19 has disrupted input and produce supply systems, and has blighted the market.
"In the oil and gas sector, oil producing countries are grappling with low demand and low prices due to low production levels in the developed and emerging economies that rely on our crude oil for production activities. In the health sector, which is the worst hit, the attendant crisis is unprecedented as health facilities and personnel are stretched beyond limit. So, smart leaders must factor the impact of COVID-19 into their development agenda."
Meanwhile, Legit.ng had reported that Obaseki of Edo, says his predecessor, Comrade Adams Oshiomhole, borrowed recklessly when he was the chief executive of the state.
Governor Obaseki made the comment at the governorship election debate organised by Channels Television on Sunday, September 13.
Pastor Osagie Ize-Iyamu, the All Progressives Congress (APC) candidate had accused Governor Obaseki of taking huge loans with nothing to show for it.
Responding, Obaseki said a larger part of the loan was taken when Oshiomhole was governor of the state.
Legit.ng had also reported that Obaseki has been honoured as the Most Outstanding Governor of The Year 2019 by the Nigerian Association of Christian Journalists, Edo state chapter.
Presenting the award to the governor during his reelection campaign in Eyaen Wards 5 and 6, in Uhunmwode local government area, secretary-general of the association, Dr Charles Okhai, noted that the honour was on the back of the governor's sterling performance across all sectors of the state.
Edo election: Obaseki's win will send Oshiomhole into political oblivion | Legit TV
Source: Legit.ng