Edo election: Oshiomhole speaks on Obaseki's power of incumbency
- Adams Oshiomhole, once again, makes new revelations about his frosty relationship with Godwin Obaseki
- The former governor says nothing could have told him that Obaseki would betray him after becoming his successor
- He also says at this stage, the power of incumbency cannot save Obaseki from being defeated
With six days to the governorship election in Edo, the power of incumbency factor may come into play, but it is a two-pronged tool, says Adams Oshiomhole, former chairman of the All Progressives Congress (APC).
Oshiomhole said this in an interview with Vanguard in which he also spoke on how the crisis between him and his successor, Godwin Obaseki, started.
Oshiomhole, who noted that there was the incumbency factor in politics, however, added that it can only favour a governor who performs excellently in his first time.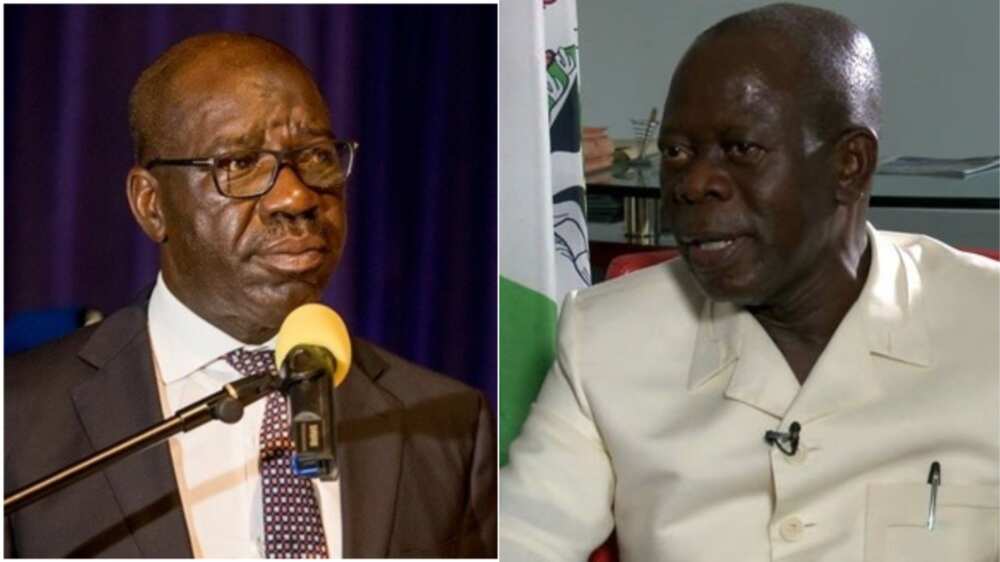 "Now, incumbency can be an advantage and at the same time it can be a liability.
"When a governor has performed, then you can use the slogan 'tested and trusted', but when a governor has failed woefully like Obaseki, he is tested and failed and it is not difficult," he said.
Oshiomhole also lamented that Obaseki turned hostile after succeeding him.
According to him, Obaseki "tried to destroy my legacies and even lied effortlessly on a variety of issues."
He, however, said he was happy because the people have shown that they cannot be fooled and that they have very fond memories of his (Oshiomhole's) time and his style.
"I remain proud that people are quite appreciative. Even the human touch, the recognition that you are just another guy down the road that God has favoured using people to make you the governor which is very transient and that there is life after it," he said in the interview.
Asked why he did not see the alleged wrong side of Obaseki as he had claimed before supporting him as governor, Oshiomhole said it was impossible to vouch for the character of a man until he has money or power or both.
According to him, Obaseki did not believe in the development agenda of Edo but he successfully pretended for eight years.
"Otherwise the Benin-City master plan, how could any Benin man who sees the flooding problem in the city abandon that project?
"You know what it is now when it rains. I think Obaseki is just a proverbial debtor who thinks tomorrow is far," he said.
Concerning the election, he said Obaseki had shown he was too desperate and that he had since 2019 declared that it was his right to seek re-election.
PAY ATTENTION: Install our latest app for Android, read best news on Nigeria's #1 news app
Legit.ng earlier reported that security agencies in the country had expressed their preparation to ensure that the governorship poll is held without violence.
Edo election: Obaseki's win will send Oshiomhole into political oblivion | Legit TV
Source: Legit.ng