Covid-19: Jonathan urges African leaders to seek homegrown solutions to economic problems
- Former president Jonathan has advised African leaders on how to deal with economic challenges amid the Covid-19 pandemic
- According to Jonathan, African nations should look for homegrown solutions to the economic challenges
- The former president added that the pandemic has taught countries about the need to review trade relations and focus more on local production, with less dependency on imports
PAY ATTENTION: Click "See First" under the "Following" tab to see Legit.ng News on your Facebook News Feed!
Nigeria's former president, Goodluck Jonathan, has advised African leaders on how to solve economic challenges amid the coronavirus pandemic.
Jonathan urged African nations to look beyond the challenges occasioned by Covid-19 and identify the opportunities it holds for homegrown solutions for economic problems.
Legit.ng reported that the former president stated this on Friday, September 11, at a virtual International Leadership Summit organised by the Universal Peace Federation (UPF).
He noted that the outbreak of the virus had taught countries about the need to review trade relations and focus more on local production, with less dependency on imports.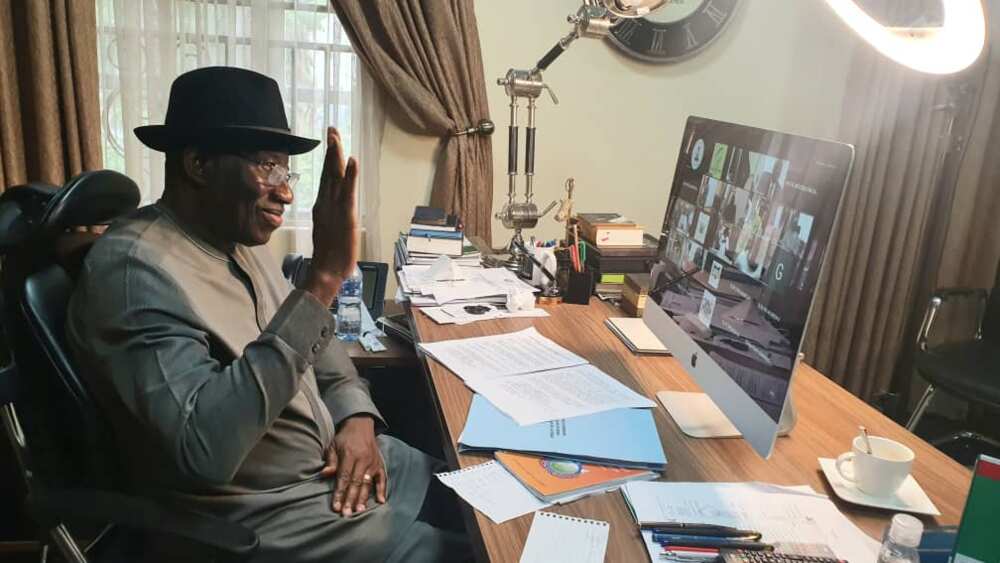 Urging African nations to look inwards for local solutions, Jonathan also emphasised the need for improved relations and closer economic cooperation between Africa and Europe, the Middle East and other parts of the world.
He further made a case for more beneficial trade relations between Africa and Europe.
"A situation where commodity producers in Africa continue to find it difficult to export produce because of stringent quality control conditions from their European trade partners is neither sustainable nor mutually beneficial.
"A good way of redressing this is for Africans to seek collaboration with European entrepreneurs with a view to setting up cottage industries in Africa to process raw materials at least to a level that they would fit into the value chain for European producers.
"This way, African nations would strengthen their economies and provide more jobs for their teeming youth population. When African economies develop reasonable level of stability and prosperity, it would enable them to manage crises better," the former president submitted.
He also highlighted some values that became manifest during the Covid-19 period and the need for leaders to maintain and further develop them, post-crisis.
These according to him include values of sacrifice, solidarity as well as capacity for organisation.
"In practically all parts of the world, the first thing that was common to many countries was the willingness of people, generally to make sacrifices in the fight against the disease. These included the frontline health workers, many of who lost their lives in the struggle to save others.
"Despite the fact that the first wave of the disease was in its most active stage, people extended love to one another, offering all manners of help – from food items to hygiene kits, medical equipment and of course, as well as education on how to stay safe by observing the safety protocols. In the quest for a new world, that model should be embraced for good," he said.
PAY ATTENTION: Install our latest app for Android, read the best news on Nigeria's #1 news app
Earlier, Legit.ng reported that Jonathan recently held a brief meeting with the president of the African Development Bank (AFDB), Akinwumi Adesina.
The former president disclosed on Thursday, September 10, that the president of AFDB paid him a visit.
Adesina served as Nigeria's minister of agriculture and rural development under the Jonathan administration from 2010 – 2015, before he was elected president of AFDB.
Who's the better leader between President Buhari and Dr. Goodluck Jonathan? | Legit TV
Source: Legit.ng