Security guards help woman, 36, give birth at busy taxi interchange
- Security SA (SSA) operations staff member, Rafeeq Khan, gushed online after he helped a pregnant woman give birth
- The 36-year-old mom went into labour at the Station Deck on Wednesday
- She ended up giving birth at the busy taxi interchange and photos were posted on social media
PAY ATTENTION: Click "See First" under the "Following" tab to see Legit.ng News on your Facebook News Feed!
A 36-year-old woman was travelling the Somerset Hospital for a check-up when she went into labour.
The mom, Bomikazi Hlabongi, ended up giving birth at the busy Station Deck interchange. She approached Security SA (SSA) operations staff and they took her to the guardroom.
The staff then phoned an ambulance but it took too long to arrive and the officers had to assist Hlabongi to give birth.
One of the security officers, Rafeeq Khan, wrote about the experience on his Facebook page.
His post read:
"We always get judged on what we do and the steps we take to uphold the law, I was always told this uniform shouldn't define you as a person but how could I if I get to play different roles every day. Sometimes you a psychologist, fireman, mechanic and a bearer of bad news.
"Today was totally different, today I assisted mommy and other colleagues deliver a baby, today I became a doctor. Meet Lulandalo, born at 9:15 on the 09/09/2020. Congratulations mommy, all the best for you and baby. Dr. Khan."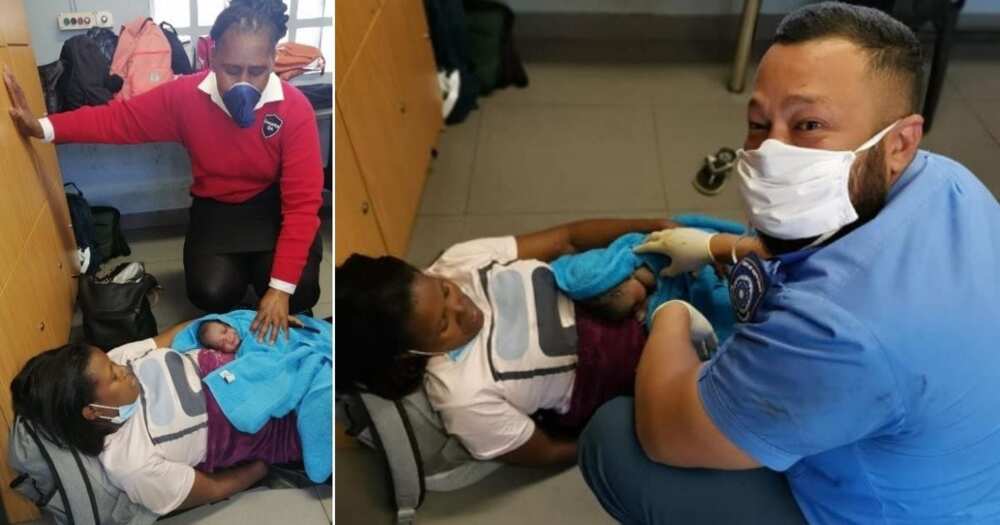 PAY ATTENTION: Do you have news to share? Contact Legit.ng instantly
South Africans congratulated the new mom and applauded those who helped her.
Hakierah Van Nelson commented:"Very good work guys, I wish all the staff will be able to do what you guys did, congratulations to the mother on the birth of her newborn, wish you guys only the best for the future."
Kulsum Ebrahim said: "Congratulations to the staff what a blessing and experience... Wonderful, God bless you all."
Jesmiena Leonard Doutie wrote: "Well done to the staff who delivered the baby."
Asma Harrison added: "Well done to the staff who delivered the baby safely. Amen, congratulations to mom and baby."
Legit.ng previously reported on a similar story. Members of the Putfontein SAPS station went above and beyond the call of duty when a woman went into labour. The lady had been at the police station with her husband when she went into labour.
According to Arrive Alive's website, officers at the station took the woman to the trauma centre and immediately called for an ambulance. However, before the ambulance could arrive, the cops helped the woman give birth to a healthy little girl.
Help arrived soon afterwards and both mother and newborn were transported to a hospital. Putfontein Station Commander Lt Col Wellington Mathiane praised the members and thanked them for going the extra mile to help the woman.
If you could choose your country of birth, what country would that be? | Legit TV
Source: Legit.ng