20-year-old lady with no arms and legs wows the world with amazing makeup skills
- Paloma Lopez, who grew up with no arms or legs, has wowed thousands with her ability to apply beautiful makeup
- Paloma has thousands of followers who are all avid watchers of her makeup tutorial videos
- At a very young age, Paloma lost all her limbs due to an illness
PAY ATTENTION: Click "See First" under the "Following" tab to see Legit.ng News on your Facebook News Feed!
Paloma is one 20-year old who has made it her mission in life to prove no one and nothing can hold the person back who really wants to succeed. As a child, she lost both her arms and legs to a merciless illness.
While losing all your limbs can result in a feeling of complete hopelessness, Paloma was determined to still do the thing that she loved doing - make-up. Not only did she teach herself the very complex skill, she also mastered it.
The Argentinian woman applies flaw-less makeup on herself using only her stumps and she also creates make-up tutorials for her over 7,000 followers, who are undoubtedly inspired by her deep-rooted passion.
"Growing up, not having limbs affected me, but now I am lucky. I study, I exercise, I swim, I surf, I put on my make-up and I am making my tutorials, which generate a big network," Paloma said in a Ruptly article.
Watch one of her famous make-up tutorials below.
Paloma is always at the receiving end of hundreds of likes and reactions beneath her posts. She is truly an inspiration for thousands of people.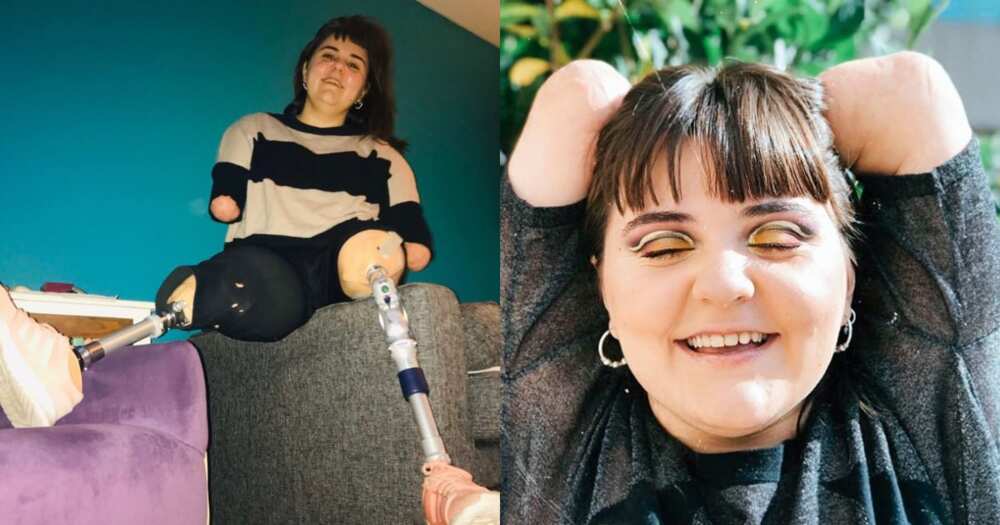 In other news, impossibility is nothing and could even be an inspiration. Jessica Cox's story is one of that.
Despite the fact that she was born without arms due to her rare genetic defect, she has never allowed that to stop her from living a life in full.
She is a black belt holder in taekwondo and does other activities like a person with both arms would. She also plays the piano, as well as scuba diving. At the top of her extraordinariness is that she is the first licensed pilot without arms.
Jessica said many always see her not having arms as a limiting factor, but that she is here to prove them all wrong.
I hate being pitied - Physically challenged maths teacher reveals | Legit TV
Source: Legit.ng