Malami says he is ready to testify before Justice Salami panel
- Malami has signified that he is ready to testify against Magu
- Recall that Magu's investigation started as a result of a petition against him by Malami
- Going further, Malami said he has nothing to hide
PAY ATTENTION: Click "See First" under the "Following" tab to see Legit.ng News on your Facebook News Feed!
As the corruption probe against Ibrahim Magu intensified, Abubakar Malami, says he is ready to testify before the Justice Ayo Salami-led Presidential panel.
Malami who is the Attorney-General of the Federation (AGF) and Minister of Justice, had authored the petition against the suspended Chairman of the Economic and Financial Crimes Commission (EFCC).
Consequently, Ibrahim Magu's camp has urged the the panel to summon the AGF for him to cross-examine him on the allegations in his petition.
Malami disclosed this on Wednesday, September 9, while featuring as a guest on Arise TV.
He insisted that he has nothing to hide and would not hesitate to give the Salami-led panel the full cooperation if need be.
"So, if indeed the Ayo Salami panel invites Abubakar Malami as a person or the AGF in the person of Abubakar Malami for any testimony, for any clarification, for examination or cross-examination for that matter, Abubakar Malami will wholeheartedly, gladly, within the spirit and context of the rule of law, be there to testify, be there to be cross-examined, be there to be examined within the context of the rule of law.
"Our position, as a government, is to be submisive to the rule of law and the rule of law component of it requires that when we are called upon to clarify issues, when we are called upon to be examined, when we are called upon to be cross-examined, Abubakar Malami will be there and will gladly cooperate with the inquiry institution and that indeed was an attribute of the government that translated to the victory we are seeing today arising from P&ID," he said.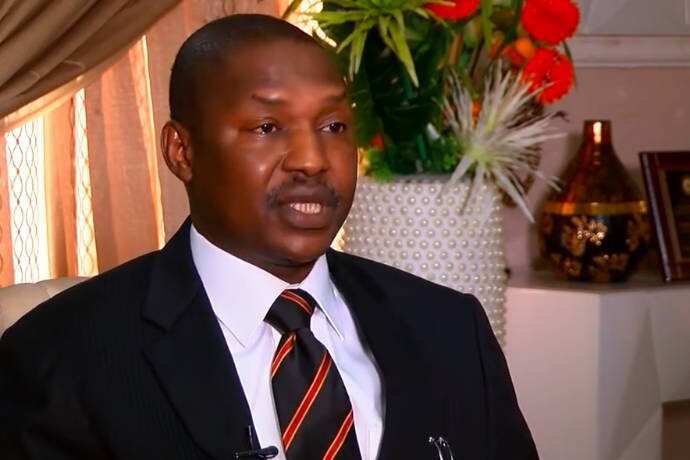 Meanwhile, Legit.ng had reported that as the probe of the suspended chairman of the Economic and Financial Crimes Commission (EFCC), Ibrahim Magu, continues, he is now seeking a recall of witnesses who testified against him.
Specifically, through his lawyer, Wahab Shittu, he wrote the Justice Ayo Salami-led investigative presidential panel on the case.
Magu said that the request to recall several witnesses is in the interest of fair hearing.
The lawyers also insisted that Magu was entitled to participate in the entire proceedings and also have an opportunity to cross-examine all the witnesses.
Legit.ng had also reported that Magu wrote to the special presidential panel probing him, requesting the appearance of Abubakar Malami, the attorney general of the federation, over the corruption allegation leveled against him.
The anti-corruption sheriff, who wrote through his legal representative Wahab Shittu, pleaded that Malami be summoned in a letter dated Friday, September 4.
Magu: Why did Buhari leave EFCC for Police people? | Legit TV
Source: Legit.ng