Elon Musk crashes from 3rd richest person in the world to 6th position
- Elon Musk went down from the third world richest person to sixth in days after losing a record $16.3 billion (N6,250,072,000,000) on Tuesday, September 8
- The PayPal founder also exited the centibillionaire club made up of Jeff Bezos, Bill Gates and Mark Zuckerberg, those whose net worths are over the $100 billion mark
- With this current setback, Zuckerberg reclaimed his third position from him on world ranking of richest people on earth
PAY ATTENTION: Click "See First" under the "Following" tab to see Legit.ng News on your Facebook News Feed!
It was a terrible day for Elon Musk, the co-founder of Tesla on Tuesday, September 8, as the company lost more than $100 billion of its market value.
With that, the tech giant lost a big one of $16.3 billion (N6,250,072,000,000). The car company also was not included in the S&P 500 Index.
It should be noted that the loss is the biggest single-day drop ever recorded in the history of Bloomberg's Billionaire's Index.
After being financially badly hit, Musk is now worth $82.2 billion, going below Bernard Arnault and Warren Buffet who are the fourth and fifth richest men in the world.
From his third position a few days ago, he is now number six. He also lost out of the centibillionaire club which has the like of Jeff Bezos, Bill Gates, and Mark Zuckerberg.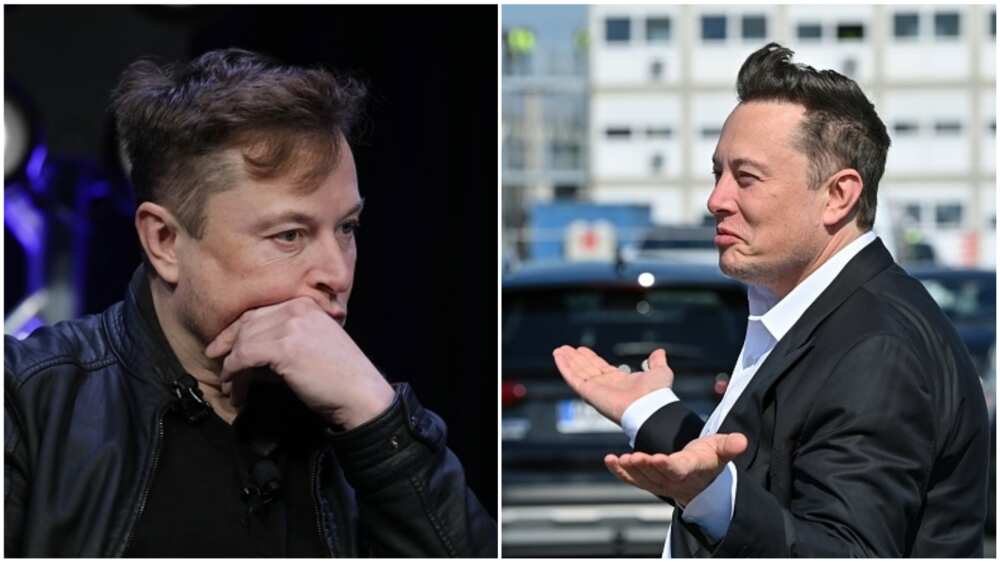 Weeks before then, the Tesla co-founder overtook Bernard Arnault, sweeping off the fourth-richest person position after the shares of Tesla Inc. bumped up by 11% on Monday, August 17, adding $7.8 billion (N2,996,916,000,000) to his net worth.
Meanwhile, Legit.ng earlier reported that Mark Zuckerberg's fortune passed a $100 billion (N37,900,000,000,000) mark for the first time on Thursday, August 6, after his company Facebook Inc hit a record profit after the release of Reels.
Facebook's founder joined the league of centibillionaires of Jeff Bezos and Bill Gates. It should be noted that his fortune largely comes from his 13% stake in Facebook.
This development adds to the fact that American tech titans have had their fortune take a huge surge this year as the coronavirus pandemic makes people conduct their activities online more than before.
Another thing also worthy of note is that Zukerberg has gained about $22 billion this year alone, while Bezos is said to have raked in more than $75 billion.
In other related news, Bezos also added a whopping $13 billion (N5,054,010,000,000) to his fortune on Monday, July 20, making it the largest wealth growth for an individual since 2012.
On the same day, Amazon's shares jumped to 7.9%, the most it has been since December 2018. Bezos' single-day profit is almost half of Nigeria's 2020 budget which Reuters put at N10.51 trillion ($29.19 billion).
Would you rather have money or be poor and have a good family? | Legit TV
Source: Legit.ng