Nobel Peace Prize: Donald Trump nominated for global award
- It is said that one may not get much honour in his place of origin
- This is exactly the case with President Donald Trump of US who was nominated for the Nobel Peace Price 2021
- Trump was picked for the global honour by a Norwegian lawmaker, Christian Tybring-Gjedde
The name Donald Trump has recently gained more international fame, this time, for good after the United States president was on Wednesday, September 9, nominated for the Nobel Peace Prize award.
PAY ATTENTION: Click "See First" under the "Following" tab to see Legit.ng News on your Facebook News Feed!
The nomination came from a lawmaker in Norway, Christian Tybring-Gjedde, who argued that President Trump did much to bring about peace between Israel and the United Arab Emirates (UAE).
More than this, Tybring-Gjedde hailed the US leader for making decisive efforts to ensure peace on the international scene.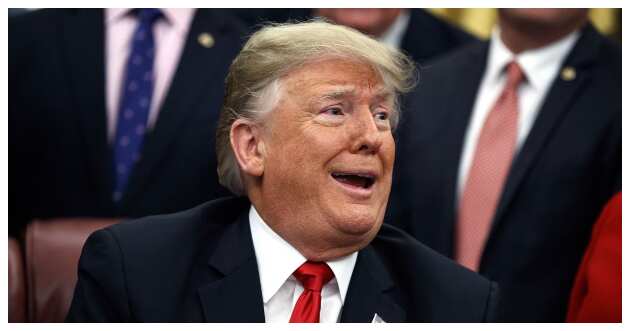 Speaking to Fox News on his nomination of Trump, the lawmaker said: "For his merit, I think he has done more trying to create peace between nations than most other Peace Prize nominees."
A part of Tybring-Gjedde's nomination letter read: "As it is expected other Middle Eastern countries will follow in the footsteps of the UAE, this agreement could be a game-changer that will turn the Middle East into a region of cooperation and prosperity."
Another major stride made by Trump, according to Tybring-Gjedde is the withdrawal of US soldiers in the Middle East.
He argued: "Indeed, Trump has broken a 39-year-old streak of American Presidents either starting a war or bringing the United States into an international armed conflict. The last president to avoid doing so was Peace Prize laureate Jimmy Carter."
The Norwegian lawmaker maintained that President Trump has satisfied all the conditions to be the recipient of the global honour come 2021.
Meanwhile, Legit.ng reported that President Muhammadu Buhari had finally lifted the lids on his response to Trump after the US president accused his government of treating the killing Christians in Nigeria with soft gloves.
Speaking on Tuesday, September 8, during the second day of the one year retreat for ministers and top government officials, Buhari said he told Trump that the crisis between the herdsmen and farmers in Nigeria is not religious but cultural.
The president further disclosed that he found himself in a difficult situation while responding to Trump because the killing in Nigeria, especially the one on the cultural radar, has been an age-long problem that even predated his government.
5 years after, Nigerians speak about Buhari's administration | Legit TV
Source: Legit.ng