Chinese man becomes a big chief in Ghana as he is crowned with a major celebration
- A man from China named Sun Qiang has become chief at Kwahu Abetifi, a town in the Eastern Region of Ghana
- He was given a Ghanaian name called Barima Kofi Ayeboafo and his title is 'Nk)s) Hene' which means development chief
- China is one of the most infrastructurally developed nations in the world and it is hoped that Sun Qiang will replicate that in Ghana
PAY ATTENTION: Click "See First" under the "Following" tab to see Legit.ng News on your Facebook News Feed!
Sun Qiang, a Chinese man who resides in Ghana, has been crowned as a traditional ruler at Kwahu Abetifi, a town in the Eastern Region of Ghana.
According to a report sighted by Legit.ng on Celebritiesbuzz.com, Sung Qiang was made a chief in charge of development in the area in a ceremony that took place on September 5, 2020.
By virtue of his enstoolment, Sun Qiang was renamed as Barima Kofi Ayeboafo, a typical Ghanaian name, and now bears the title Nk)s) Hene, meaning development chief.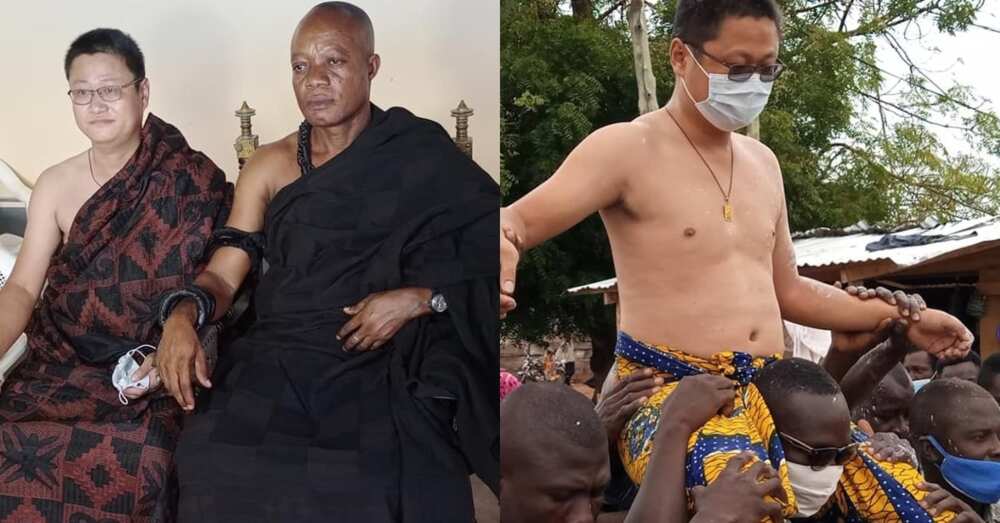 Development King or Chief is an honorific title, which is received by a person who deserves it and the person is expected to bring development to the area where he/she was crowned.
Becoming a chief is known to be a privilege that is extended mainly to only people of royal blood or those who have grown up within specific jurisdictions but the enstoolment of the man from China is one of the rare exceptions.
China is one of the most infrastructurally developed nations in the entire world and it is hoped that Sun Qiang would exhibit strategies of his home country to develop his Ghanaian community.
PAY ATTENTION: Install our latest app for Android, read the best news on Nigeria's #1 news app
In other news, the only white traditional leader of Lunda tribe in Zambia is Peter Fisher, who is also known as Chief Nyamwana.
He leads the Lunda tribe of Mwinilunga District in Zambia. Fisher was born by Israeli parents in Zambia and was adopted by Chief Nyamwana of Lunda after the death of his parents.
Fisher was declared the heir to the thrown as Chief Nyamwana had no son to succeed him.
Peter speaks less English and speaks Lunda proficiently. In line with his predecessor's wish, he was sworn in in 2015.
Onilua of Ilua: 140-yr-old man is regarded as oldest king in Nigeria | Legit TV
Source: Legit.ng