New list of 18 people who joined billionaires club in 2020 revealed
- Eighteen world new billionaires have made the 2020 list of Forbes 400 rich people on earth
- Most of the new wealthy men made their money from equity
- Eric Yuan, the CEO of Zoom, topped the newcomers with a net worth of $11 million
PAY ATTENTION: Click "See First" under the "Following" tab to see Legit.ng News on your Facebook News Feed!
Despite the Covid-19 pandemic, there are people who are still making it big. The 2020 Forbes list of 400 billionaires proved that as it has new 18 rich people on the list.
According to Forbes, the fortunes of these crop of new money range from videoconferencing to equity and electric vehicles.
It should be noted that the minimum requirement to make the list is $2.1 billion, meaning that is the least net worth of the newcomers.
The same media also noted that some of them are self-made and that the Covid-19 outbreak helped people like Eric Yuan, the CEO of Zoom call, and Alice Schwartz, whose company Bio-Rad produces coronavirus diagnostic tests.
Billionaires also came from the manufacturing and food production sectors. Sheldon Lavin is the head of OSI Group, one of the biggest meat and food processors in the world. McDonald's is one of his clients.
In the same year, Trevor Milton, the founder of electric truck maker Nikola, had his wealth increased to $3.3 billion. He is also the youngest on the list of newcomers at age 38.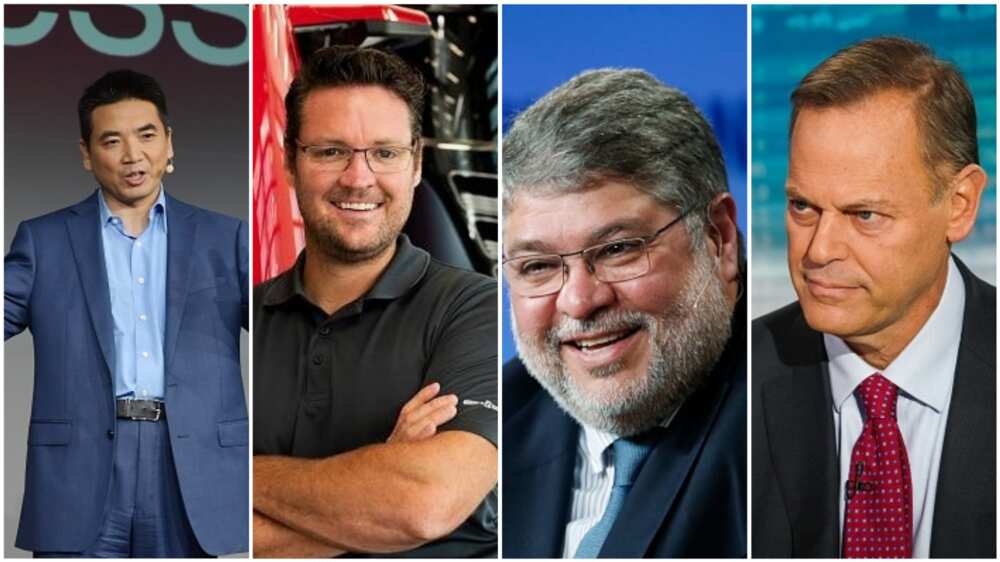 Below is, therefore, the full list of the 18 new billionaires and their net worth:
Eric Yuan & family ($11 billion)
Sami Mnaymneh ($4 billion)
Tony Tamer ($4 billion)
Trevor Milton ($3.3 billion)
Ken Xie ($3.3 billion)
Barry Sternlicht ($3.2 billion)
Steven Klinsky ($3.1 billion)
Sheldon Lavin ($3 billion)
Pablo Legorreta ($2.8 billion)
Todd Wanek ($2.8 billion)
Jeff Green ($2.6 billion)
Jim Koch ($2.6 billion)
Rodney Sacks ($2.5 billion)
Valentin Gapontsev & family ($2.3 billion)
Jim McKelvey ($2.2 billion)
Alice Schwartz ($2.2 billion)
José E. Feliciano ($2.1 billion)
William Stone ($2.1 billion)
Meanwhile, Legit.ng earlier reported that Elon Musk became the world's fourth-richest person after the shares of Tesla Inc. bumped up by 11% on Monday, August 17, as it added $7.8 billion (N2,996,916,000,000) to his net worth.
The rise in shares makes his wealth surpass Bernard Arnault, who is a wealthy non-American in the billionaire club.
Aside from his electric car business, his Space Exploration Technologies Corp, popularly called SpaceX, could make his fortune even grow higher especially now that the company is about to sign a $2 billion funding deal which will catapult its value to $46 billion.
Would you rather have money or be poor and have a good family? | Legit TV
Source: Legit.ng