Lady with albinism realises how beautiful she is after years of stigmatisation
- After being stigmatised over her skin colour, Idowu Mary Ronke has finally realised how beautiful she is despite living with albinism
- The lady says she thought of taking her own life due to the stigmatisation but an encounter she had with a lady in a bank boosted her self-esteem
- Ronke is just one out of many people who have been stigmatised for living with albinism
PAY ATTENTION: Click "See First" under the "Following" tab to see Legit.ng News on your Facebook News Feed!
Idowu Mary Ronke, a Nigerian lady with albinism, has narrated how she learnt to overcome stigmatisation.
The young lady said she has finally found self-acceptance after years of battling with suicidal thoughts over discrimination.
According to LIB, Mary shared her experience in a post on Monday, September 7, in which she said she would weep whenever people called her albino.
Legit.ng notes that Ronke said it got to a point where she thought of taking her own life because of the stigmatisation.
The young lady said her encounter with a lady in a bank boosted her self-esteem and she realised how specially-made she is.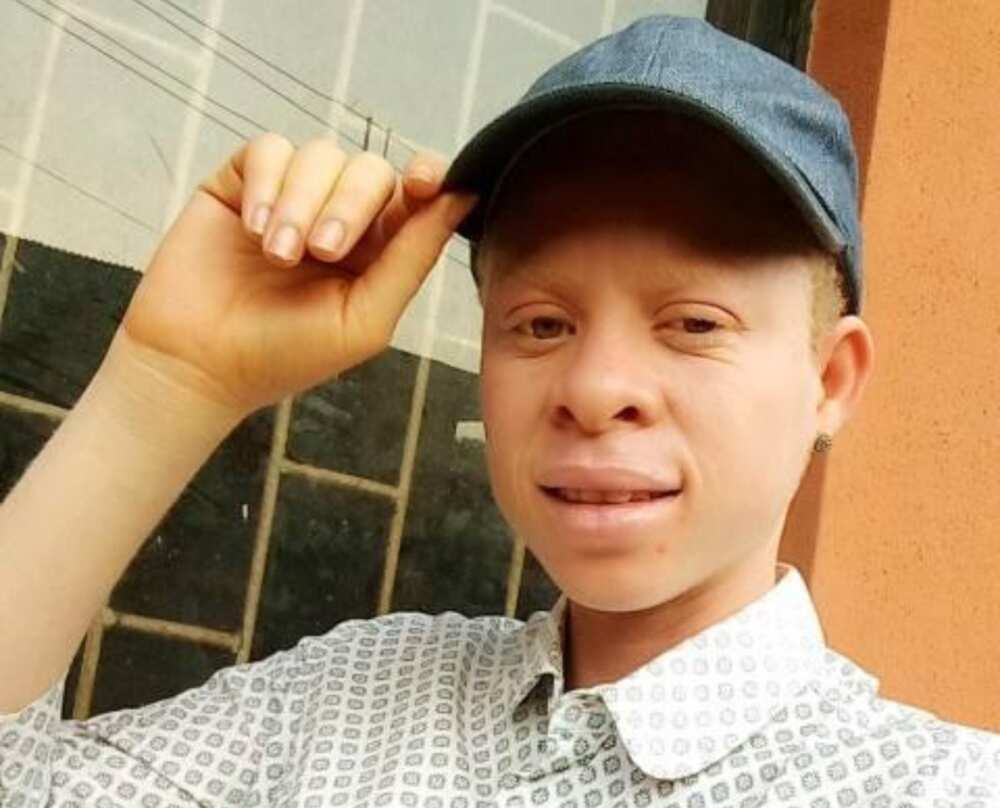 According to her, she went to the bank to deposit money and the cashier complimented her beautiful skin.
She wrote: "There was a day I went to a bank, and the cashier, after deposited my money, asked me about my name, and I told her, and she also asked if I always take salt, and I said yes, she then said "please can you do me a favor" I said yes, and she said "pls when you get home, tell the person you stay with, regardless of who the person is, tell him/her, that I said thank him/her for taking care of you, because you are so fresh and clean and beautiful" I was like, awwwnnn thank you. Since then I've been feeling myself and also proud of myself, because I'm specially made."
People living with albinism are also human and discriminating against them should always be frowned at.
In Nigeria, there are different organisations championing the rights of albinos and enlightening citizens that they are as human as every other person.
Recall that a beautiful albino woman shared the inspiring story of how she got married even after she thought no one would date her.
Now, Gaje who is a YouTube content creator is happily married.
Sharing her story with media personality Betty Irabor, Gaje revealed that her husband got married to her even after his friends had discouraged him due to her skin colour.
The hardship of Nigerian albinos | Legit TV
Source: Legit.ng