Price of fuel should have dropped if Nigeria truly deregulated, Atiku claims
- Atiku has taken a slight dig at the administration of President Buhari following the hike in fuel price
- According to the former vice president, many other countries are enjoying lower price rates
- Significantly, he said the price of fuel should have dropped if the FG truly deregulated
PAY ATTENTION: Click "See First" under the "Following" tab to see Legit.ng News on your Facebook News Feed!
Former vice president Atiku Abubakar has claimed that deregulation should have resulted in a drop in fuel price given the fact that the price of crude oil itself has come down from where it was in 2019.
Atiku who was also the presidential candidate of the opposition Peoples Democratic Party (PDP) in the last election said even in the US and Europe, prices of the commodity are far lower than that of Nigeria.
He disclosed this in a tweet on his official Twitter handle on Tuesday, September 8.
"I am a businessman. I look at things from an economic perspective. Questions beg answers. The price of crude is down from where it was in 2019. In the US and Europe, fuel prices are far lower than they were in 2019. If we truly deregulated, shouldn't fuel price have dropped?," Atiku wrote.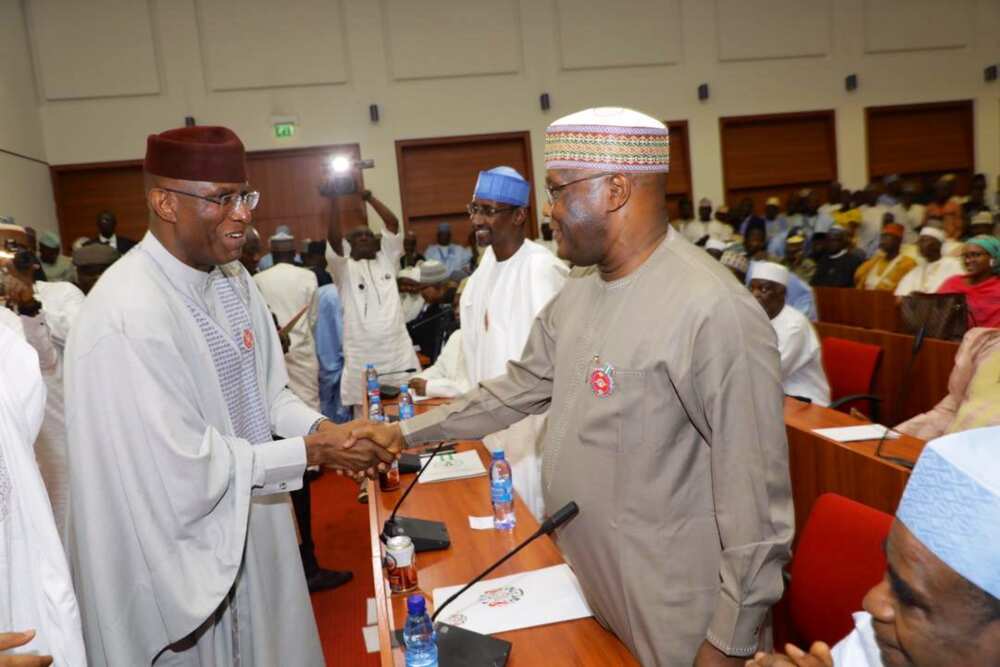 Atiku said this following the recent hike in the price of fuel by the current administration of President Muhammadu Buhari.
In reaction to his position, many Nigerians have come on social media to voice their concern.
According to a Twitter user identified as XP: "The possibility that a sachet of water will cost N1k in 30 years is very real. A bottle of coke was 50 kobo in the early eighties. It is like N80 now? That's 15900%. Yes, you read that right. Going by that, pure water should be N1,580 in 30 years actually."
On his part, Ibrahim Ahmed Tijjani, disagreed with Atiku. "If foreign exchange is hard to get and we export the crude to be refined for our consumption and then import it back. The prices should be more than we buy. As a business mogul, Sir I'm sure this skipped your mind. Even though I'm not happy abt the situation, but it's a fact," he added.
In support of Tijjani, Obinna Ezeifedi replied Atiku, saying: "Your economic perspective is comparing our situation to countries that have functioning refineries? Why did your government not fix our refineries?
Also, in his reply, Gbó̩láhàn Gbàdàmó̩sí wrote: "His excellency! You have friends and family in Europe. Would you like to double-check with a few of them if prices have dropped in Europe? To the best of my knowledge, this is not the case sir. It would be nice if you cross-check and tweet with your findings sir. Respect always."
Meanwhile, Legit.ng had reported that Honourable Tajudeen Yusuf, member representing Kabba-Bunu/Ijumu federal constituency of Kogi state, has berated the federal government for increasing the pump price of petrol and electricity tariff.
RevolutionNow: Nigerians protest in Abuja, ask for better governance | Legit TV
Source: Legit.ng