Oba Gbolahan Lawal: A genteel monarch ascends the throne in Iru Kingdom
Oba Gbolahan Lawal will ascend the prestigious throne on Sunday, September 6, to become the Oniru of Iru Kingdom in Lagos.
As is to be expected with any kind of succession, whether political or traditional, speculations filled the air over who was going to ascend the Iru, Lagos throne, following the passing of Oba Idowu Abiodun Oniru in September 2019.
What came next, although taking many by surprise, is proving to be one of the most dynamic decisions of the kingmakers.
Judging by the lavish praise and expressions of confidence that have followed the crowning of Oba Abdulwasiu Omogbolahan Lawal, Abisogun II, as the 15th Oniru of Iru kingdom, it appears the Lagos State government and traditional council picked the right man for the times.
As the new monarch was presented with his staff of office by the Lagos state governor, Babajide Sanwo-Olu, the state's chief executive, in no small measure, expressed his profound belief in that great improvements were about to be seen in the Iru, which is a crucial suburb of Lagos, which includes a few of the areas in Lagos Victoria Island that are most critical to the health of the country's economy.
While charging Oba Lawal to maintain the peace and harmony the erstwhile monarch has built over the years Sanwo-Olu cited the oba's quiet but remarkable achievements in his former career as a public officer and administrator.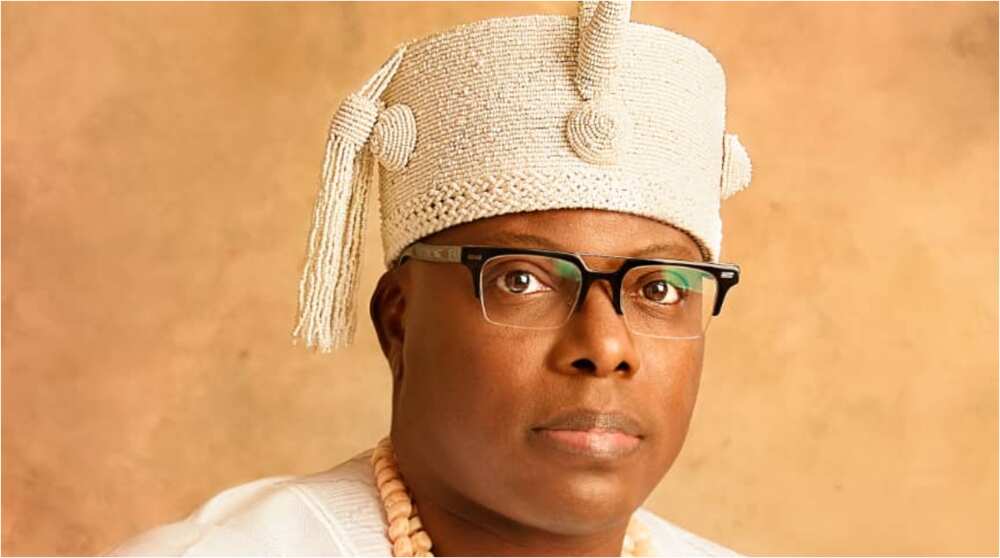 "This administration will continue to work with the people of Iru kingdom to drive growth and progress [but] there is no doubt that the future of Iru kingdom will continue to be bright and promising, and the ascension of His Royal Majesty Oba Abdulwasiu Omogbolahan Lawal, Abisogun II, marks the start of the next phase of the journey into that future," Sanwo-Olu said.
Born on July 24, 1970 to the late Chief T.A. Lawal-Akapo, the Ojora of Lagos (1977-1993) and Oloro M.A. Lawal-Akapo of the Ojora, Aromire, Shogun, and Abisogun branch of the Oniru royal families, Oba Lawal preferred to keep a low profile throughout his career as a public servant.
However, his storied accomplishments in his service to Lagos State is reported to have impacted the choice of his people in selecting him as the next prince to ascend the ancestral throne of Iruland.
Lawal began his government service when, as a police officer, he was drafted to Alausa, the Lagos State seat of power as Aide-De-Camp (ADC) to former Governor of Lagos State, Asiwaju Bola Ahmed Tinubu.
He was in this position for about eight years. In 2008, nearly a year after the culmination of Tinubu's tenure, Lawal retired from the police force.
Upon returning to civilian life, he went on to further equip himself for more public service by obtaining a postgraduate degree in Violence, Conflict and Development from the School of Oriental and African Studies, University of London.
"Oba Abduwasiu Lawal is a man of service and dedication, and he does it so effortlessly that it is worthy of emulation.
As my ADC during my tenure as Governor of Lagos state, I relied on his counsel at times then, and I believe he carries the common vision we share for a greater Lagos.
He is deserving of the throne and I am confident that he will serve the people of Oniru well in his capacity as Oba," said Asiwaju Bola Ahmed Tinubu.
The new monarch has over 25 years' experience and knowledge of the workings of the public sector and is one of the exclusive few who have served as commissioner across three different administrations in Lagos state.
His most recent role was in the current government of Sanwo-Olu as Commissioner for Agriculture. It was this office that he was compelled to vacate once he was made Oba.
Equipped with an undergraduate degree in Botany from the University of Port Harcourt he handled his role as Commissioner for Agriculture with such passion and resourcefulness that brought about significant progress for the agricultural sector of the state.
He also holds an Executive MSc in Cities from the London School of Economics and Political Science.
His contributions, through his various roles, have been praised by residents and business enthusiasts accordingly, especially in his pivotal contributions to driving economic growth within the state.
"Oba Abdul-Wasiu Lawal has dedicated a major part of his life to public service, exceling in various roles and ministries over three administrations of state government. The impact of his service as commissioner has been far-reaching.
"There is much promise that comes with his assumption of the throne as Oba of Oniru. There is no doubt the kingdom will see much progress and significant development during his reign," said an optimistic Dr Tunji Olowolafe, Lagos-based physician, industrialist and businessman.
Oba of Lagos, Rilwan Akiolu, while urging the new monarch to ensure unity, justice and fairness, has described the ascension of the new monarch as divine, saying it was why the process leading to his emergence was fast.
For the people of Iru kingdom, and indeed all of Lagos, Oba Lawal is at heart a decent man and a fitting successor of such a noble throne for such a significant kingdom within the state.
[SPONSORED]
Bisola Oyennusi
Source: Legit.ng