COVID-19: Teacher gets help after resorting to selling roasted maize on the streets
- A Ugandan teacher, Harriet, decided to become a vendor after losing her monthly income due to the pandemic
- The 27-year-old and a single mother of one could not go back to her rural home because it was on the opposite side of a border that was closed
- Journalist Atulinda Allan shared the woman's plight on social media and many came out to offer their help
A touching story of a teacher selling roasted maize on the streets amidst the COVID-19 pandemic has moved many who have come out to offer assistance.
On Monday, August 31, Ugandan journalist Atulinda Allan shared the plight of a Ugandan teacher, Harriet, who became a vendor after losing her monthly teaching income.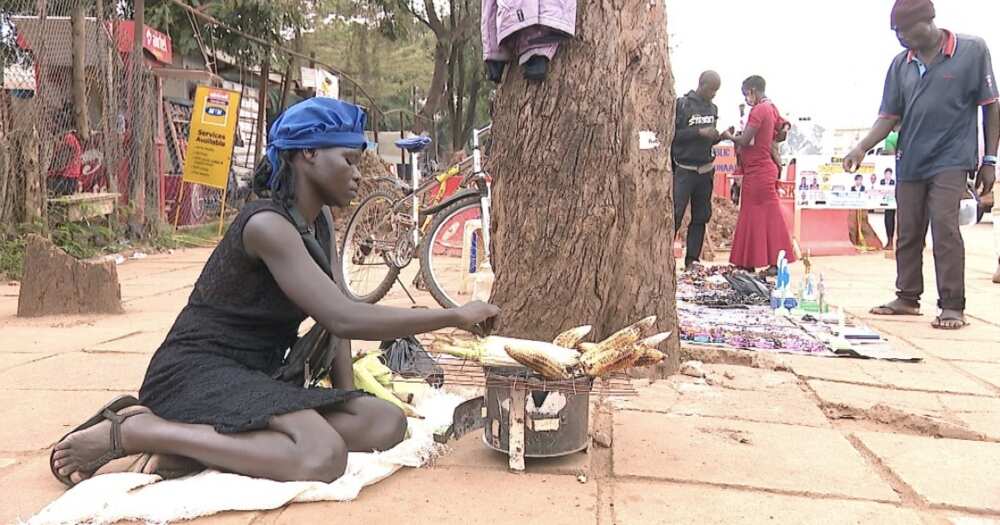 Could not go back to her rural home
She started with mangoes but when the fruit's season was over, she switched to selling maize in the streets with the help of other vendors who felt sorry for her having lost her teaching job.
Atulinda said the 27-year-old is a single mother of one and could not go back to her rural home because it is on the other side of the border that was closed down to avoid further spread of the virus.
As if starting the business was not hard enough, she also had to deal with the huge burden of paying heavy transport fees and also having to deal with city authorities who chased them away from the busy streets and at times arrested them.
Donations via mobile money
Harriet's touching story went viral and many well-wishers came out offering to help her.
Giving an update on Facebook, Atulinda revealed that her mobile money account was full of huge donations boasting millions of Ugandan shillings to her delight.
Atulinda thanked those that showed Harriet love and helped her deal with the heavy burden.
PAY ATTENTION: Install our latest app for Android, read the best news on Nigeria's #1 news app
In other news, a migrant family in California received great support from well-wishers after a photo of two young girls using restaurant WiFi to do their homework went viral.
The snap that was shared almost a week ago on the internet highlighted the digital divide for low-income students who were required to continue studying from home amidst the coronavirus pandemic.
Nigerians will die of hunger than COVID-19 | Legit TV
Source: Legit.ng