White US professor apologises for pretending to be black
- An associate professor at the Goerge Washington University, Jessica A Krug, said she has been lying about being black when she is in fact white
- The woman apologised for the appropriation as she described herself as a culture leech in an article on Thursday, September 3
- Before her confession, the woman had written extensively on Africa and the issues surrounding identities
PAY ATTENTION: Click "See First" under the "Following" tab to see Legit.ng News on your Facebook News Feed!
There was a new dramatic turn in American discourse of race when a professor, Jessica A Krug, of African and Latin studies who identified as black revealed that she has been lying.
CNN reports that the associate professor at George Washington University has written so much about Africa, Latin America, the diaspora. She did all that while claiming to be black.
The twist and confession came on Thursday, September 3, in an article she published on Medium.com when she made the truth known to all.
"To an escalating degree over my adult life, I have eschewed my lived experience as a white Jewish child in suburban Kansas City under various assumed identities within a Blackness that I had no right to claim: first North African Blackness, then US rooted Blackness, then Caribbean rooted Bronx Blackness," a part of her medium writing read.
She tendered an apology for the appropriation, adding that it was very wrong, colonial and anti-black of her to have done that. The professor described herself as a "culture leech", saying she is not a "culture vulture".
Anmol Goraya, a student at the university studying international affairs, said she is one of her favourite professors, adding that she is an energetic and apologetic woman of colour.
When CNN reached out to her for comments, she did not send a reply. However, people on social media have said that the professor would continue to take away opportunities from black people.
"She wrote that whole article and included LITERALLY ZERO plans to repair the harm she caused - so what was the purpose of the article? Attention & access - just like her pretending to a Black Woman was," Leslie Mac said.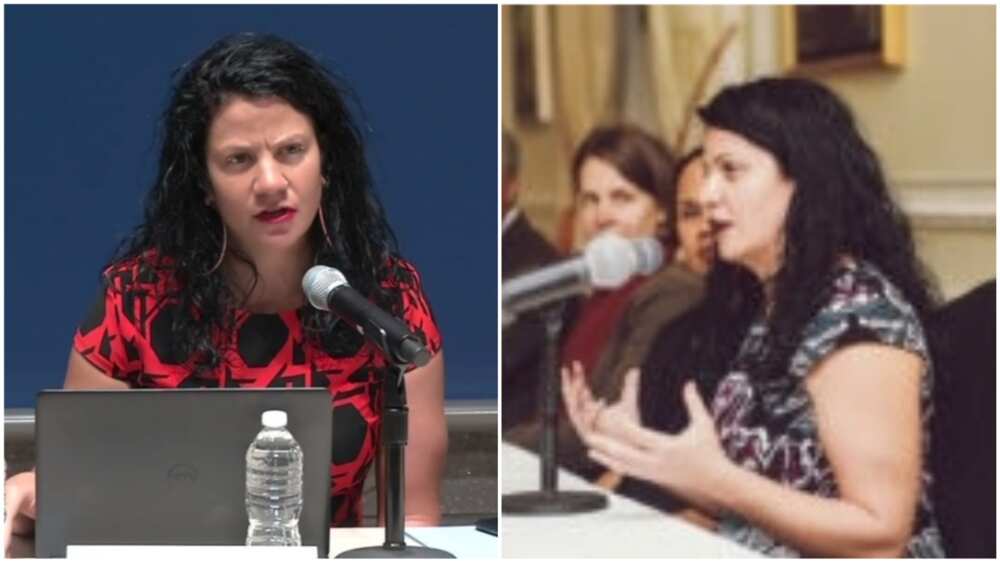 PAY ATTENTION: Download our mobile app to enjoy the latest news update
Meanwhile, Legit.ng earlier reported that a Bulgarian woman, Elina Otofe, lamented the bad effects of racism and how discrimination based on a person's skin colour is very bad.
She said that the small town of Shumen, Bulgaria, where she was born is very "judgmental when they see something" different like a mixed couple.
Elina said they had to move to the capital and begin their life anew, but reception was not any different.
She added that they could not get a place to rent because of the skin colour of her husband, adding that she never understood racism.
George Floyd: I was also arrested, handcuffed wrongly - Nigerian in Minneapolis | Legit TV
Source: Legit.ng