Bill Gates celebrates Warren Buffet on his 90th birthday
- Bill Gates celebrated his billionaire friend, Warren Buffet, on his 90th birthday as he said so many nice things about him
- The tech giant went out of his way to bake his friend a cake and made a video on his website
- According to Gates, Buffet taught him the value of true friendship
PAY ATTENTION: Click "See First" under the "Following" tab to see Legit.ng News on your Facebook News Feed!
Bill Gates, the Microsoft founder, celebrated his friend Warren Buffet as he turned 90 years. He did that by baking him a cake and making a video to honour him on Sunday, August 30.
Though Gates said so many things about his friend, perhaps the most important one was that Buffet taught him about the significance of being friends with people you admire, Inc reports.
Below are the four things Gates did and said to make the day a special one for his friend:
1. Bake a 'cake'
For Buffet's 90th birthday, Gates baked a 'cake'. However, the cake is all fake because according to Inc, the tech giant cannot cook. Also, in the video, he could be seen using raw eggs to make buttercream frosting, something that is forbidden when making such.
2. Buffet has the mental sharpness of the young
Gates said that he has the mental alertness of a 30-year-old person and the funny laugh pattern of a 10-year-old with the dietary choice of a 6-year-old kid.
3. Buffet loves numbers
In a blog post to honour his friend, Gates said they both love math and numbers. To showcase that part of his friend, he said Buffet has slept for 30 years in his life if he has been getting the 8 hours nightly sleep he was advised to take.
He added that they have known each for 10,649 days, which is 29 years and 25 days. One of the numbers Gates has on speed dial is Buffet's, the other is his wife Melinda's.
Watch his YouTube video on his below:
PAY ATTENTION: Download our mobile app to enjoy the latest news update
4. Gates reveals Buffet's advice on choosing friends
He said that Buffet once told students: "You will move in the direction of the people that you associate with." His billionaire buddy said that the friends to keep for the rest of one's life must be people one really admires.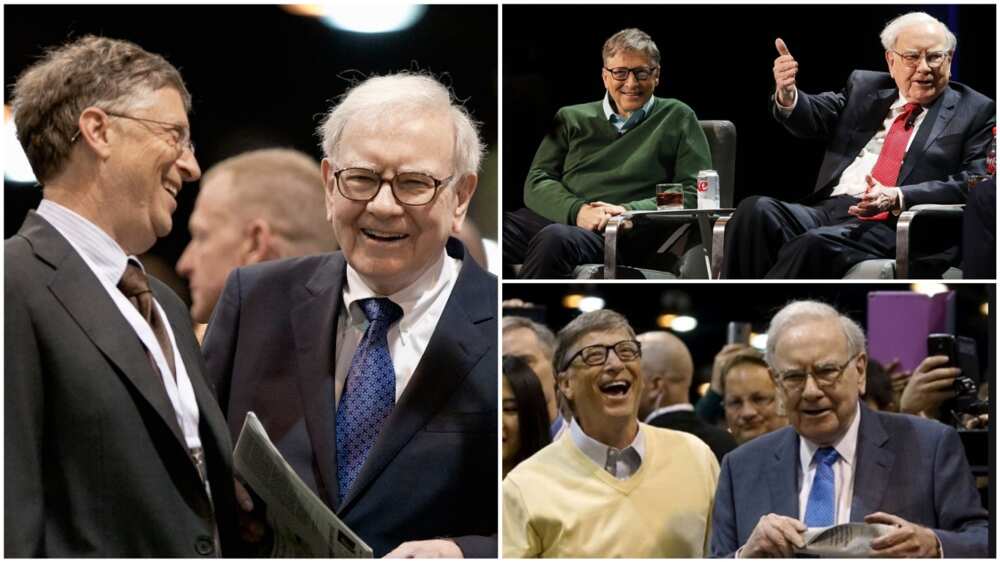 Meanwhile, Legit.ng earlier reported that Gates condemned coronavirus tests, saying that most of the tests are a 'complete waste' as they take too long for the results to get back.
In an interview, he said that people really need to get their results faster so that they can alter their behaviour and not infect other people.
"The simplest thing, which has to do with such insanity, is you should not reimburse somebody for getting a test that it takes more than 48 hours to get the result back," he said.
Legit.ng's special birthday wishes to Mike Adenuga | Legit TV
Source: Legit.ng