AESID raises alarm over alleged sales of Ebonyi property in Lagos, demands probe
- The AESID claims there is an attempt to sell an Ebonyi state government property in Lagos
- The group's president, Paschal Oluchukwu, made the claim in a statement sent to journalists
- Okuchukwu, however, failed to provide any concrete evidence to back up his claim
PAY ATTENTION: Click "See First" under the "Following" tab to see Legit.ng News on your Facebook News Feed!
The Association of Ebonyi Indigenes in Diaspora (AESID) has condemned an alleged sale of a landed property belonging to the Ebonyi state government in Lagos.
The group who raised the alarm through a statement on Wednesday, September 2, signed by its president, Ambassador Paschal Oluchukwu, said the property is located in the Maryland area of the commercial city.
Oluchukwu said the land is the only property owned by the Ebonyi state government in Lagos state, adding that some Ebonyians occupying the said premises and doing their businesses have made certain unofficial disclosures regarding an alleged plot to sell the property.
He, however, failed to provide any evidence that the property was indeed up for sale.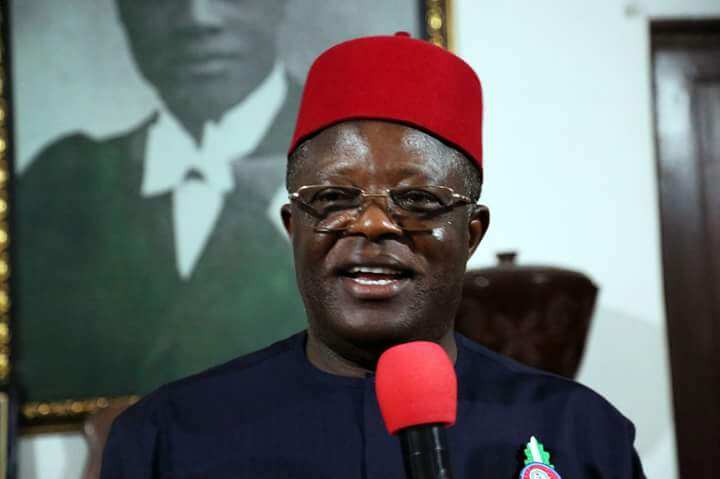 PAY ATTENTION: Install our latest app for Android, read best news on Nigeria's #1 news app
The statement queried: "Who exactly is behind this outlandish dubious plot to sell-off what belongs to the entire Ebonyians without recourse to due process of the law as though it is now a private property?
"These questions, now on the lips of many Ebonyians deserve very modest and urgent answers and Governor Umahi cannot continue to live in denial or pretences regarding these."
It continued: "Whereas we condemn in its entirety the said moves to sell-off Ebonyi property in any part of the country, which our ancestors and elders fought very hard to bequeath to our generation particularly the one in question, we quickly call on the state government to come open and declare the actual status of the said property within 24 hours.
"The Umahi-led administration and his army of 'very influential brothers' shouldn't keep Ebonyians in the dark and continue to run Ebonyi like their personal fiefdom and in the way and manner they have carried on for the past five years and yet counting."
The association, however, called on the security agencies to probe the allegation and unravel the truth.
"We therefore call on security and law enforcement agencies to without hesitation probe this allegation of sale of Ebonyi landed property in Lagos and or any other part of the country where such incident or interest may have occurred without due process and consequently bring those behind same to book," the group said.
The AESID had earlier called on the Economic Financial Crimes Commission and other anti-graft agencies to embark on a comprehensive probe of the state financial records for the last 16 years.
The association also demanded that all those who have caused the state economic doldrums and future dooms beginning from 1999 should be brought to book.
Legit.ng earlier reported that the group called on security agencies to intervene and quickly bring to end cases of political violence and killings allegedly ongoing in Asaga Owutu Edda in Afikpo south local government area of Ebonyi state.
The association also demanded that the state government should be made to "institute an independent judicial panel of inquiry to probe the causes of the killings in Edda."
Wayo too much for Nigeria - Corruption in Nigeria must end | Legit TV
Source: Legit.ng