Abaribe explains why current debate on 2023 presidency is a distraction
- Senator Eyinaya Abaribe has reacted to the debate as to which region should produce the next president
- The Senate minority leader says present talks on 2023 is a distration from Nigeria's problems
- Abaribe called on the present administration to deal with the problems Nigeria is currently facing
PAY ATTENTION: Click "See First" under the "Following" tab to see Legit.ng News on your Facebook News Feed!
The Senate minority leader Senator Eyinaya Abaribe, has said that the current debate on the 2023 presidency is a distraction from the various problems Nigeria is facing presently.
The former deputy governor of Abia state who disclosed this in an interview with Nigerian Tribune stated this in reaction to talks on which region should produce the next president.
In the last few weeks, prominent Nigerians have been canvasing that whoever takes over from President Muhammadu Buhari should be a southerner.
Abaribe went on to note that he agrees fully with the point former Anambra state governor, Peter Obi, made recently that the country just elected a government.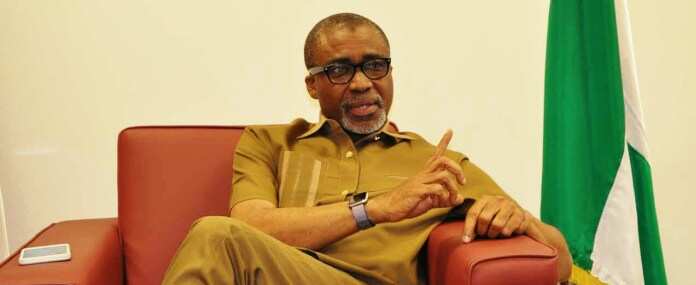 He said that though the current administration has only spent one year in office nobody has been bothered about the welfare of the Nigerian people.
The former vice presidential candidate had said that instead of getting into a frenzy over who takes over in 2023, we should be concerned about how to deal with all these numerous problems facing the country such as insecurity.
He said: "Look at this big problems of insecurity facing us but we leave it and start to go to Afghanistan of who becomes president.
"So you could see that it's also a ploy by the government to direct attention and direct thoughts and direct people to be shouting over inanities and prompting Mamman Daura to come and make that statement (that Nigerian presidency needs not be rotated between the North and South). And so the discussion was then diverted from the current issues of security, poverty etc.
"That is why I'm telling you not to be deceived because we are being led astray from the failings of this government but I will not be led astray. When the right time comes to deal with the matter of who will take over in this country, I will be part of those that will also make my voice heard but as at today, I'm asking the Buhari government "face your front; deal with the problem that we have. The economic problems, the security problems and every other problem. So, don't send us into Afghanistan."
Earlier, Legit.ng reported that Mamman Daura, a nephew to President Muhammadu Buhari and a major influence in his government, spoke about the 2023 presidency, with the elder statesman saying the best man should be voted for to succeed his kinsman.
Speaking with BBC in an interview, Daura said 2023 presidency should be prioritised on qualification and competence, not on tribe and regional interest.
According to him, whoever has to succeed his kinsman must be on what he has to offer for the country in terms of economy, security and socio-political development.
Daura said Nigeria does not need a rotational presidency which he said has been done three times. He, instead, posited that Nigeria must look beyond region to elect its new leader in 2023.
In a similar development, Governor Nasir El-Rufai of Kaduna state said that the southern part of the country should produce Nigeria's next president.
The Kaduna governor made the statement on Saturday, August 8, in an interview with the BBC Hausa service, Premium Times reported.
Whom do you think can replace President Buhari in 2023? | Legit TV
Source: Legit.ng