20-year-old female self-taught artist wows social media with realistic paintings
- Sisanda Buthelezi might only be 20 years old but she has the talent of someone who has been painting for decades
- The young artist often shows off her work online and she manages to leave South Africans speechless every single time
- Speaking to Briefly.co.za, Sisanda opened up about her passion for art and what she hopes to achieve in the future
PAY ATTENTION: Click "See First" under the "Following" tab to see Legit.ng News on your Facebook News Feed!
On social media, 20-year-old Sisanda Buthelezi has been wowing South Africans with her exceptional talent.
The young artist posts snaps of the hyper-realistic pieces of art she completed - some she even shows off before they were completed.
Sisanda was born in KwaZulu-Natal but she relocated to Pretoria with her parents at the end of 2012. The talented young lady attended Potchestroom Girls' High School and she fell in love with art completely when she took visual arts as a subject in Grade 10.
She told Briefly.co.za exclusively:
"I have always enjoyed doodling and drawing, even as a child, but my passion for art sparked when I took visual arts as a subject in Grade 10. Under the instruction of Jody Olen, I found and instantly fell in love with oil painting back in 2016 (17 years old) and was further introduced to other mediums thereafter."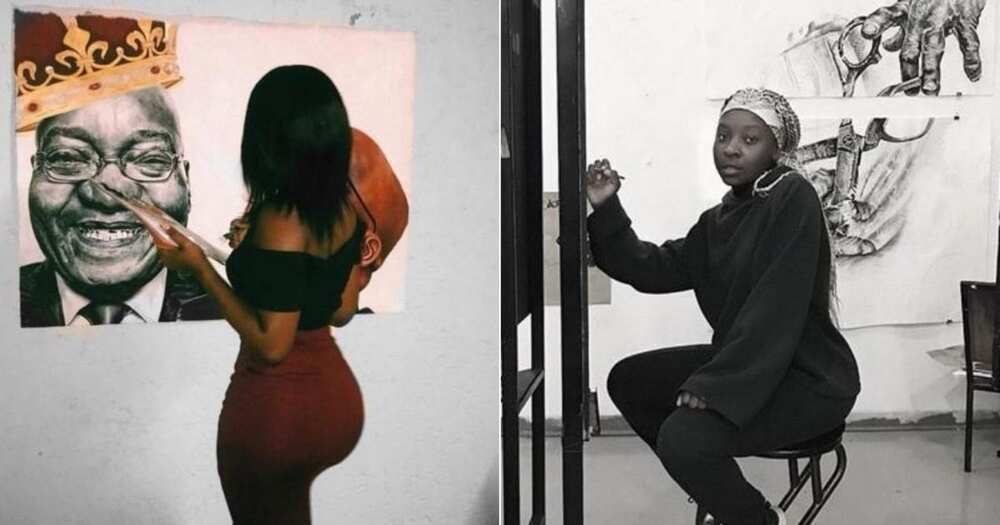 Her love for art grew and today Sisanda masters the skills she taught herself. She painted a portrait of former SA president Jacob Zuma - a piece she is most proud of.
Sisanda said about the uBaba portrait:
"It showcases my skill and technique in a manner that even I never thought possible. I really pushed and surprised myself with that one."
The young artist revealed that she draws inspiration from life itself, it's lessons, and the experiences it has afforded her.
However, she admitted that standing out as an artist is difficult because it is such a competitive industry.
"There is so much talent out there and so many means of publishing one's work. Standing out as an artist is tricky and it takes quite a lot considering the amount of competition there is already in the market," she said.
Despite all the challenges, Sisanda is positive that she will succeed and she hopes to help others who want to follow a career in art.
"My dream is to educate and inspire the artists of our future to see art beyond just a 'tool' of communication and interaction with the world, but a way of life and a solution to life. I hope to solve scientific problems through art. I ought to save lives through my work."
The 20-year-old encouraged other artists to not give up on their dreams just because it is hard to make it in the industry.
She said:
"Never stop. No matter the circumstances, no matter the odds. If art is your calling and you can feel it from the pit of your stomach and your work speaks for itself? Run with it. Your talents and gifts are the currency of Heaven – it's how you thrive on Earth."
Take a look at more of her artwork below:
In other news, a Nigerian hyper-realistic artist identified as Mayor Olajide has wowed social media after sharing his charcoal pencil portrait of President Donald Trump of the United States.
Olajide took to his Twitter page to share the stunning portrait and Nigerians were found in the comment section commending him for the masterpiece.
There is a 'genius' in every Nigerian family - Comic Con founder | Legit TV
Source: Legit.ng