Emmy Raver-Lampman bio: Age, height, career, movies and TV shows
Thanks to musical theatre, a star emerged, and her name is Emmy Raver-Lampman. Before she got famous, Emmy worked in several Broadway and national touring productions, including Hamilton, Wicked, Hair, and Jekyll & Hyde. She may not be the most popular actress, but when Emmy Raver-Lampman got featured in The Umbrella Academy, she received the opportunity with both hands and owned it. She has quickly become a fan-favourite due to her performance as Allison on the Netflix series. It has been quite the breakthrough, positioning her as one of the actresses to watch.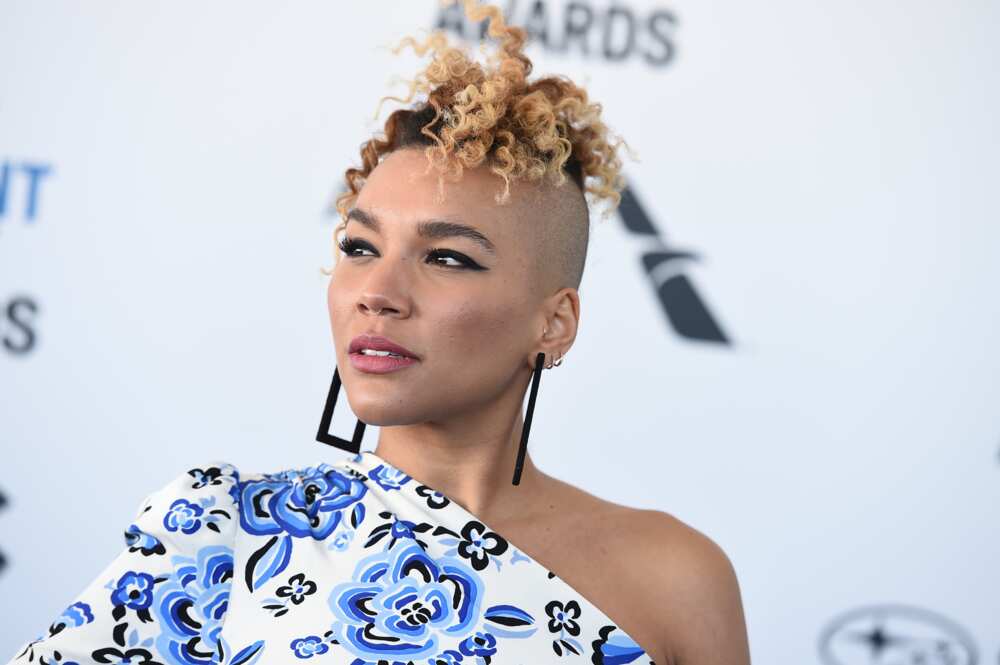 Emmy Raver-Lampman is proof that when people do what they believe in, they will eventually succeed no matter how long it takes. Allison Hargreeve's character in Netflix's The Umbrella Academy is the best thing to happen to her thus far, but it is also the beginning of what already looks like a promising Emmy Raver-Lampman hot career.
Emmy Raver-Lampman profile summary
Name: Emmy Raver-Lampman
Date of birth: 5th September, 1990
Place of birth: Norfolk, Virginia, USA
Emmy Raver-Lampman age: 31 years old
Birth sign: Virgo
Height: 5'6"
Weight: 60 kg
Occupation: Actress, singer
Emmy Raver-Lampman biography
The musical theatre star was born on 5th September 1988 in Norfolk, Virginia. How old is Emmy Raver Lampman? She is 31 years old.
Is Emmy Raver Lampman adopted? Yes, she was adopted as a newborn. Her adoptive mother (Sharon), is a professor at Old Dominion University. On the other hand, her adoptive father is Greg, and he is a writer and teacher.
Emmy is their only child, and her life has involved a lot of travelling. She has lived in India, Ukraine and the Czech Republic and visited more than 50 countries.
She went to Governor's School for the Arts and Maury High in Norfolk. After that, she joined Marymount Manhattan College in New York. She graduated in 2012 with a Bachelor of Arts in Theater.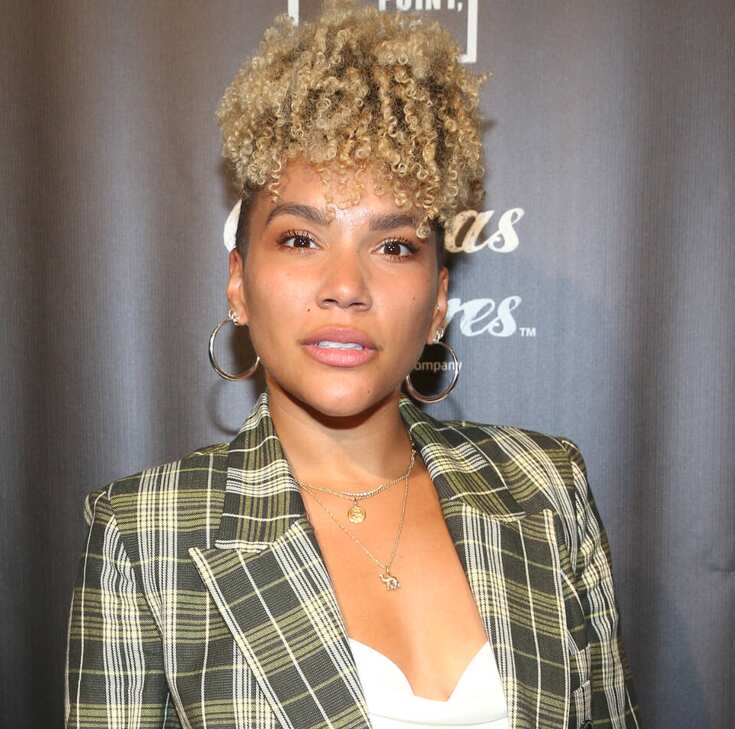 Body measurements
How tall is Emmy Raver-Lampman? She stands at five feet and six inches (167 cm/1.67 m) tall. Corresponding with her height is the actress' weight which is 60 Kg (132 lbs).
Her bra size is 33B. Emmy's breast-waist-hips ratio is 34-25-36. Furthermore, her shoe size is 7(US), and her eye colour is dark brown.
Career
The actress made her debut in Broadway in 2011 but had appeared in other productions the year before. Her first professional role came in the production of Children of Eden which was produced by the Astoria Performing Arts Center.
At the time of auditioning, Emmy was a sophomore student at college and had to suspend her education for a while after landing the leading role.
In the same year, she successfully auditioned for the national tour of Hair which enabled her to earn her Equity card. Unfortunately, the production of Hair closed down in September 2011, and she had to leave.
In 2012, Emmy joined the third national tour of the musical production called Jekyll & Hyde. Her role there was as an ensemble member and an understudy for the lead role, Lucy Harris. The production eventually landed in Broadway in April 2013 and aired for a month.
Later on, Raver-Lampman was featured for the first time in a Broadway original production titled A Night with Janis Joplin. When it closed, she got a role in the first US tour of Wicked as a replacement standby for the lead role.
In March of 2015, Hamilton was adding two ensemble roles to its show, and Raver-Lampman auditioned for both of them. She got a spot and became part of the original ensemble cast of Hamilton on Broadway and an understudy for all the three lead roles that were available.
Several months later, she participated in a star-studded reading of an original rock musical called Galileo. As the year was closing, she was part of an MCC Theatre workshop of Alice By Heart.
Emmy was cast in Hamilton's Chicago production in 2017, and the following year she became part of the show's first national tour starring as Angelica and performed in cities such as Los Angeles and San Francisco.
Movies and TV shows
Emmy Raver-Lampman landed her first major television role starring as Allison Hargreeves in The Umbrella Academy in 2017. This accorded her the opportunity to feature alongside accomplished actors such as Tom Hopper, Aidan Gallagher and Ellen Page.
The first season of the show was filmed in the first half of 2018 and started to air on Netflix in February of 2019. She was also part of the second season of the show that was filmed in 2019 and began airing in July 2020.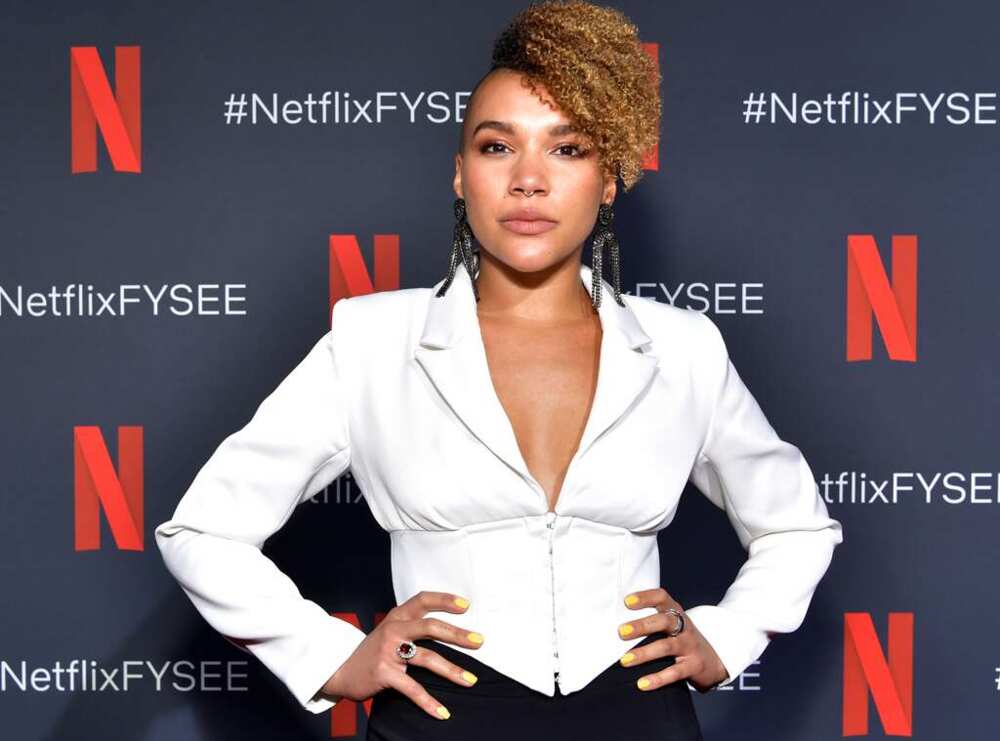 Emmy Raver-Lampman Umbrella Academy character has established her as one of the actresses to watch in 2020. Some of the films she has appeared in include Stucco (2019) and A Typical Wednesday (2020).
Raver-Lampman also had the opportunity to appear in several guest roles in 2019. She has featured many television shows, including Jane the V*rgin and A Million Little Things.
In July 2020, she landed a role in Apple TV +'s show Central Park after the resignation of Kristen Bell. Raver-Lampman will voice Molly Tillerman in the show. The television shows in which she has been featured include:
Odd Mom Out (2016) as Woman on Date
A Million Little Things (2018) as Rebecca
American Dad! (2019) as a Travel Agent
Jane the V*rgin (2019) as Lily Lofton
Robot Chicken (2019) as Peppermint / Boy's Mother (voice)
The Umbrella Academy (2019 – Present) as Allison Hargreeves / Number Three / The Rumor
Central Park (2020) as Molly Tillerman (voice)
With the likes of Emmy Raver-Lampman and Aidan Gallagher in The Umbrella Academy, the series is likely to be even more successful than it already has. Emmy has set the standard high for herself and shown that she can break barriers to be the best at what she does. She may not be a child star like Aidan, but she has what it takes to compete on the level she has risen to. Her fans can only be eager to see her next assignment, but one clear thing is that she is here to stay.
READ ALSO: Kamala Harris bio: Age, height, ethnicity, family, net worth, career
Legit.ng reported that US Democratic Party presidential candidate Joe Biden announced Senator Kamala Harris as his running mate for the US presential elections.
Kamala Harris is a woman whose biography is full of many "firsts." She is currently the first Black woman and first Asian American to be picked as a vice presidential running mate on a major-party ticket.
Source: Legit.ng