- Chloe Elliott has been gaining massive support ever since she came out doing ballet
- The lady said nobody should allow anyone to shame them because of their big body size
- With her size, Chloe always proudly releases ballet-related videos online
PAY ATTENTION: Click "See First" under the "Following" tab to see Legit.ng News on your Facebook News Feed
A lady who goes by the Chloe Elliott has shown the world that she has full control over size by dancing ballet.
In a tweet she posted on Tuesday, March 19, 2019, she posted pictures of her learning the dance under an instructor as she stretched her right leg over a banister.
One of the pictures she shared on the platform shows the dance trainer supporting her so that she can have a perfect body pose.
Chloe added that it really feels good when people who put one down are proved wrong as she is presently doing.
On her Instagram page, she posted another video where she composed some lines as she used a chair for support.
She said that she had to put out the video because people were asking for more ballet contents from her. According to Chloe, she wants to use the activity to build up her flexibility.
The woman, however, asked for loving comments only, warning that her lines would not be perfect because she is battling arthritis.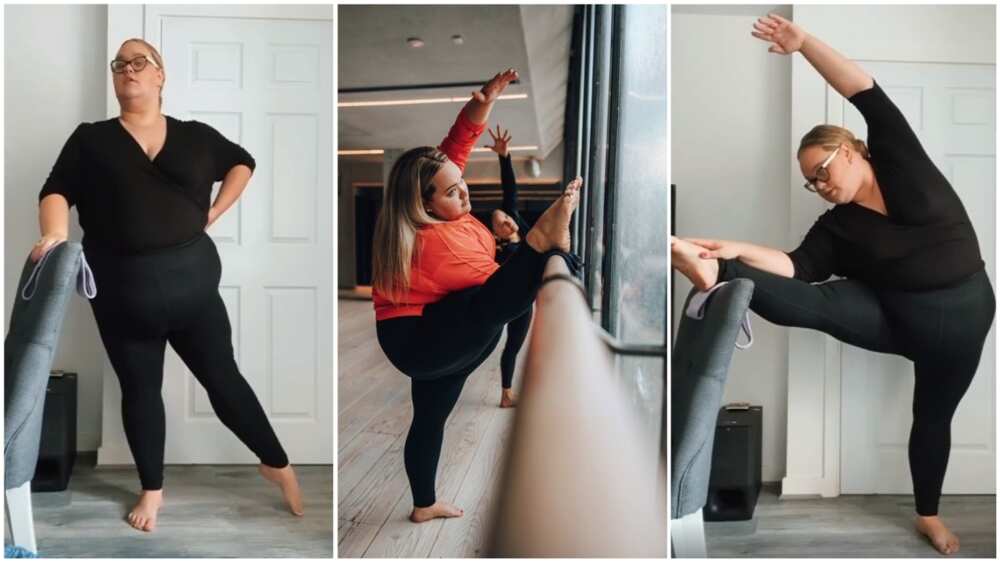 Many people commented on her Instagram video:
daisyhollands said: "You're so graceful and elegant. Just brilliant."
niknok1502 said: "Love this, I meant to continue to watch it through twice but then realised I was on my 3rd watch, its beautiful and captivating. You keep doing you lovely girl"
hayrae44 said: "I love it. Your flexibility and form are beautiful, I can't wait to see you continue to build this skill"
anita_trineetfitness said: "I was mesmerised. I love your energy and I'm a little envious of your hip mobility, wow"
cacotashake said: "I know we don't know each other but I wanted to say how proud I am to watch you deal with all the hate and backlash and keep going regardless. Even though it's hard but you kept going and that's really awe inspiring."
Meanwhile, Legit.ng earlier reported that a Nigerian woman, Fade Ogunro, gave hope to a young boy identified as Anthony Mmesoma Madu whose dancing video went viral days ago.
In the video that has been watched over 14 million times, the boy could be seen making amazing lines in the rain on a very wet floor.
It was gathered that he is one of the 24 students at the Leap of Dance Academy in Lagos state, an academy founded in 2017.
Is Naira Marley's 'Soapy' dance immoral?