Ebola: Nigerian man narrates how his fiancee died after treating Patrick Sawyer, says no recognition from FG
- A Nigerian man named Dennis Akagha says Wednesday, August 18, is the sixth year remembrance of his admission into the Ebola ward
- Akagha says his fiancee Justina Ejelonu died of Ebola after treating the index case of the disease in Nigeria, Patrick Sawyer
- The man, however, expressed disappointment that Justina and other unsung heroes who paid the supreme price during the Ebola crisis have not been recognised by the government
PAY ATTENTION: Click "See First" under the "Following" tab to see Legit.ng News on your Facebook News Feed!
A Nigerian man identified as Dennis Akagha has taken to Twitter to disclose that Wednesday, August 19, marks the sixth year anniversary of the day he found himself in the Ebola isolation ward after his fiancee Justina Ejelonu died of the same disease.
Recall that Patrick Sawyer, a Liberian-American man, was the index case of Ebola in Nigeria after arriving in the country in 2014.
Akagha said his fiancee, who was pregnant at the time, got a job at First Consultants Medical Centre and Sawyer was the first patient she treated.
He said Justina started having usual morning sickness peculiar to pregnant women on the day she was supposed to resume, so they both decided to call her office and postpone her resumption date.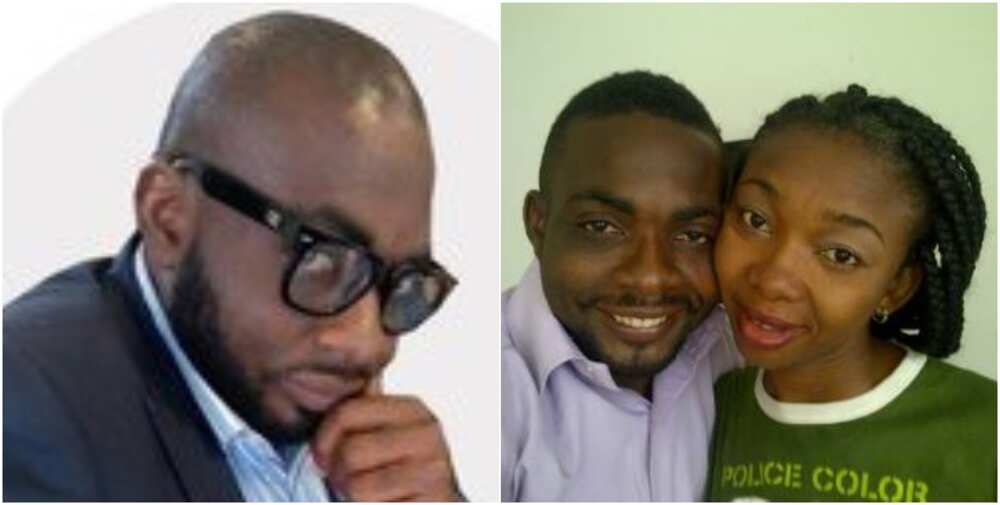 Akagha said: "After some time, she said to me "dearie, let me go. I am feeling better now but if it continues, I will come back after my shift; otherwise, I will stay till after my two days shift is over". I grudgingly agreed which became the worse decision I've ever made in my lifetime."
He said: "That was how she went to work that day. Coincidentally, the same day Patrick Sawyer arrived First Consultant with Ebola; and he was Justina's first patient. This was how our ordeal began."
Akagha narrated how he managed to get her to the isolation centre after she suffered a miscarriage at home.
He expressed sadness over the fact that his wife and other unsung heroes that paid the supreme price during the Ebola crisis in the country have not been recognised by the government.
Nigerians took to the comment section to express their disappointment with the country and also to console Akagha.
A Twitter user with the handle @aladeto4christ wrote: "This is the first time of hearing this. I'm pained for how a live saver was treated by our government. My fellow neighbors on the street of twitter, we can make the difference by getting this to others, who know, somebody might pick this up and act on it."
Another Twitter user with the handle @OgbaEjike wrote: "It is quite a sad one that we pledged to a country that will not reciprocate same when we need it to do so. May God bless her soul and souls of those that died in the same course."
Below are other comments:
In other news, billionaire businessman and philanthropist Bill Gates earlier said the rich world will be able to put an end to the coronavirus by the end of 2021 while the world at large will be able to end it by 2022.
The Microsoft co-founder stated this in an interview with Wired magazine, which was published on Friday, August 7.
Street Gist: Do you think Nigeria can quickly overcome Coronavirus like Ebola | Legit TV
Source: Legit.ng