- APC chieftain, Bayo Osiyemi, has started canvassing for a Bola Tinubu presidency in 2023
- Writing on his Facebook page, Osiyemi said if Tinubu fixed Lagos, he can fix Nigeria
- The ruling party chieftain went on to say Tinubu's best as a politician and administrator is yet to come
PAY ATTENTION: Click "See First" under the "Following" tab to see Legit.ng News on your Facebook News Feed!
Bayo Osiyemi, a former chief press secretary to Governor Lateef Jakande of Lagos, has joined those canvassing for a Bola Tinubu presidency.
Osiyemi who said he has never been passionate about any Nigerian politician after Chief Obafemi Awolowo and Jakande, the way he has taken to Tinubu, is of the opinion that the former Lagos state governor can fix the challenges currently witnessed in the country.
"I practice and play partisan politics in Lagos, so he is undoubtedly my political boss. But beyond that is a fact of history which cannot be obliterated.
"From my first encounter with the man that appropriately fits the label of "small body, big engine," Senator Tinubu struck me as a man of destiny on who jealousy, envy, treachery and perfidy cannot diminish," he wrote on his Facebook page.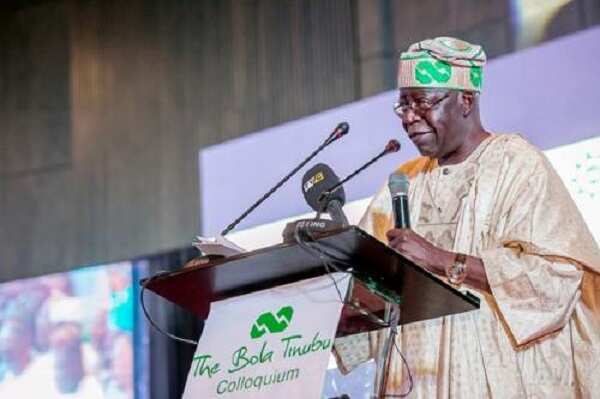 PAY ATTENTION: Install our latest app for Android, read best news on Nigeria's #1 news app
Osiyemi, however, said the achievements of Tinubu so far cannot be equated with those of Awolowo and Jakande individually.
But, he posited that: "this Tinubu man has packed together the finer attributes of the other two great politicians into his political modus operandi."
"It is the main reason, to my mind, why I am supremely convinced that Bola Tinubu's best is yet to be," he added.
He went on to say Tinubu has not told me he is running for the presidency in 2023 but stated: "I strongly believe that after the north, the presidency should come to the south-west in 2023."
On the clamour by some Nigerians that power should shift to the southeast, he said: To be sure, the southeast merits the presidency, but not over and above the southwest at this time, except fairness, equity and justice have other names to those espousing the idea of a southeast presidency.
He said there are dozens of suitable southwest politicians to enter the presidential race in 2023, but noted that: Tinubu fits the bill best of all.
Declaring that Tinubu fixed Lagos during his time as the governor of the commercial city, he said: "Tinubu burnt the midnight oil and candle and unsparingly drove himself hard because he was busy in his "laboratory," seeking solutions to the multitude of pròblems besetting Lagos and proferring solutions to them.
"Today, it is beyond debate that the template he drew up from his time as governor is still working for the state. If it wasn't working, the state will not have earned for itself the undisputed appellation of "centre of excellence" in the country."
Meanwhile, Mukhtari Shehu Shagari, a former Nigerian minister, has declared that the furore generated by power shift and zoning in the country is healthy but stated that there is no law stopping prominent people from other regions from contesting for the 2023 presidency.
Shagari, who served as water resources minister under President Olusegun Obasanjo between 2001 and 2007, made this known while dabbling into the recent conversation generated over renewed interest in 2023 politics.
In a related development, a group from the southeast region, World Igbo People's Assembly (WIPAS) has declared its intention to raise the sum of N500billion towards the realising Igbo presidency in 2023.
The group in a statement through its spokesperson, Emeka Nwachukwu said WIPAS had begun consultation with Igbo leaders and Nigerians across the world with the hope of achieving its plan in 2023.
2023 election: Why a northerner should be President again - Shettima | Legit TV