Pope Francis offers special prayers over killings in northern Nigeria
- Pope Francis has offered special prayers for northern Nigeria
- The region has witnessed unprecedented violence and killings in recent times
- The head of the Catholic Church offered the prayers in a tweet posted on his official Twitter page on Saturday, August 15
PAY ATTENTION: Click "See First" under the "Following" tab to see Legit.ng News on your Facebook News Feed!
His Holiness Pope Francis has called for special prayers for northern Nigeria as violence and killings continue in the region.
The head of the Catholic Church and sovereign of the Vatican city state called for the prayers in a tweet posted on his official Twitter page on Saturday, August 15.
"Let us invoke the intercession of the "Mother of hope" for all the situations in the world that are most in need of hope, in particular for the population of the northern region of Nigeria, victims of violence and terrorist attacks," he tweeted.
As at the time of this report, the tweet had been retweeted almost 2,000 times and liked by almost 10,000 people.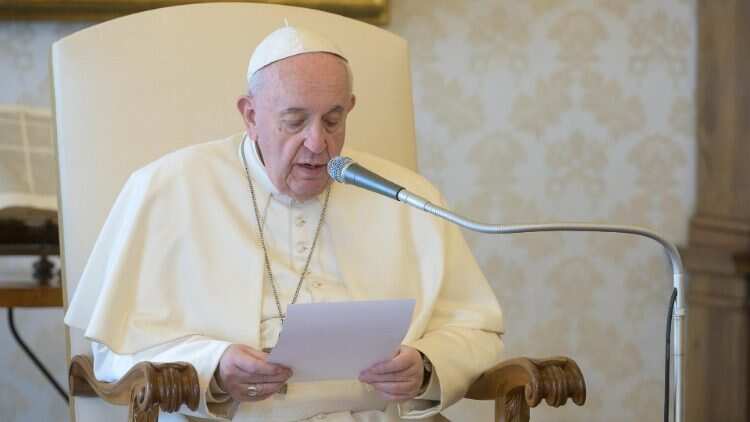 PAY ATTENTION: Install our latest app for Android, read best news on Nigeria's #1 news app
Northern Nigeria has witnessed unprecedented violence in the last few months, with authorities struggling to contain criminal activities of killer herdsmen, Boko Haram terrorists and bandits.
Many Nigerians and non-Nigerians offered prayers under Pope Francis tweet as directed by the global Catholic leader.
Miss Pearls tweeted: As a Nigerian, I pray our Mother Mary will intervene and put an end to the wanton destruction of lives and properties in Nigeria. These and many more we pray through Christ our Lord. Amen!
Suna Chong, an Asian wrote: Amen! May the Lord and the Virgin Mary give peace to Nigeria.
Bonario Nnags wrote: Thank you for remembering the persecuted Christians in northern Nigeria. May God be with them in this most trying of times.
Anthony Pullum wrote: Amen, Pope Francis. Praying that God would intercede in Nigeria and help the Nigerian people through this horrific time of trouble, give them strength and courage to endure the struggles they face. In the name The Father, The Son, and The Holy Spirit I pray Amen.
Kingsley Okeke wrote: May almighty God see us through, our Blessed Mother Mary Pls intercede for Nigerians. Amen.
James R Piotrowski wrote: Holy Father thank you for speaking out for the African Catholics in Nigeria your words will bring attention to their plight.
Anyanwu Franklin wrote: Our Holy Father! I believe you can liberate us in Nigeria from the impending slavery of Gullible politicians, killings, deprivation of basic human rights, deceptive one Nigeria. Lend us your voice, give us hope, they'll listen to you, you're the holy father of the universe.
As Nigeria continues to witness killings and violence in the north, Obadiah Mailafia, a former deputy governor of the Central Bank of Nigeria recently declared that a governor from northern Nigeria is one of the commanders of Boko Haram terrorist group.
After his claim, Mailafia was interrogated by the Department of State Services, after which he announced that he stands by his statement.
Victims of Herdsmen killing buried in Benue State | Legit TV
Source: Legit