International Lefthanders Day: 6 Nigerian celebrities who are southpaws
For the longest time, the use of the left hand has been considered a defect, an abnormality in need of correction.
Growing up in many African societies where the emphasis on the use of left-handedness as offensive is hammered continuously, many children have been forced into learning how to use their right hand.
PAY ATTENTION: Click "See First" under the "Following" tab to see Legit.ng News on your Facebook News Feed!
However, despite how frowned upon the use of the left-hand is in the society, there are many people in Nigeria who are lefthanded and most importantly, thriving in their various career paths.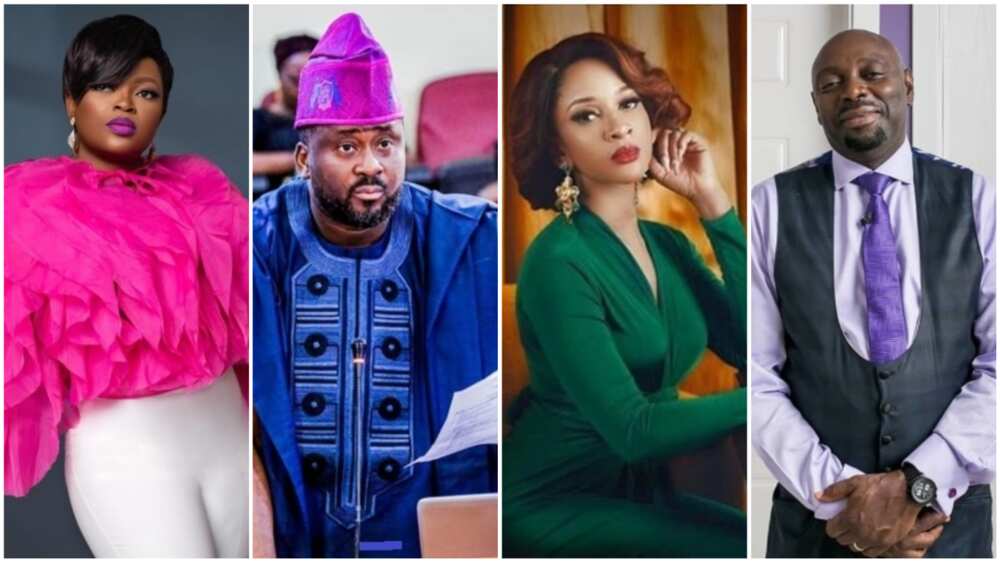 Today, August 13, the world celebrates International Lefthanders Day, a day observed annually to celebrate the uniqueness and differences of the left-handers.
This article focuses on some Nigerian celebrities who are left-handed and have made a name for themselves in the Nigerian entertainment industry.
Below are 6 Nigerian celebrities who are lefthanded:
1. Funke Akindele-Bello
The talented Nollywood actress and producer. Akindele-Bello started her acting career when she starred in the sitcom, I Need to Know, from 1998 to 2002.
Ever since then, the award-winning actress has continued to bless our screens with her exceptional character interpretations.
2. Desmond Elliot
Actor, film director and politician, Desmond Elliot, has proven that impossible is merely a word. Considered one of Nollywood's leading actors, Elliot is an award-winning screen god who has starred in over 200 movies and counting.
PAY ATTENTION: Do you have news to share? Contact Legit.ng instantly
3. Adesua Etomi-Wellington
Also known as Nollywood's sweetheart, Etomi-Wellington is yet another talented actress making southpaws in Nigeria very proud.
The award-winning actress shot into limelight after starring in her first feature film, Knocking On Heaven's Door, in 2014.
She may not have featured in a lot of movies, but for every film she stars in, this ivory beauty displays nothing short of a stellar performance.
4. OC Ukeje
Okechukwu Ukeje, known as OC Ukeje is Nigerian actor, model and musician. He came into prominence after winning the 2006 Amstel Malta Box Office reality show.
He has since won awards and featured in critically acclaimed movies including Confusion Na Wa, Ayanda, When Love Happens, among others.
5. Toolz
Tolu Oniru, popularly known as Toolz, is a Nigerian radio personality, talk show host, and presenter.
The curvy mother of two is yet another left-handed person who has made a name for herself. Prior to settling in Nigeria in 2008, she worked with MTV Europe and Walt Disney Pictures.
6. Segun Arinze
Real name Segun Padonou Aina, the talented actor and singer is another left-handed star who is making many southpaws proud.
He started his acting career in Ilorin. Outside acting, Segun also is an actor coach and currently works with prestigious African international film festival passing his knowledge on to the next generation of actors
PAY ATTENTION: Get the Latest Nigerian News on Legit.ng News App
International Lefthanders Day was first observed in 1976 by Dean R. Campbell, founder of the Lefthanders International, Inc.
The day was created to celebrate sinistrality and raise awareness of the advantages and disadvantages of being left-handed in a predominantly right-handed world.
It celebrates left-handed people's uniqueness and differences, a subset of humanity comprising 7 to 10 percent of the world's population.
Also, when it comes to celebrity life, most people have to deal with living in the spotlight and having their life put on display for fans to see. While others have grown older in the glaring eyes of the public, there are those who don't seem to be ageing.
Maybe it's genetics or a strict skincare routine, some of these Nigerian celebrities seem to hold the much-coveted secret for anti-ageing looks and fans are here for it. While most people attribute maintaining one's youthful looks to a life free of responsibilities and stress, these ageless celebrities have more than proven that ideology to be flawed.
Top 3 Nollywood Stars: Who Earns More Than Others? | Legit TV
Source: Legit.ng