Black American couple with 14 kids say it takes a lot of parenting
- A black couple, Karen and Deon Derrico, in America with a large home of 14 kids have said that they spend over N1.3m on food monthly to have befitting meals
- Karen, their mother said every week she has to wash 18 loads of clothes, adding that they chose to have a large home
- The father also said that the kids make use of 15 boxes of waffles on a weekly basis among other consumables
PAY ATTENTION: Click "See First" under the "Following" tab to see Legit.ng News on your Facebook News Feed!
An American couple, Karen and Deon Derrico, with 14 kids who had quintuplets, triplets, and twins, have spoken to the media about what it takes to run a large house as theirs.
Their children are in this order according to their ages: Darian, 13; Erek, 8; twins Dallas and Denver, 7; quintuplets Deniko, Dariz, Deonee, Daician and Daiten, 5; and two sets of triplets.
How Africa reports that the series documenting the family life debuted on Tuesday, August 11, on TLC called Doubling Down with the Derricos.
It should, however, be noted that the filming of the show started as far back as 2019 when the family was just with 11 kids and Karen was pregnant with triplets.
The mother of the house said the family spends $3,500 (N1,335,250) for monthly food and she had to wash 18 baskets of clothes every week.
The stay-at-home mom also said that the husband's finance goes so much into ensuring that the family can have proper food.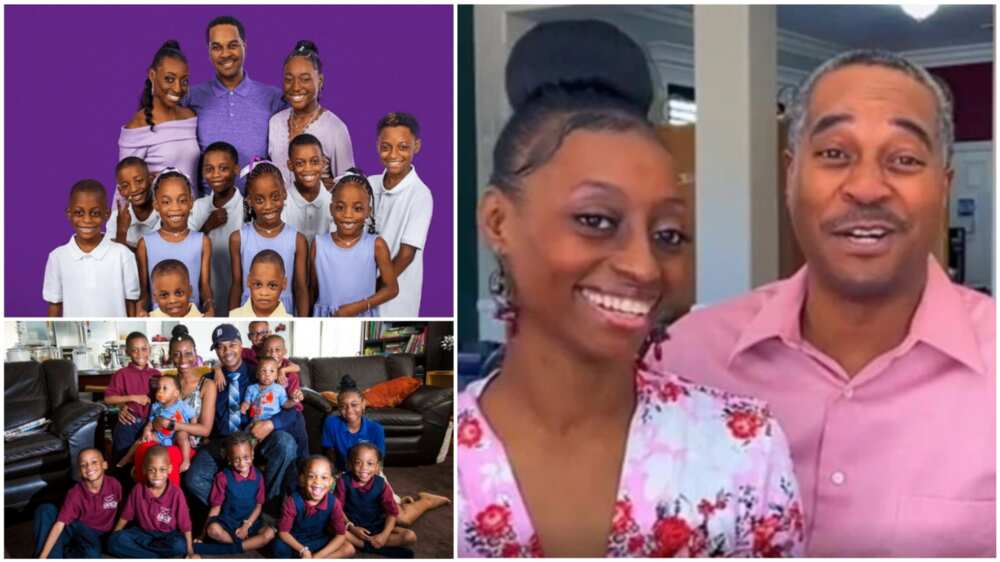 Deon, on the other hand, said the children exhaust 15 boxes of waffles and 20 rolls of toilet paper per week.
The woman, however, added that having a large family did not come by accident, as it was their decision. She said her husband is a real estate investor.
"Having four sets of multiples back to back? It's like getting struck by lightning while getting struck by lightning.
"Many parents know with just one child, two children, it's a job. But when you have soon-to-be 14, it's a job," the father said.
PAY ATTENTION: Download our mobile app to enjoy the latest news
The family added that the parenting is not always a rosy one as there are times they face really bad days.
Meanwhile, Legit.ng earlier reported that a king in north-west Cameroon, Abumbi II, has 100 wives and 500 children.
The 11th king of the Bafut, he ascended the throne when his father, King Achirimbi, died in 1968. After becoming the tribe's traditional ruler, he also inherited his father's 72 wives.
King Abumbi said that his wives are very important to him as he talked about his duty of blending the traditional with the modern so that there is no conflict.
His palace called Ntoh has been a major tourist centre and is listed as one of the world's sites that are gravely endangered.
I need help! Man with 14 children cries out | Legit TV
Source: Legit