Editor's note: In this opinion, Dumebi Nduka, writes on the need to complete the Port Harcourt to Maiduguri rail line. According to the writer, this will be a benefit to the south-south region. Consequently, the writer also said the 500 million dollars loan should be accessed in order to complete the project.
PAY ATTENTION: Click "See First" under the "Following" tab to see Legit.ng News on your Facebook News Feed
As a Nation, our political leaders made a decision to borrow from China to fund critically needed infrastructures in different regions of the Nation. It is not as if, if we put the monies we generate annually that we can't fund these projects but just that we run a very expensive government e.g the salaries and allowances of our lawmakers, corruption, etc but this is not the reason for this piece.
The country was to borrow this money from China in batches for the different rail projects from standard gauge to bringing in the train and its coaches.
The agreement was signed 20th Dec 2010 by the immediate past administration.
The said projects are:
1. Lagos - Kano
2. Lagos - Ibadan
3. Port Harcourt - Maiduguri
Amazingly, Lagos - Kano is already in use, Lagos to Ibadan is almost completed just remaining few touches and Port Harcourt to Maiduguri is supposed to commence once this batch of loan is given
You will agree with me that rail system has a very vital role to play in every economy, especially in the area of transportation of raw materials etc.
After almost completing other region rail project an alarm was raised all of a sudden, seeking for the cancellation of the remaining loan
What is the remaining loan meant for? It's for Port Harcourt-Madugiri rail project
In a bid to achieving their aim, all of a sudden the committee of National treaties and protocols was reactivated and the chairman happens to be an intelligent lawmaker in the person of Ossai Ossai from the affected region to tackle a minister from the same region and the cabals sat down to watch the drama
During the hearing Rt. Hon. Chibuike Rotimi Amaechi, Min of transportation said that from the way the whole thing is going that the Chinese government might refuse to give us the remaining loan and if that is done, some section of the country will suffer it and also appeal that the committee should allow them get the loan.
FG should conclude and get this loan and start Port Harcourt- Madugiri rail which cut across southeast, south-south to Madugiri with no delay, so it'll be a win-win federal project and also let the said region benefit.
Don't remind me about the second Niger bridge because it's not going to grow our economy like the rail system would and secondly, if in near future River Niger is dredged, will a standard cargo ship be able to pass under this second Niger because of its design?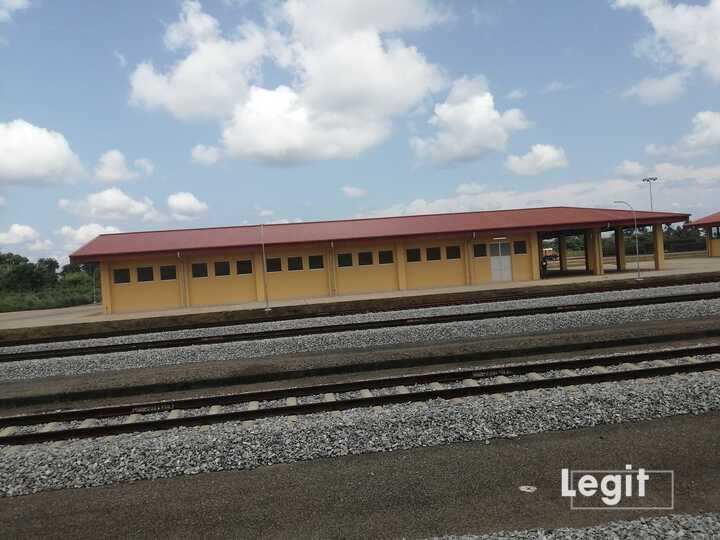 Mind you, Nigeria liability to China is 3.121 billion dollars representing 3.94 percent of 79.3 billion dollars we owe. So I don't think that stopping the so-called 500 million dollar loan is what will perform the magic or miracle
The question is, why are they making song and dance out of the 500 million dollars loan all of a sudden? They just woke up after 5 years and when it's time to start Port Harcourt - Madugiri rail I guess?
I strongly believe that in the spirit of fair play, the loan should be allowed so that the aforementioned project will commence and completed
Any South-south and southeast person gunning for the cancellation of the said 500 million loan should wake up and understand why these people want it canceled
With the situation of things, if the loan is canceled, Lagos and ogun state will complete their project in less than 6 months if FG okays it and then what happens to the rail system of South-south, southeast ( Port Harcourt- Maiduguri)?
The people that are kicking against this loan are the same people that will ask the Hon. Minister ( Rt. Hon. Chibuike Rotimi Amaechi) what he did for the aforementioned region during his tenure as a minister when the clock strikes
If you think that the sovereignty of Nigeria will be willed to China because of the said 500 million dollars then let it be and allow us to benefit like our brother regions did.
Allow southeast and south-south benefit, stop 'poli-tricking' us with your media and strategies.
Your own opinion articles are welcome at info@corp.legit.ng— drop an email telling us what you want to write about and why. More details in Legit.ng's step-by-step guide for guest contributors.
Contact us if you have any feedback, suggestions, complaints or compliments. We are also available on Twitter.
5 years after, Nigerians speak about Buhari's administration | Legit TV