Nigerians react as Diezani speaks on yahoo boys being role models
Nigerians have reacted to a video in which Nigeria's former petroleum minister Diezani Alison-Madueke lamented the decay in societal values.
PAY ATTENTION: Click "See First" under the "Following" tab to see Legit.ng News on your Facebook News Feed!
In the video, Diezani Alison-Madueke who is wanted for multiple counts of corruption and embezzlement lamented that Nigerian youth were looking up to internet fraudsters, popularly called Yahoo Yahoo.
In reactions, Nigerians on social media mocked the former minister for preaching what she did not practice.
In his reaction, Dele Farotimi said it is funny that people who benefitted from some proceed of stolen common wealth are now preaching morality.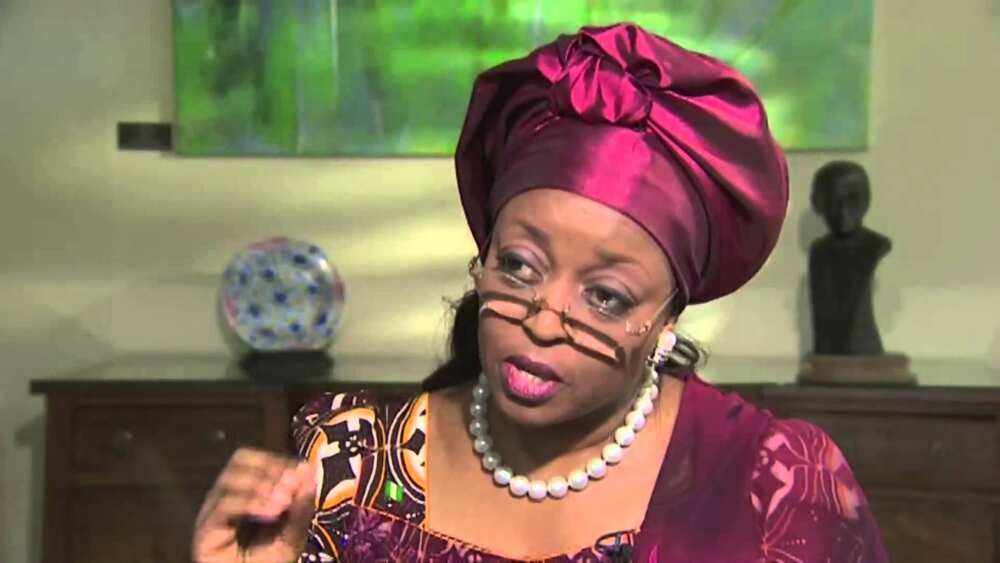 "Obasanjo is preaching moral probity and accountability...Flushed face. Dizzy Baby is preaching ethics, personal integrity and against Yahoo, using her son, a serial beneficiary of our stolen commonwealth in her vulgar and insulting preachments," he wrote on Twitter.
On her part, Mariatu Omoake wrote: "Diezani is a disgrace and she will not go unpunished.
"Her loot alone as a case study has caused hundreds of thousands of lives of Nigerians.
"The same Nigerians whom she has stolen from will be the ones to like the pictures of her Sons on the internet when they flaunt our money."
Meanwhile, some social media users have called on Nigerians to forget the messenger and reflect on the message.
"To be fair, there's a context to Diezani's morality sermon. She was addressing a conference. Apparently, she was invited to speak on a topic.
"The only way to avoid the irony would have been to turn down the invite. She didn't turn it down. And that's the problem," Nedu Okeku wrote.
Also writing in support of Okeke is Abdul S Abdul who wrote: "Forget about the messenger and listen to the message. She said the bitter truth and solutions that not only apply to her region (she was addressing) but the country at large. We sure need to redefine our values to rebuild a generation that is better than ours."
Recall that Legit.ng reported that Alison-Madueke has said internet fraudsters, also known as Yahoo boys, have become role models in Nigerian society.
Diezani reportedly made the statement when speaking at a virtual event organised by the Ijaw national development group on Friday, August 7.
PAY ATTENTION: Install our latest app for Android, read best news on Nigeria's #1 news app
Top 5 the Richest People of Nigeria: The Luxury of Corruption | Legit TV
Source: Legit.ng