Community residents share loot stolen by bank robbers
- Some residents have helped themselves from a bank robbery
- Meanwhile, the police have vowed to arrest those behind it
- The criminals had attacked a bank but they were caught by vigilante group
PAY ATTENTION: Click "See First" under the "Following" tab to see Legit.ng News on your Facebook News Feed!
Following a foiled bank attack, some residents of a town in Oyo have been accused of stealing huge sums of money.
The resident of Okeho town, Kajola local government area of Oyo state were said to have recovered the money from armed robbers who attacked the community's bank branch on July 29.
The criminals were reportedly fleeing when they were ambushed which led to an accident.
After this, a crowd of young men and women forced the trunk of the car open and emptied the stolen money which was stuffed in sacks.
Meanwhile, the traditional ruler of the town, Onjo of Okeho, said investigations were ongoing to arrest the bad boys and bring them to book, Premium Times reports.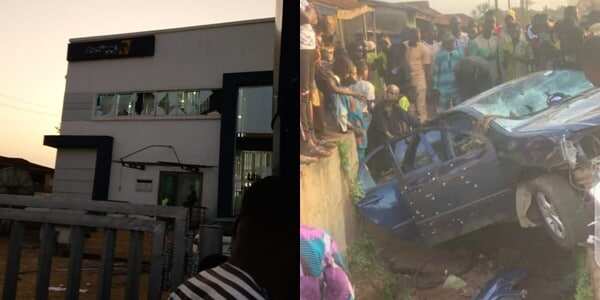 "It is unfortunate that the gallantry displayed by the community men is now being overshadowed by the activities of the unscrupulous men and women in the community who stole what had already been saved by the brave warriors.
"This money is roughly N60 million and nobody has reported that a penny was retrieved. That is unfortunate. So what is the difference between the robbers who attacked us, killed a police officer and stole from the vaults, and those who shared the loot? Who says the robbers are not known to the community, then? Was it a set-up or what? The community needs to redeem its image," a source was quoted to have said.
Meanwhile, Legit.ng had reported that seven armed robbers, who stormed a bank in Okeho Kajola local government area of Oyo state with the intention to cart away money, have met their waterloo.
According to Imran Khalid, Legit.ng regional reporter who witnessed the scene, the armed robbers came in a blue Toyota Corolla with number plate LSR 257 FF.
They arrived at the bank around 4:30 pm on Wednesday, July 29, and gained entrance using dynamites and AK-47 riffles shots to blow the bank security door. They then killed a police officer manning the gate while eating.
Police arrest, parade suspected female cult members, others | Legit TV
Source: Legit.ng