Jonathan warns politicians against bitter, destructive politics
- Jonathan has warned politicians against destructive politics
- According to the former president, politics should not be about division
- Going further, Jonathan preached unity and love among Nigerians
PAY ATTENTION: Click "See First" under the "Following" tab to see Legit.ng News on your Facebook News Feed!
Former president Dr. Goodluck Ebele Jonathan has warned politicians against politics of bitterness and violence.
Jonathan also charged them to forge a common agenda that would promote peace and sustainable development in the nation.
He said this on Friday, August 7, during a virtual conference organized by the umbrella body of Ijaw cultural associations known as the Ijaw Nation Development Group(INDG).
Jonathan further urged them to put the interest of the nation first, adding that politics was not about dividing the people and fighting enemies.
"To the politicians amongst us, let us shun politics of bitterness and violence and pursue our common interest, regardless of party affiliations. Politics is not about creating and fighting enemies, it is not about dividing the people.
"Politics is about aspiring for a platform and the ability to utilise it to positively impact our people and develop the nation. Irrespective of party differences, let us forge a common agenda that will promote peace, unity and prosperity among our people.
"As a crusader for functional democracy and good governance in our country and continent, I will like to see our people play key roles in the emergence of who leads them and how they are led.
"Nothing drags a people and a nation back more than social crisis occasioned by the struggle for leadership. We cannot pretend to love our people if we place our personal ambitions over and above everything else and allow it to frustrate the people's will and our common good," he said.
Going further, Jonathan preached unity and love. He stressed that Nigerians must aspire to build bridges that would sustain a national climate of peace and progress regardless of the challenges.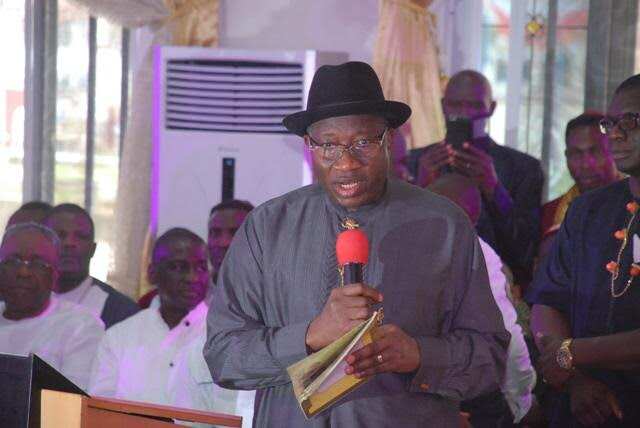 Meanwhile, Legit.ng had reported that the naming of the railway complex in Agbor, Delta state after former president Goodluck Ebele Jonathan has been described as "meaningless and belittling" by Pan Niger Delta Forum (PANDEF).
In a statement by the group through its national publicity secretary, Ken Robinson, PANDEF said it rejected the naming because it is disparaging to the status of the former president.
Recall that the transport minister said the Itakpe-Warri rail line will now be acknowledged as the Goodluck Jonathan Railway Station and Complex.
Amaechi also said the project is ready for commissioning, adding that priority of the Warri-Itakpe rail corridor remains prioritizing the movement of goods especially since the rail line passes through Ajaokuta.
But in a late reaction, PANDEF said though the railway complexes were named after prominent and deserving Nigerians, the inclusion of Jonathan in the list is "completely unacceptable."
Who's the better leader between President Buhari and Dr. Goodluck Jonathan? | Legit TV
Source: Legit.ng