- A plane crash in India has claimed the lives of 16 people
- About 46 people are also seriously injured in the crash
- According to reports, 190 people were on board the plane when it crashed
PAY ATTENTION: Click "See First" under the "Following" tab to see Legit.ng News on your Facebook News Feed!
Another disaster has hit the world after an Air India Express flight skidded off a runway at India's Kozhikode international airport.
According to CNN, at least 16 people were killed in the crash which also claimed the lives of both pilots.
Another 46 people on board were said to be seriously injured.
According to reports, at least 190 people were on board the plane.
The plane was also said to be on a repatriation flight transporting Indian nationals during the coronavirus pandemic.
Meanwhile, in another development, Legit.ng had reported that a man who is into fraud in Ghana has revealed how he went to Benin in 2009 where he performed many rituals and made 2 million pounds (N1,005,990,800) within a short period of time.
The man narrated the entire story in the snippet of an interview on GHOne TV sighted by Legit.ng.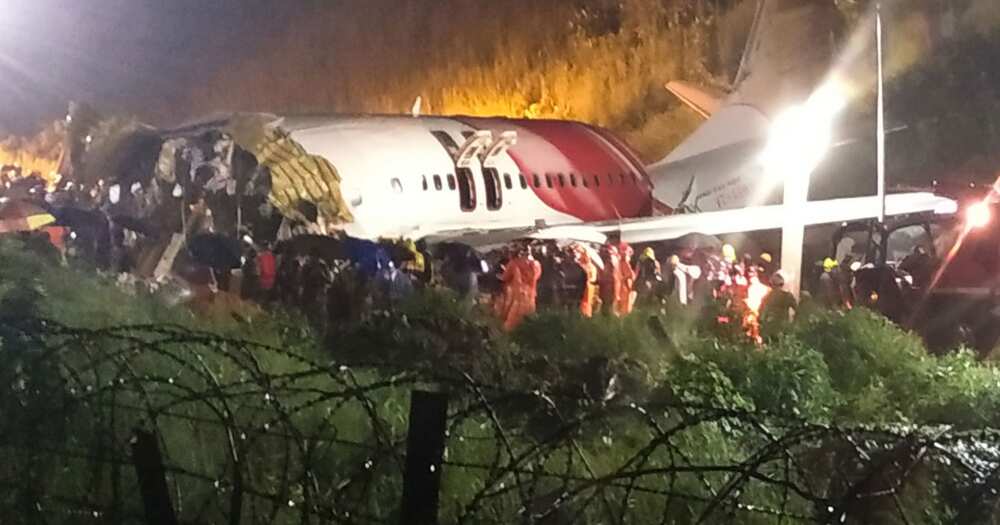 Legit.ng had also reported that the accident Investigation Bureau (AIB) has disclosed the reasons why a helicopter which had Vice-President Yemi Osinbajo and 11 others on board crashed in the Kabba area of Kogi state on February 2, 2019.
The bureau in a report on Tuesday, July 28, stated that loss of visibility and hard landing subsequently made the helicopter roll onto its right side on the day the incident occurred.
Explaining how the crash occurred, the agency said the crew of the flight, which took off from the Nnamdi Azikwe International Airport for Kabba, sighted the intended landing area – a football field – and approached with the speed of 20 kt to about a 100 ft, and entered a hover to land.
It said at about 50 feet above ground level, a brownout set in (visibility restriction due to dust or sand) and the flight crew lost visual contact with the ground and external surroundings making the helicopter experience a hard landing and subsequently rolling onto its right side.
According to the AIB, other factors that contributed to the crash include inappropriate landing technique used, non-adherence to company procedures for known or anticipated brownout conditions during landing, lack of risk assessment, limited landing site preparation and planning prior to the commencement of the flight.
In order to prevent the incident from reoccurring, the AIB advised the national security adviser to consider whether the presidential air fleet unit should be involved in the coordination and preparation of all high profile executive a very important person (VIP) mission (flights) in order to ensure that all executive VIP flights are conducted in accordance with approved operating procedures.
Forget Hushpuppi, check out 8 times Nigerians abroad made us proud | Legit TV