The battle for Edo State's gubernatorial seat is going to be a tough one. The elections, slated for September 19, will see current Governor of Edo State Godwin Obaseki of PDP go head to head with Osagie Ize-Iyamu of APC. However, the real battle is between Obaseki and his political godfather, Adams Oshiomhole, the ousted National Chairman of the APC who is currently backing up his protégé Ize-Iyamu as the APC's candidate for the Edo 2020 governorship.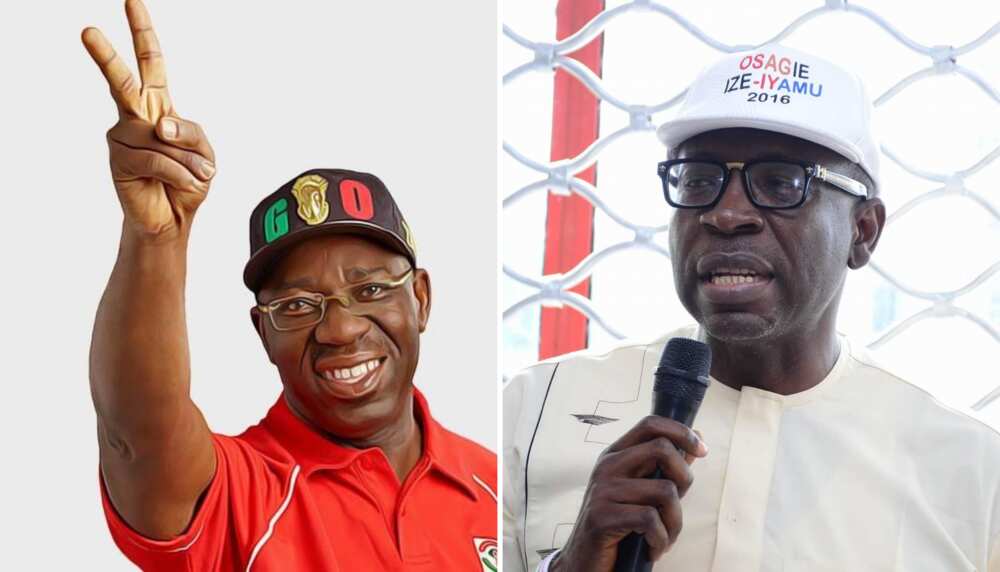 The primaries are over, and the finalists are to be published on 13th August. While 14 parties have submitted names, it is clear that the battle is between Ize-Ayamu of APC and Godwin Obaseki who recently defected to PDP.
The Edo 2020 election is not only important for APC regionally, but nationally as well, as Edo is the only state in the South-South that the party controls.
Obaseki's defection to the PDP: What this means for the Edo 2020 elections
Current Edo State Governor Godwin Obaseki won the gubernatorial race in 2016 on the APC ticket, but he later fell out badly with Oshiomhole, who used his power within party structures to block Godwin Obaseki's nomination for a second term as governor in this year's election.
Reasons given for Obaseki's disqualification include inconsistencies in his academic certificates and his National Youth Service Corps (NYSC) Certificate – which reads Obasek instead of Obaseki.
But such enforcements looked rather desperate, given that Obaseki ran on the APC ticket in 2016 without such problems.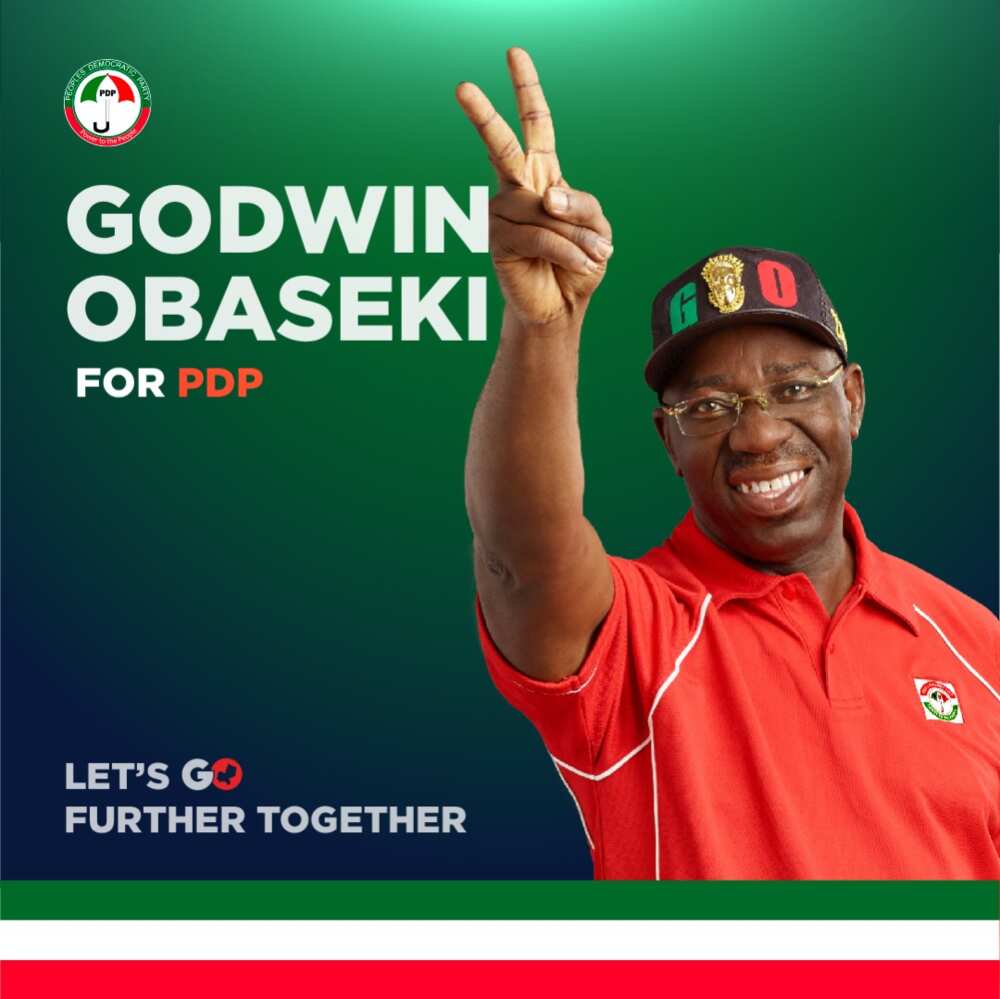 At first, Obaseki thought that it would be futile to fight back against Oshiomhole's bid to bar his nomination for the APC ticket in the state. As his spokesman Crusoe Osagie said:
"Comrade Oshiomhole has declared that he is the Supreme Court and ultimate determiner of the fate and future of our great party."
However, Oshiomhole's efforts soon triggered Obaseki's defection to the PDP, although he still is the incumbent governor until the September election.
While announcing his registration from APC, Obaseki stated that the action was a fallout of a battle that arose from his refusal to subvert the will of the people for the interest of a predatory group of godfathers and political thugs, even though rumour has it has he paid to defect to the PDP.
In a statement, the governor's special adviser on media and communication strategy Crusoe Osagie said Obaseki's defection came as a result of his resolve to continue the battle to protect the resources of Edo people and sustain good governance in the state.
At the same time, Obaseki's deputy governor, Philip Shaibu (who Obaseki nominated as his running mate), also resigned from the APC. In his resignation letter addressed to the Ward chairman, APC Ward 11, Etsako West Local Government Area, he said,
"I write pursuant to Article 9.5 (i) of the Constitution of the All Progressives Congress (APC) to formally resign my Membership of the All Progressives Congress and to inform you of my formal withdrawal from all or any of its proceedings and processes whatsoever."
Ize-Iyamu
In 2016, Oshiomhole was on Obaseki's campaign team, effectively leading to Ize-Iyamu's defeat in the elections, but now, the tables have turned, and Oshiomhole is now in favour of Ize-Iyamu.
Ize-Iyamu is a former secretary to the Edo State government and had been an Oshiomhole supporter. However, Ize-Iyamu defected to the PDP in 2016 when Oshiomhole broke with him and chose Obaseki as the APC governorship candidate.
In the 2016 election, Oshiomhole did what he could to destroy Ize-Iyamu's career, calling him a "pathological liar".
Now, the two are back as a team, and Oshiomhole thinks Ize-Iyamu is the strongest option available to run against Obaseki.
While addressing some members of the APC last month, Oshiomhole revealed that he supported Obaseki in 2016 to ensure the continuity of his projects and programs,
I have made my honest mistakes. Only God is perfect. I am now 68 years. I have come to apologise for the mistake of supporting Obaseki in 2016...I am in Edo to repair my mistakes. God had a reason for what happened to Ize-Iyamu in 2016. Leaving as the National Chairman of APC is to give me enough time to correct my errors….Obaseki pretended for almost eight years, while he did not believe in what I was doing as the governor...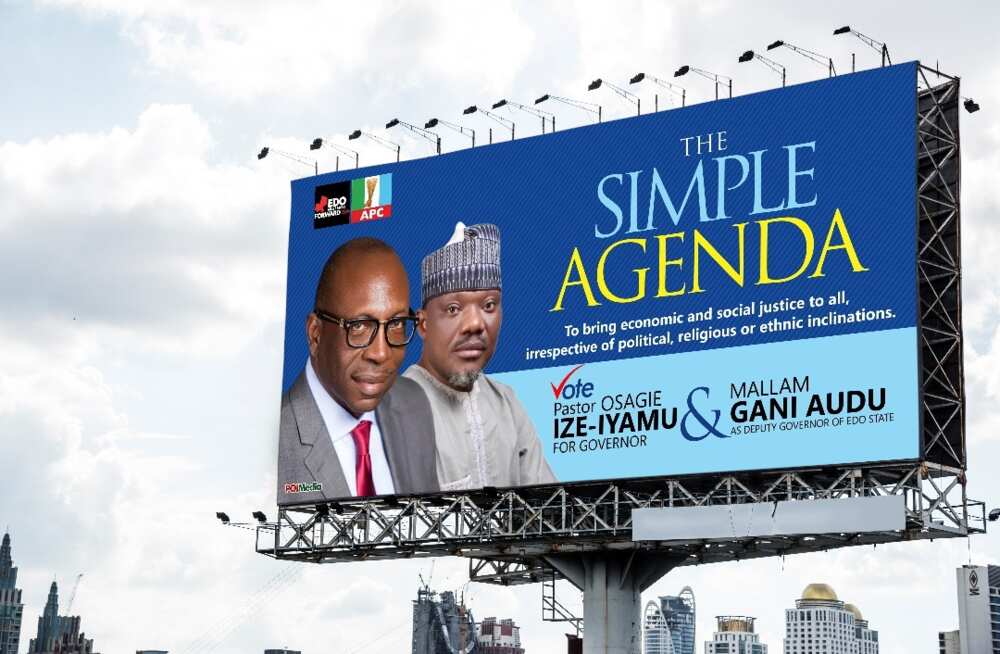 Oshiomhole's role in the elections
After his election to the governor seat in 2016, Obaseki banned APC officials from the government house in Benin City, the state capital, saying that public funds were for development, not for sharing amongst the political elite.
Oshiomhole saw this refusal to entertain the party funders as a betrayal as these officials and financiers had been loyal to Oshiomhole and played a pivotal role in getting Obaseki elected.
Since then, Obaseki and Oshiomhole's rivalry has intensified.
APC's win in the Edo 2020 elections is extremely important for Oshimhole's reputation, as he wants to prove that he is still the undisputed king of the state and that he can push out people who defy him.
Last month, a cross-section of senior Benin chiefs rejected efforts by Oshiomhole to drag them into partisan politics.
According to the chiefs, their traditional duties to Edo people, irrespective of the political parties they belong, restrain some of them from campaigning for any candidate, and would not be swayed by Oshiomhole's genuflections and pleas.
One of the chiefs said
Some of us came for this meeting with Oshiomhole to hear what message he has for us. But I felt embarrassed when he went down on his knees to start begging us to vote for the APC candidate. Oshiomhole said he made a mistake for campaigning for Obaseki in 2016...
Does Obaseki have a greater chance of winning?
Obaseki seems to be at an advantage, as his proven track record speaks volumes. Some of his achievements include his EdoBEST program and EdoBEST at Home (created during the coronavirus pandemic).
His state, Edo, has also been praised for how it is handling the COVID-19 pandemic.
But not everyone is for Obaseki's re-election.
The youth wing of the APC, Edo Chapter, has promised to send Obaseki packing.
The youths stated this during the inauguration of the youth wing of the APC Governorship Candidate Campaign Council in Esan West and Owan West local government areas.
Mr Dennis Idahosa, the Director-General, Youth and Students' Mobilisation for the State Campaign Council, who inaugurated the youth wing, said that the party aimed to record 99% victory in the governorship election.
Idahosa urged the coordinators of the youth wing to take the manifesto of Mr Osagie Ize-Iyamu, the APC candidate, christened, "SIMPLE Agenda" to all nooks and crannies of their council areas:
"We have all it takes to come out victorious, especially when you consider the record of achievements of the party while Mr Adams Oshiomhole was the Governor....In addition to this, we have a sellable candidate in the person of Pastor Osagie Ize-Iyamu. Let's us all go out and propagate his "SIMPLE agenda" message to the people..."
Meanwhile, the Vice-Chairman of the Media and Publicity Committee of APC National Campaign Council, Hon Patrick Obahiagbon, accused Governor Obaseki of abandoning governance and rather spending time to plot the rigging of the coming September 19 election.
Speaking at a press conference, he said,
Matters of governance in Edo State which was the primary ratiocination why the Governor was elected, which in any case have been hereinbefore handled with Olympian aloofness and magisterial pontifications, have now been completely abandoned, jettisoned, and forgotten completely as the outgoing Governor has turned his attention, full-time, on how to subvert the September 19th election through the rigging, intimidation, arm-twisting, unbridled threats, violence, and other anti-democratic underhand tactics.
The highly awaited Edo 2020 elections will be one for the books. Will the people of Edo choose incumbent Governor Godwin Obaseki or will they opt for Adams Oshiomhole's protege Ize-Iyamu?
READ ALSO: Ondo 2020 governorship election: What do we know about it?
Legit.ng recently reported about the upcoming Ondo 2020 election set to take place in October.
The tight race is between Rotimi Akeredolu of the ruling All Progressives Congress (APC) and Eyitayo Jegede of the Peoples Democratic Party (PDP).