Man burns down his apartment as he proposes to his girlfriend with hundreds of candles
- A man has inadvertently set fire to his own apartment as his preparation for his proposal to his girlfriend went totally wrong
- The man reportedly lit hundreds of candles for the romantic gesture
- Unfortunately, the romantic scene turned bizarre when his flat was overwhelmed with flames
PAY ATTENTION: Click "See First" under the "Following" tab to see Legit.ng News on your Facebook News Feed!
A man's expensive and romantic proposal preparation faced a major draw-back after he accidentally set his own apartment ablaze.
The man reportedly lit hundreds of candles for the romantic gesture.
South Yorkshire Fire Service and Rescue Service in England, who responded to distress calls, reports in a post on social media that the incident happened in August.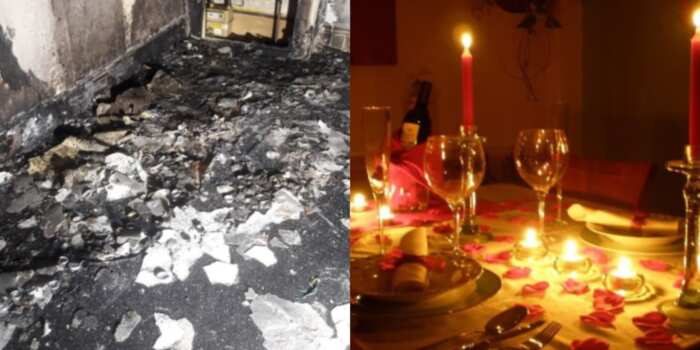 The Service revealed it was caused by a man who left hundreds of tea light candles burning while he left the flat to pick up his girlfriend from work.
Unfortunately, by the time he returned to his flat the entire place was engulfed in flames.
The fire service said in the post:
''Look closely. What do you see? That's right, hundreds of tea light candles! Want to know what happened here? We thought you did. It involves a romantic proposal that didn't quite go to plan, and includes an important lesson around candle use. Lets go!"
In spite of the major setback, the lady said yes to the proposal.
In another story, after a year of being entangled in a romantic relationship, a couple has been hard hit with the reality that they are actually cousins.
A social media user with the Twitter name, dipuosungula, confirmed her followers' months of suspicion about her boyfriend after she recently found out they are related.
The young lady, who has quite a following online, revealed she and her now-cousin, had unsuspectingly been dating as lovers all this while before the discovery. She revealed that they dated for a year before they found out that they are more than a look-alike.
Prior to the discovery, @dipuosungula and her former boyfriend, now her cousin, were suspected to be related because of their similar looks.
Her followers were the first to notice and many pointed it out to her as they commented on videos and frames showing the pair in romantic scenes.
Announcing their unsurprising discovery along with a video showing their past romantic love life, she wrote: ''Never mind, we just found out we are cousins.
Must a woman adopt her husband's name after marriage? | Legit TV
Source: Legit.ng