Photo news: Police attack protesters during peaceful match in Lagos
Police Officers attached to the Lagos State Police Command were in full gear during the RevolutionNow protest which rocked Ikeja, Lagos early Wednesday morning.
The protesters who were in their hundreds, gathered (without weapons) at the Under Bridge area of Ikeja, and started sensitizing passers by on the need to join the protest, to press for changes in the way things are done in the country.
They also carried placards with inscriptions that passed their messages to the government, demanding good governance and an end to the incessant killings across the country.
Among their demands also, was the rejuvenation of the education sector and every failing sector of the country, for which citizens have been suffering over the years.
But their protest was met with a stiff resistance by Police Officers who insisted that they remained on a spot initially.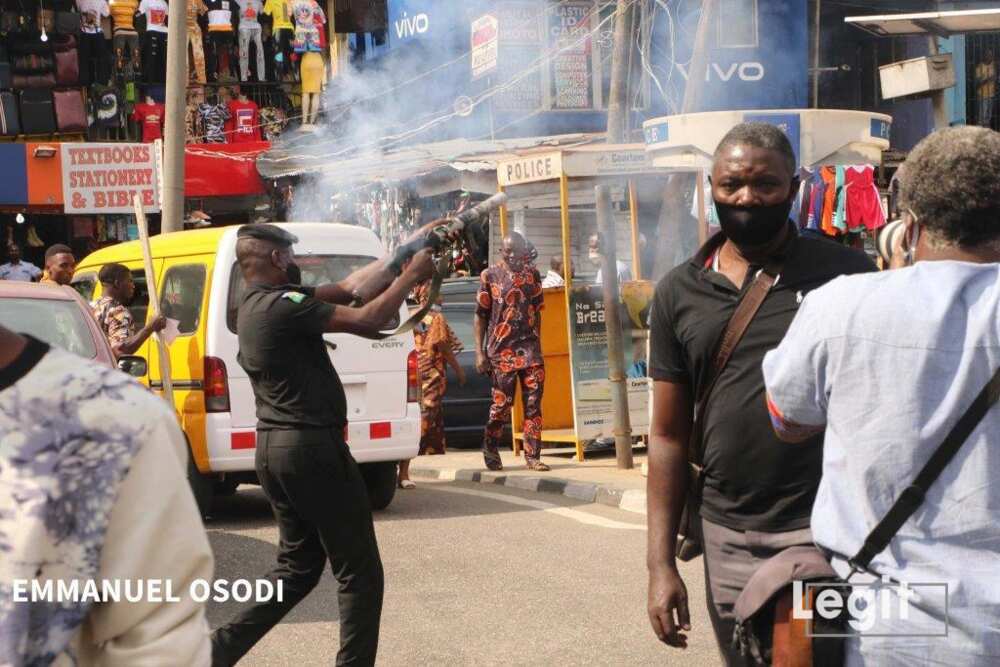 Unbothered by the gun wielding officers, the group made up mainly of young Nigerians, began their match round the roundabout, and kept chanting songs like "Solidarity forever, we shall always fight for our rights", "The people, united, can never be defeated", among others.
After moving round the bridge a second time, the protesters restrategized, in a bid to avoid confrontation by the Police, and took their protest to Ikeja Along axis of the area, at which point, the officers started shooting teargas.
This disrupted the protest for a few minutes as the protesters went different ways, most of them seeking refuge inside the Computer Village, as the policemen kept pursuing them from the streets.
But they regrouped, this time, with a lot of resistance, and a loud chant of "the people, united, can never be defeated" to which some of the traders at the Computer Village joined, and ensured that the policemen went out with their trucks and guns.
Dissatisfied with the chants and the momentum, the policemen resorted to handpicking of the protesters, a move which would effectively ensure the protesters went different ways to evade arrests and brutality.
Legit.ng's Emmanuel Osodi captured the moments, and they are presented below: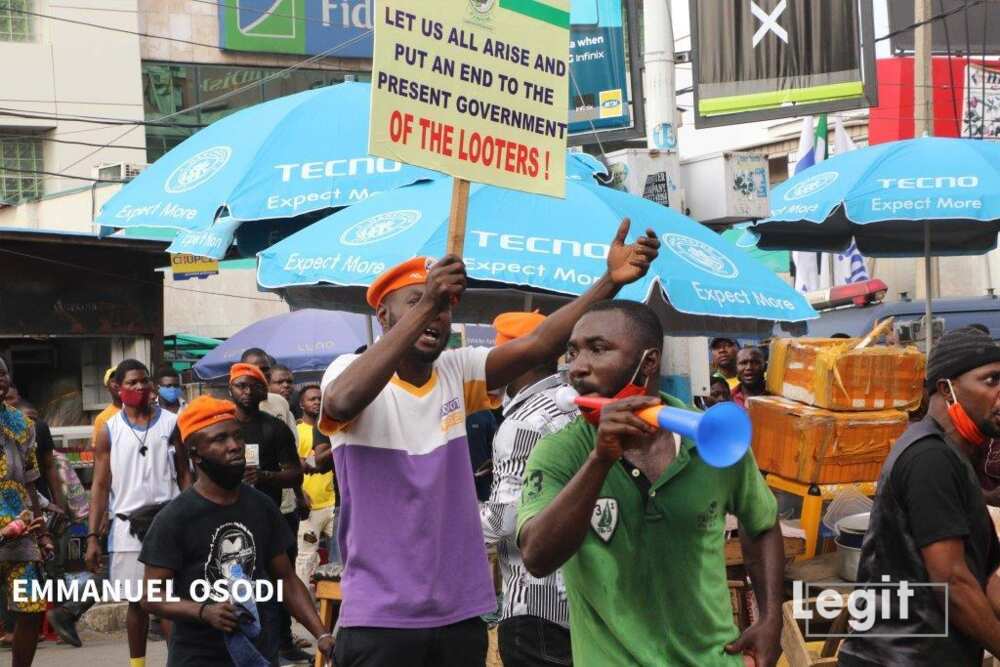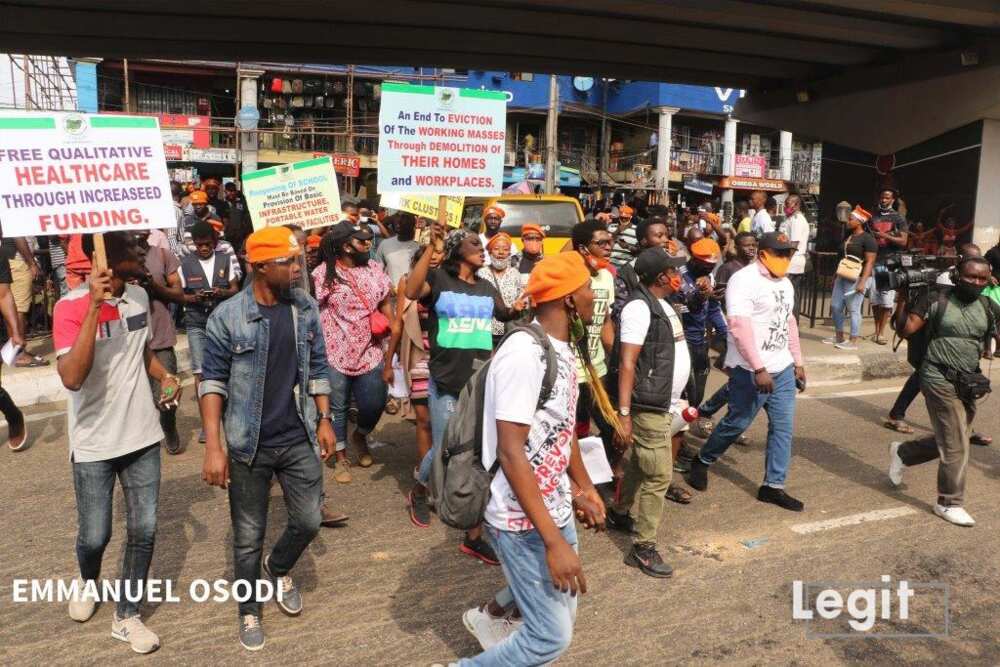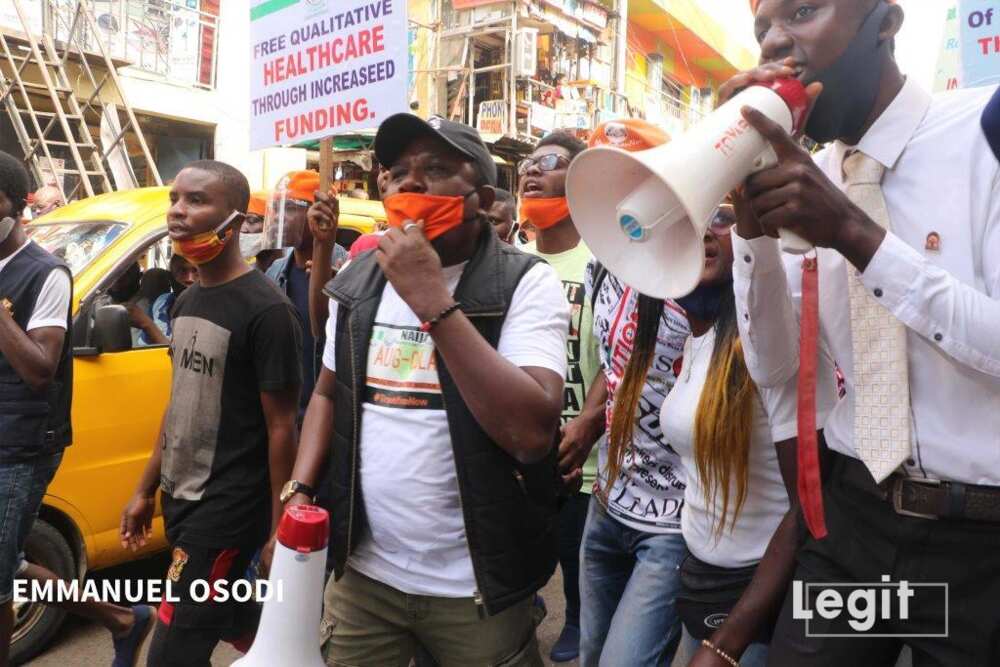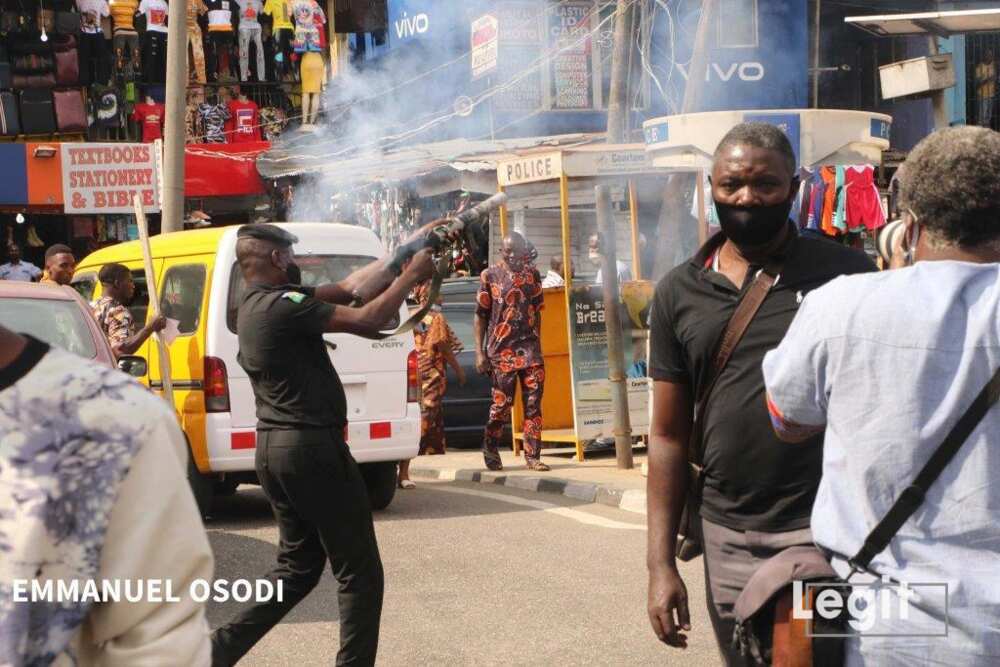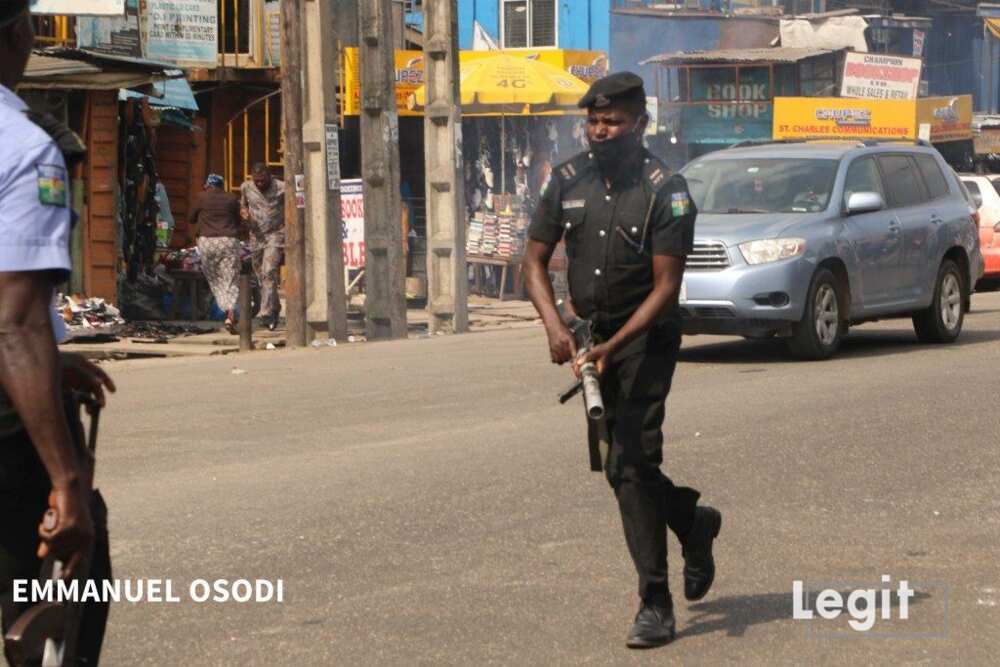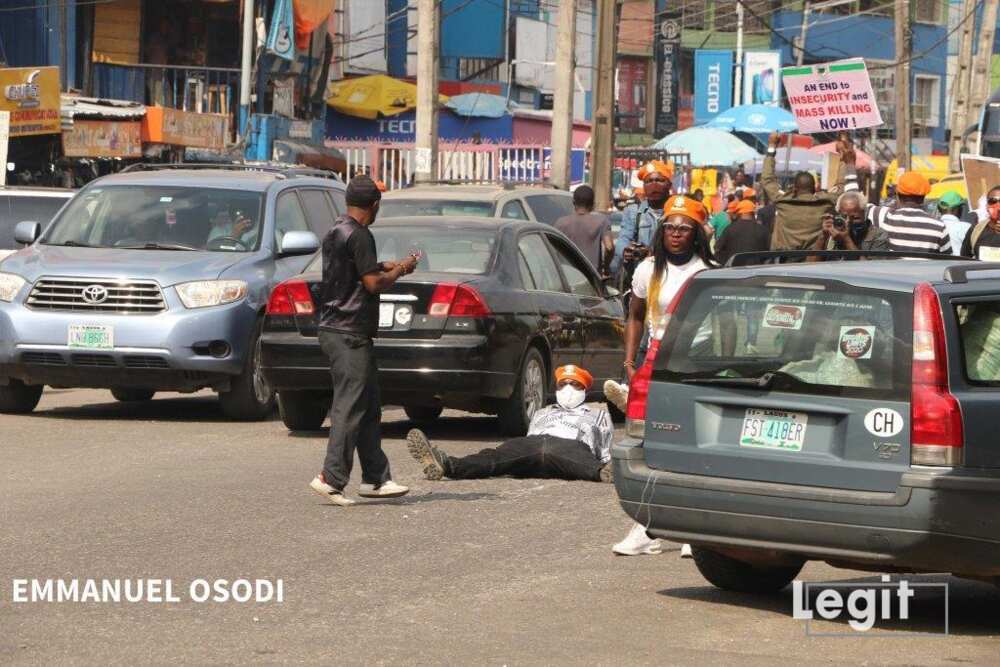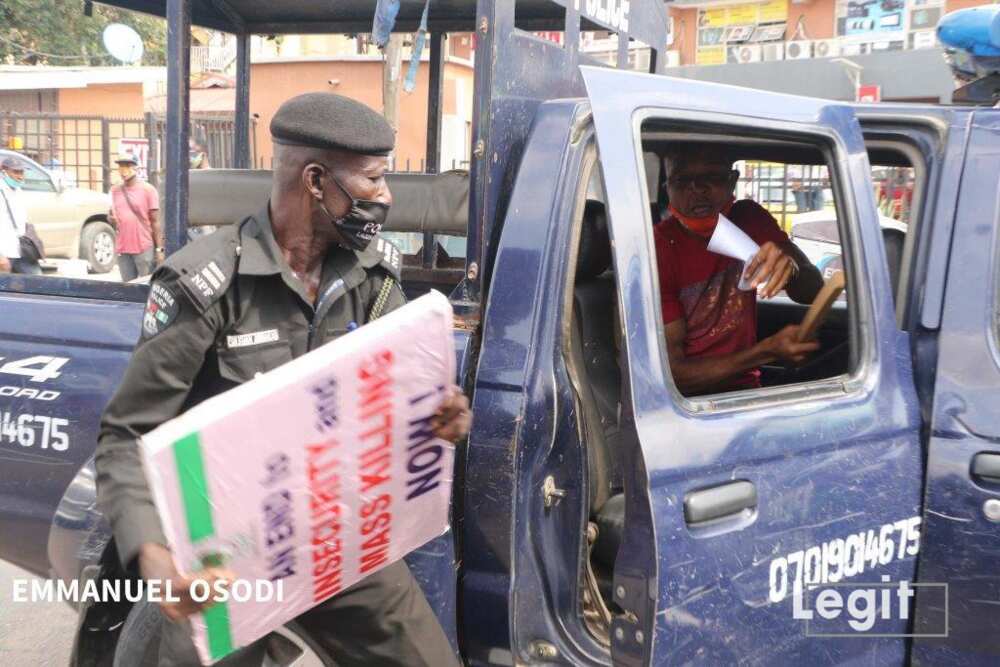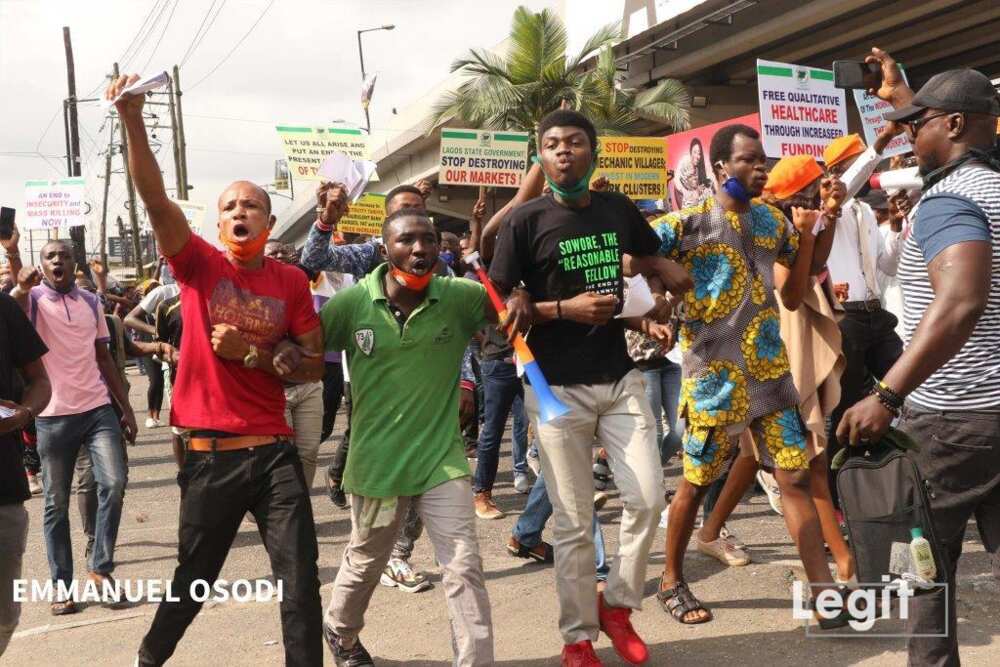 Source: Legit.ng