- Massive explosions have gone off in Beirut, the capital of Lebanon
- At the time of this report, it is not yet clear what caused the explosion in the port region
- Reports say dozens have been declared dead, while thousands have been injured
PAY ATTENTION: Click "See First" under the "Following" tab to see Legit.ng News on your Facebook News Feed!
A massive blast in the Lebanese capital, Beirut, has killed at least 27 people and injured more than 2,500 others, authorities in the Middle East country have announced.
At the time of this report, it is not yet clear what caused the explosion in the port region.
Photos and videos posted online, however, showed a column of smoke followed by a large mushroom cloud.
The explosion released a shockwave causing widespread damage to buildings and shattering windows in different parts of the city.
Some reports say the explosion was caused by highly explosive sodium nitrate confiscated from a ship more than a year ago and were placed in one of the warehouses located in the port.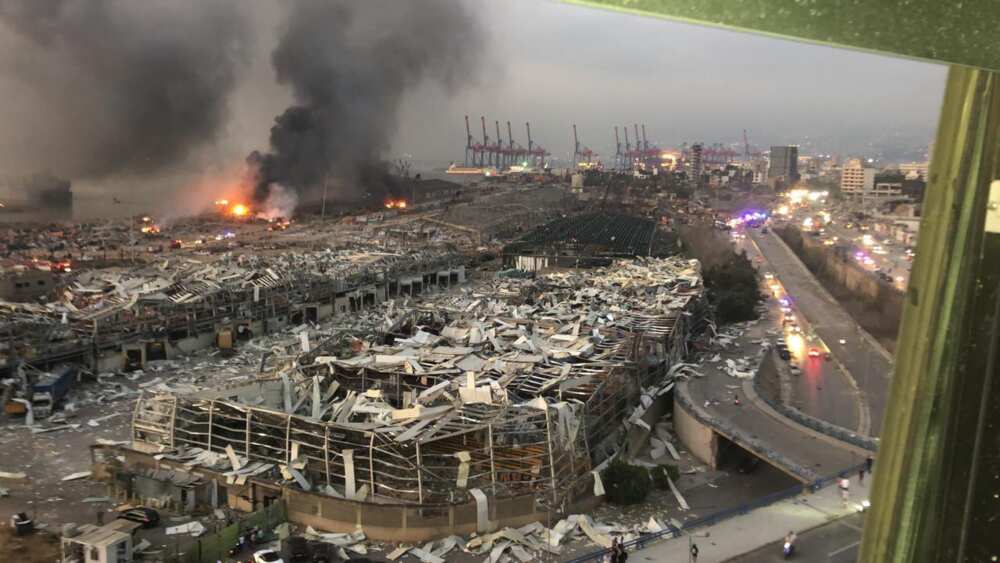 PAY ATTENTION: Install our latest app for Android, read best news on Nigeria's #1 news app
Reporters in the city say hospitals are overwhelmed and many buildings have been destroyed.
Authorities in the country revealed the blast happened in an area housing highly explosive materials.
Security chief Abbas Ibrahim said: 'It appears that there is a warehouse containing material that was confiscated years ago, and it appears that it was highly explosive material.'
Prime Minister Hasan Diab has declared Wednesday a day of mourning, and President Michel Aoun called for 'urgent' defence council talks.
He also called on brotherly and friendly countries to help his country.
Those responsible for Beirut 'catastrophe' must be held to account, he added.
UK Foreign Secretary Dominic Raab said the government was "ready to offer help and support" while French Foreign Minister Jean-Yves Le Drian said France was also ready to offer assistance.
The U.S. State Department also said it is closely following reports of the explosion and added that the agency is working closely with local authorities to determine if any U.S. citizens were affected in the incident.
Israel says it has offered humanitarian aid to Lebanon via foreign channels, as the two countries have no diplomatic relations.
Iran is ready to help Lebanon in any way necessary, Iranian Foreign Minister Mohammad Javad Zarif has tweeted.
Canadia prime minister, Justin Trudeau tweeted: "Absolutely tragic news coming out of Beirut. Canadians are thinking of everyone who has been injured and all those who are trying to locate a friend or family member or have lost a loved one. We're keeping you in our thoughts and we stand ready to assist in any way we can."
Experts say the total destruction of the Beirut port will have devastating consequences for years to come.
80% of Lebanon's grain supply came through the and the entire country is depended on it for import.
Recall that an explosion rocked Abule-Ado, Satellite Town, Lagos state on Sunday, March 15, claiming the lives of several people and destroyed over 50 houses.
Abule Ado fire: Lives lost, houses destroyed in Lagos explosion | Legit TV