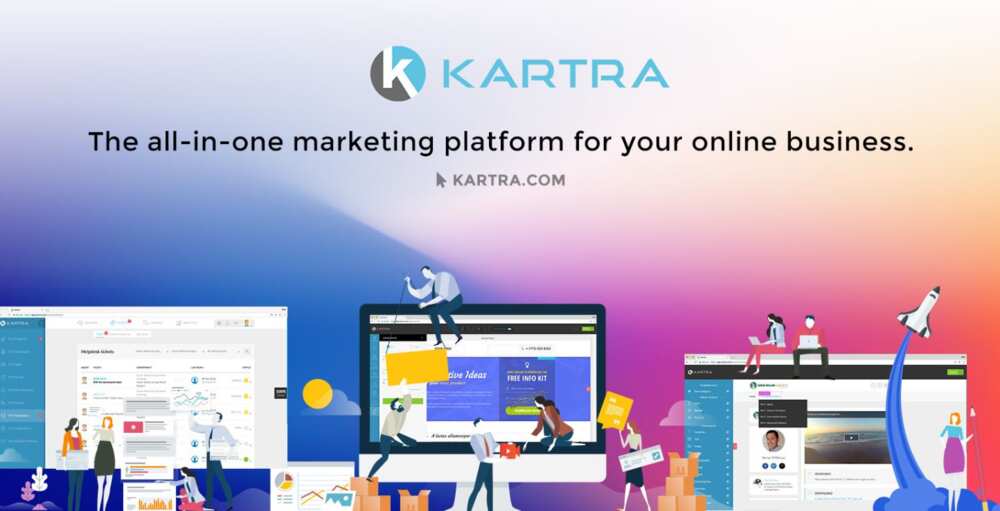 If you're thinking of starting an online business, then you may have heard of all-inclusive marketing software and programs that can scale up your business.
One of such high-end marketing tool is Kartra.
Kartra is an online marketing platform that you can use and be successful in your business. For instance, if you want to promote your product or service, you will need software like
• Autoresponder
• website builder
• helpdesk software, etc.
What if you have a running business?
Maybe you should rethink how you're running your business
It's always a little scary, right? I mean, whenever you jump into something new, that entails some RISK, and there's no guarantee of a POSITIVE outcome. Often, you don't even know the size of that RISK or the significance of the outcome.
So it's usually more comfortable, and EASIER, to stay with what you know. But is it easier? Really?
Let's talk about your business.
You've decided to run your own. And maybe you've already travelled down that road a little... meaning, you've done some research, chosen some marketing software, plunked down the money to subscribe, and made a few sales already.
You've been building a list, designed and sent some emails, built some landing pages, maybe even put together a few funnels. You've got some skin in the game now. Or, you're about to.
Then along comes something NEW and DIFFERENT that promises to make your marketing A WHOLE LOT EASIER and CHANGE YOUR LIFE... something called KARTRA.
Try Kartra out today for 14 days free
So what can Karta do for you?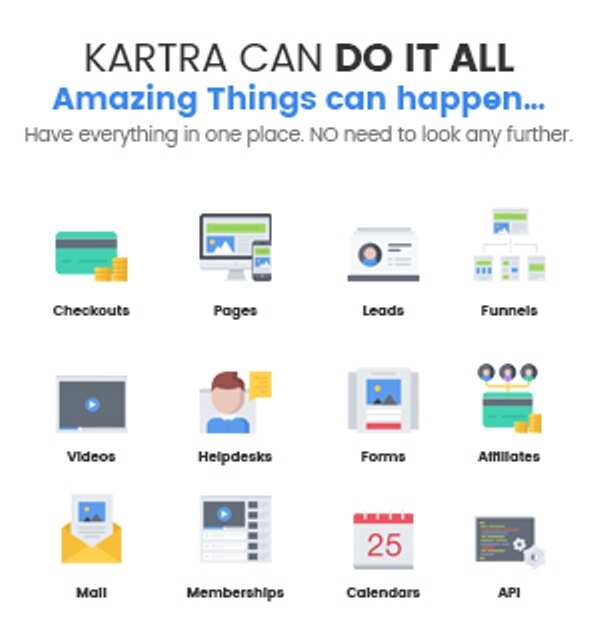 Below are what you can use Karta for:
• Email Marketing
• Funnel building
• Courses and memberships management
• Website hosting
• Email marketing
• Landing page Building
• Split testing
• Shopping cart
• Affiliate management
• landing pages
isn't this all in-suite marketing suite simply amazing? Imagine getting these tools from different vendors, now imagine the technicality involved in learning these many tools not to forget the cost which would follow suit.
Kartra as definitely made life easier.
Try Kartra out today for 14 days free
Who exactly is Kartra for?
Kartra comes in Handy for
• Bloggers
• Digital Marketer/Consultant
• As an online course creator
• Social media expert
• Agency owner
• Affiliate marketer
• Any service-based entrepreneur.
Are you in any of these niches? you definitely would need kartra to quickly scale up the process and automate sales and conversion easily.
Find out the amazing things Kartra can do for your business at no cost for a 14 days trial.
kartra Pricing Summary: How much Is Kartra?
With the amazing features this all in one marketing suite is offering, one would wonder if this would break the bank, but far from it, Kartra is quite affordable when compared to the features it offers.
Below is a brief summary of the monthly cost of kartra:
Kartra Pricing:
• Starter ($99/month)
• Silver ($199/month)
• Gold ($299/month)
• Platinum ($499/month)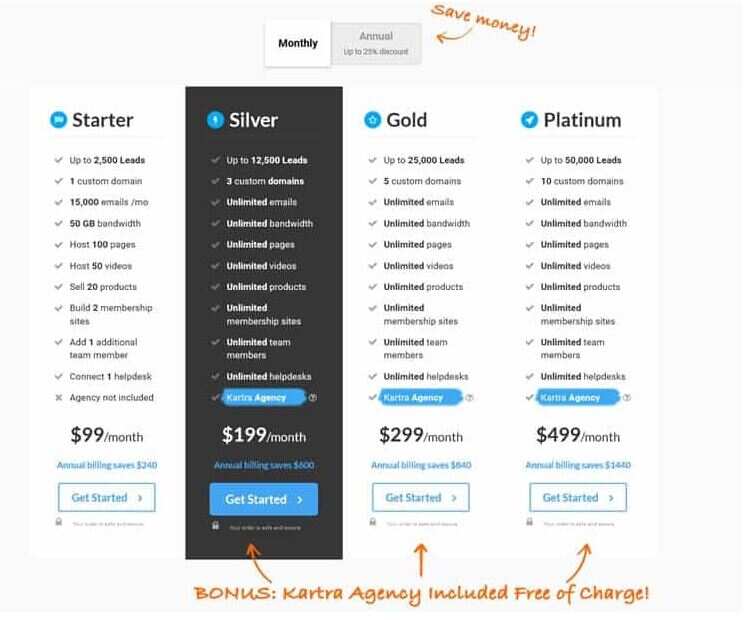 These prices are based on a month by month charges. The annual plan will save you an extra 25% the cost of buying a plan at the standard rate.
Kartra vs Getresponse
Katra is a full marketing Suite while Getresponse is an email specialist.
Both Kartra and GetResponse are top-quality platforms, there is no denying the obvious. But which platform is best for you?
Although they have some similarities to each other they are not direct competitors.
It is pretty obvious that the all in one Marketing platform Kartra would definitely have more features.
If your core focus is just email marketing you could probably for getresponse but if you want additional service for even less cost, choose Kartra
What are their pricing differences?
Kartra Pricing:
• Starter ($99/month)
• Silver ($199/month)
• Gold ($299/month)
• Platinum ($499/month)
These prices are based on a month by month charges. The annual plan will save you an extra 25%.
Get response pricing, on the other hand, is list depended, if you have a small size list, the cost could be as low as $11 per month and can get really pricey when your list begins to grow.
If you want to do just email marketing I think you should go for getresponse but if you need something much more, as stated in the above Kartra review just go for Kartra.
What does Kartra help you replace?
Kartra helps you save cost, now imagine you need these Softwares, note this is on a minimum list size:
• Email marketing (Get response – $15/month)
• Landing page builder (Unbounce – $79/month)
• Video hosting (Vimeo – $20/month)
• Membership site hosting (Memberpress – $349/month)
• Opt-in form pop-ups (Sumo Pro – $29.99/month)
• Affiliate tracking (Tapaffiliate – $69/month)
• Help desk software (Zendesk – $5/month)
That's a whopping $567/month and I didn't get to mention the other feature of kartra,
Do you see how Karta Helps you save money?
More so,
I'm curious though... HOW EASY is it to REMEMBER HOW TO USE all those different platforms for emailing, page building, funnel design, membership site building, product cart setup, opt-in form design, and video hosting... never mind nice add-ons like having a help desk or an affiliate management platform?
Because Kartra has all of those... built into ONE absurdly easy-to-use platform. Even video hosting. Even the helpdesk. Even affiliate management.
HOW EXPENSIVE IS IT TO PAY FOR ALL THOSE PLATFORMS SEPARATELY? (probably many hundreds of dollars per month as I explained illustrated).
Kartra gives you all of those tools – INCLUDED. There are no extra add-ons to try to get more money out of you. And the cost? MUCH LESS than you'd pay for all those other tools collectively.
HOW EASY is it to design and write emails, squeeze pages, landing pages, sales pages, forms and checkouts that DON'T SUCK? I mean, to create truly beautiful, modern-looking design and copy that actually increases sales, not kills your brand?
Well, Kartra's completely DONE FOR YOU campaigns (crafted by experts you might have heard of, like Frank Kern), and professionally designed templates for EVERYTHING, reduce your effort to ZERO.
And, HOW EASY is it to get all those separate tools you might be using right now to actually talk to each other, share data, and give you comprehensive, ACCURATE analytics so you can actually know which parts of your marketing are making you money ...and which parts suck?
Sign up today and get 14 days to try Kartra free
Does Kartra Have An Affiliate Program?
Yes, kartra have an affiliate program that offers juicy commissions of up to 40%, you want to earn while using this product and recommending it to your readers and subscribers.
Learn how to join the Kartra affiliate program for free.
Kartra Affiliate Program: All You Need To Know & Generate Passive Income
Wrap Up
If you are a seasoned online entrepreneur or a company, you would agree with me that Kartra has some integration that is useful for your business progression with cost in mind, you should seize the opportunity and start using Kartra today.
[Sponsored]