- Abubakar Malami says there is no way Nigeria will sign off its sovereignty over China loan
- Consequently, the justice minister said there is nothing to worry about the situation
- Going further, he said the FG will always act in the best interest of Nigeria
PAY ATTENTION: Click "See First" under the "Following" tab to see Legit.ng News on your Facebook News Feed!
Nigeria will not sign off its sovereignty over any loan, the attorney general of the federation and minister of justice, Abubakar Malami, has declared.
According to him, President Muhammadu Buhari will at all times act in the best interest of the country. He said there was nothing to worry about on the matter.
''The point of note, as per waiver of immunity is concerned, is the fact that it could either be an immunity of sovereignty of a nation or in the alternative waiver of sovereignty as it relates to a contractual obligation, which in effect entitled a party to the contract to have their contractual right enforced on the assets of a sovereign state simpliciter, without affecting the sovereignty of a nation in its own right,'' he added.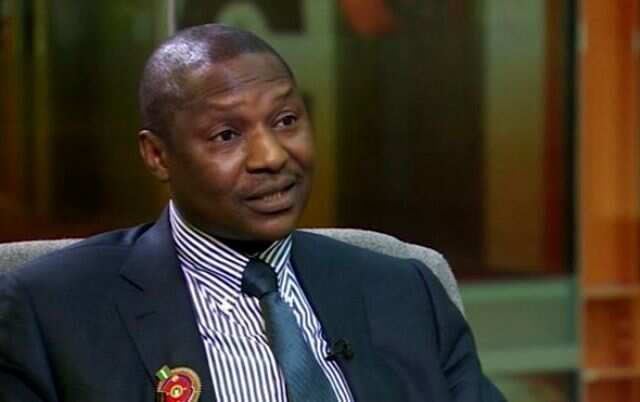 Meanwhile, Legit.ng had reported that the Integrity Group Against Corruption has raised an alarm alleging that it has uncovered plots by some persons to unseat Nigeria's AGF Malami.
Chairman of the group, Bello Gambo Iliya, made the allegation on Tuesday, July 28, while speaking to journalists in Kano state.
Iliya said his group has also uncovered an email from one Olaruwanju Suraju who claimed to be the chairman of one Civil Society Against Corruption, which indicates a desperate move to cast aspersions against Malami.
According to him, the email dated Monday, July 27 was intended to garner support from civil society organisations against Malami.
He said the writer of the email was demanding support to petition President Buhari against Malami.
PAY ATTENTION: Download our mobile app to enjoy the latest news update
Despite the alleged plots to oust him from office, Malami has been getting support from some Nigerians in recent days.
Legit.ng had also reported Oluwatosin Ojaomo, one of the legal representatives of Ibrahim Magu has faulted the way trial of the suspended EFCC boss is being handled, wondering why it would be conducted behind the cameras.
Ojaomo expressed his objection on Tuesday, July 28, as the seven-man presidential panel constituted to probe Magu proceed with its investigation.
On Wednesday, July 22, the suspended EFCC boss opened defence against the Malami allegations as he teamed up with his lawyers to fight what he termed as injustice against him.
Ojaomo said the panel's proceedings should be open to media coverage in order to maintain fairness.
Nigerians in Benin City reveal how to end corruption | Legit TV