- Lieutenant Madeline Swegle has received her first Wings of Gold after making history as US Navy's first black female tactical pilot
- Swegle expressed her excitement over the opportunity and promised to work harder
- The young lady received the wing on Friday, July 31
PAY ATTENTION: Click "See First" under the "Following" tab to see Legit.ng News on your Facebook News Feed!
The US Navy's first black female tactical pilot, Lieutenant Madeline Swegle, has received her first Wings of Gold.
Legit.ng recalls that Swegle celebrated her accomplishment at her graduation ceremony as the first-ever black woman tactical pilot in US Navy history.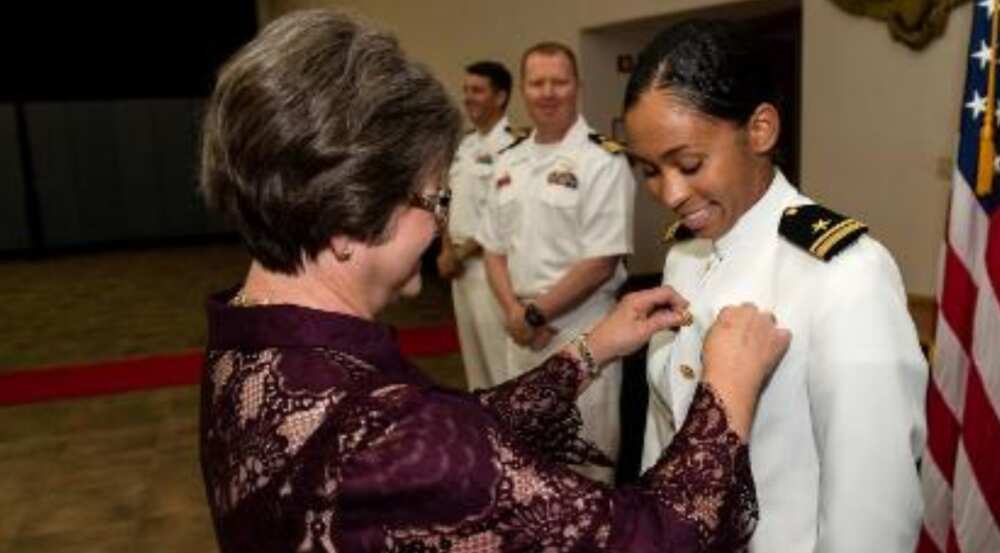 Swegle, who received her first Wings of Gold on Friday, July 31, expressed her excitement over the opportunity and promised to work harder, CBS News reports.
The young lady said: "I'm excited to have this opportunity to work harder and fly high performance jet aircraft in the fleet."
Swegle said she never intended to be the first but she hopes it is encouraging to other people.
The commander, Naval Air Force, Vice Adm DeWolfe "Bullet" Miller III, said Swegle has proven to be a courageous trailblazer.
He said: "She has joined a select group of people who earned Wings of Gold and answered the call to defend our nation from the air. The diversity of that group—with differences in background, skill and thought—makes us a stronger fighting force."
In other news, a Nigerian man identified as Lieutenant Victor Agunbiade, who kept large amount of money for the US Navy, has said he was never tempted to steal the money when he was in possession of it.
Recall that the US Navy commended him for managing it's largest overseas cash disbursement office well.
Lieutenant Agunbiade was awarded the Navy and Marin Corp Development Medal for his exemplary accountability.
While serving as disbursing officer, comptroller department, Camp Lemonnier Djibouti from October 2019 to July 2020, Lieutenant Agunbiade managed $45 million dollars in cash transaction well.
The Nigerian man also maintained 100% accountability of $23 million among six rigorous inspections and independent audits with zero discrepancies.
Speaking with Legit TV, the naval officer said he and his colleagues treated the money as if they were treating files, adding that they were never tempted to steal the money.
The Lieutenant Agunbiade, who said he joined the navy after God showed him the career path to follow in his dream, said his colleagues at Camp Lemonnier Djibouti were cooperating.
NAF Officers make history as first female fighter, helicopter combat pilots | Legit TV