- Dr Stella Immanuel believes several women's illnesses are caused by sex dreams with demons
- Immanuel who confirmed her belief in an interview with the Houston Chronicle said when such people are prayed for, they get better
- The 55-year-old woman shot into the international limelight when she claimed that hydroxychloroquine could cure COVID-19
PAY ATTENTION: Click "See First" under the "Following" tab to see Legit.ng News on your Facebook News Feed!
As the world struggles to find a cure for the deadly coronavirus, one name recently made headline, Dr Stella Immanuel, after she claimed she has cured COVID-19 patients with hydroxychloroquine.
Her claim was trailed by controversy and the video was removed by Facebook, YouTube and Twitter for false information.
While many are still arguing over that, she has dropped another bombshell. According to her, she is a demon buster.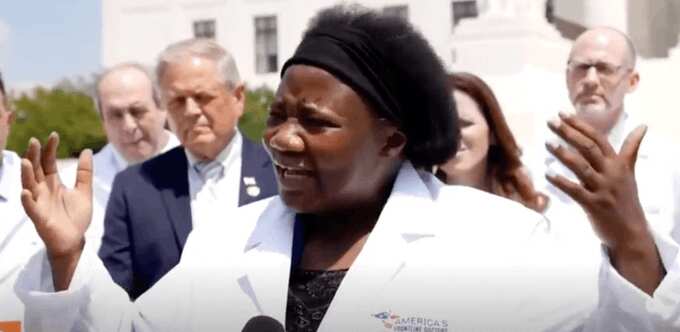 She had years back claimed that gynecological problems like cysts and endometriosis are caused by people having sex in their dreams with demons and witches.
Reiterating her beliefs in a recent interview with The Houston Chronicle, the 55-year-old woman said: "I'm a demon buster. Yes, demons sleep with people. Yes, if you pray for them they get better."
Immanuel who was born in Cameroon and did her medical training in Nigeria holds several other unorthodox medical opinions.
She also runs a church, Fire Power Ministries, and infuses spirituality into her medical practice.
Immanuel's view on hydroxychloroquine was what catapulted her into the limelight.
Her video which insisted that hydroxychloroquine is a "cure" for COVID-19 was retweeted by Trump and his son Donald Trump Jr.
PAY ATTENTION: Install our latest app for Android, read best news on Nigeria's #1 news app
In the video, which has since been removed by Facebook, YouTube and Twitter, she criticised doctors doubting the efficacy of the drug.
Trump Jr took to his Twitter page posting the video of the doctor which he said is a "must watch for everybody".
President Trump, on the other hand, defended the Nigerian-trained doctor when answering questions from CNN's Kaitlan Collins.
Responding to a question, he said: "I don't know which country she comes from, but she said that she's had tremendous success with hundreds of different patients. "And I thought her voice was an important voice, but I know nothing about her."
Coronavirus: Does the Madagascar cure really work? | Legit TV