Legit.ng weekly price check: Prices of food items skyrocket, perishables drop few hours to Salah celebrations
- The fight against coronavirus continues even as Islamic faithful's prepare for Salah celebrations few hours from now
- There are businesses that thrive during festive period and selling of domestic animals especially ram during Salah celebrations is one of such business
- This week, Legit.ng visited Adekunle ram market, at Mile 12, Lagos state to inquire from ram sellers the cost price and buyers' preference as well as patronage
- In their opinion, the economy and coronavirus pandemic affected sales despite the celebrations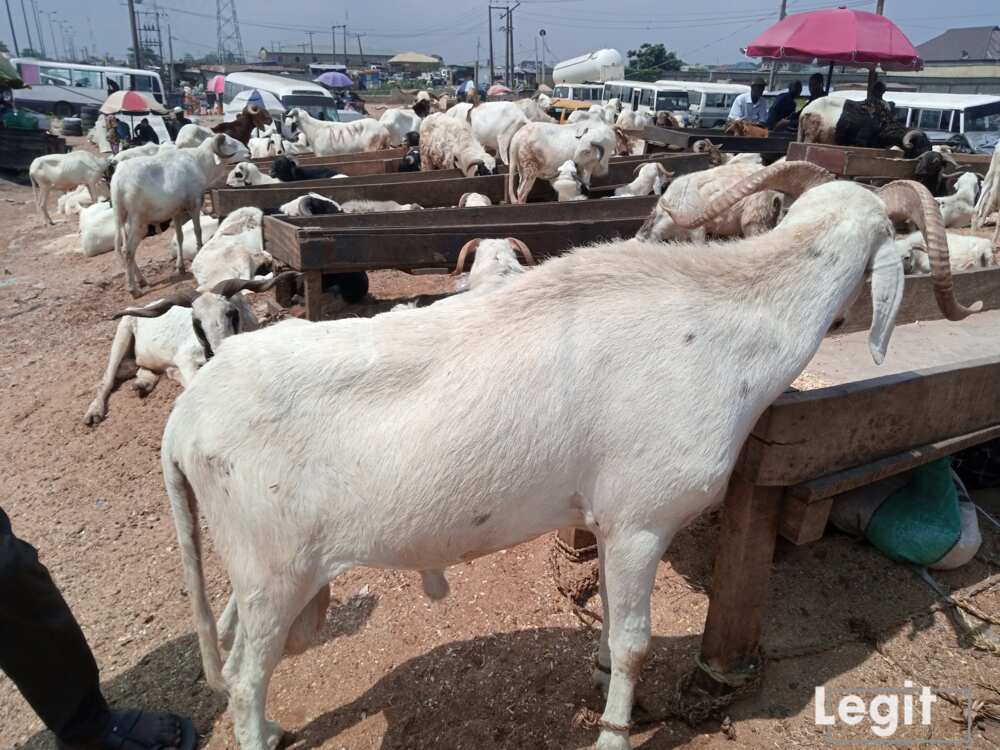 As the fight against coronavirus continues, Islamic faithful's in the country and across the globe prepare for Salah celebrations, few hours from now.
While most people decry the effect of the pandemic on businesses at large, traders on the other hand lament over the negative impact of COVID-19 on pace of business in recent times.
At Adekunle ram market, mile 12, Lagos, the sellers who have prepared for bumper sales were looking all grumpy as the environment although a bit tense but not welcoming for interrogation.
In a chat with Legit.ng, they informed of the increment in the cost of ram this period, the impact of the coronavirus pandemic on their businesses and as well sales few hours before the celebrations.
The ram sellers opined that the increment was at a considerate level due to the social class of the people within the market environs yet there's been record of poor sales; adding that the patronage recorded so far was very low compared to previous years Salah celebrations.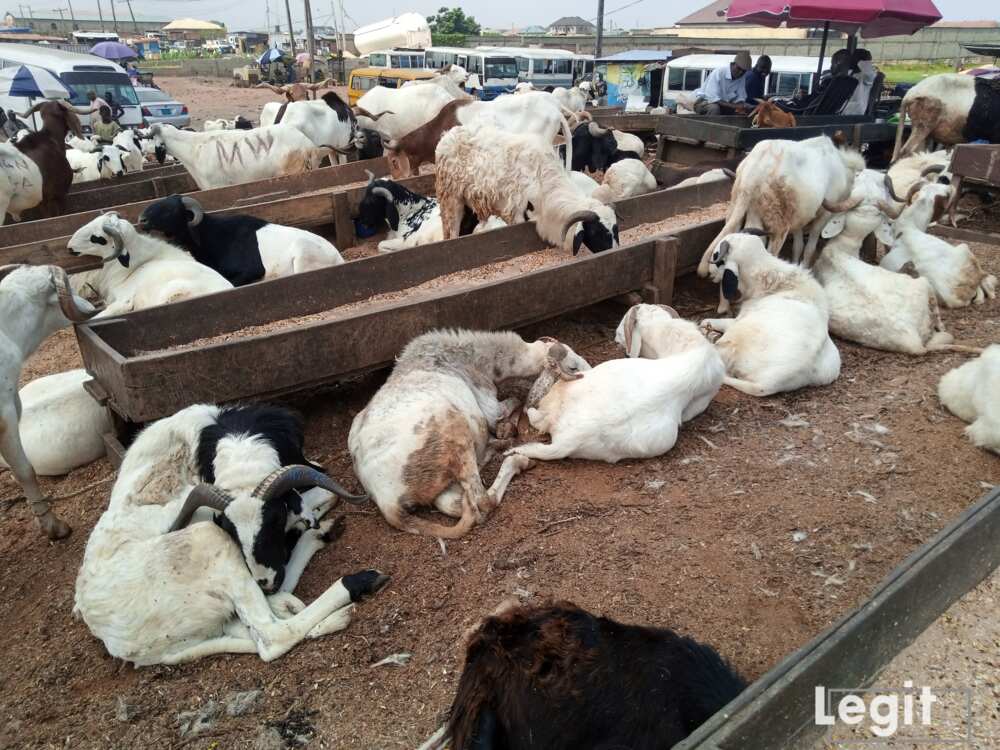 Alhaji Ismaila, a seller for over six years at the market gave a hint on the purchase and supply of ram in this trying time. In his view, the rams cost twice the amount they are sold before this period due to the high cost of transportation and crisis surrounding the region in which they are supplied from within the country and beyond.
"This period, it has been a difficult time for us as ram sellers even as other businesses suffered major setback due to the pandemic; we are also faced with so much to keep up with in this business. We spend more money to purchase ram and after the purchase, we cannot sell below cost price hence we would end up in debt because even our suppliers are having a hard time bringing the animals here. This is so because some state where they purchase it, they are having serious security issues even after purchasing the animals and paying for them respectively and all this is due to the pandemic. we buy from neighbouring countries too.
"The ram business or goat business is one that boom during Salah celebrations and we record huge profit due to the purchasing power of buyers this period and some are willing to spend any amount to get the ram because it is a celebration that is done annually; once in a year. But this season, it is a different case entirely as everything is on a standstill. Market is not moving as expected and business is slow.
"The buyers are very few despite the Salah celebrations but we make sales as they have their preference. some like big rams and some small ones. Not every buyer who was able to get the animals last year, would be able to get it now as they are very expensive even the smallest sized ram is beyond the reach of some buyers."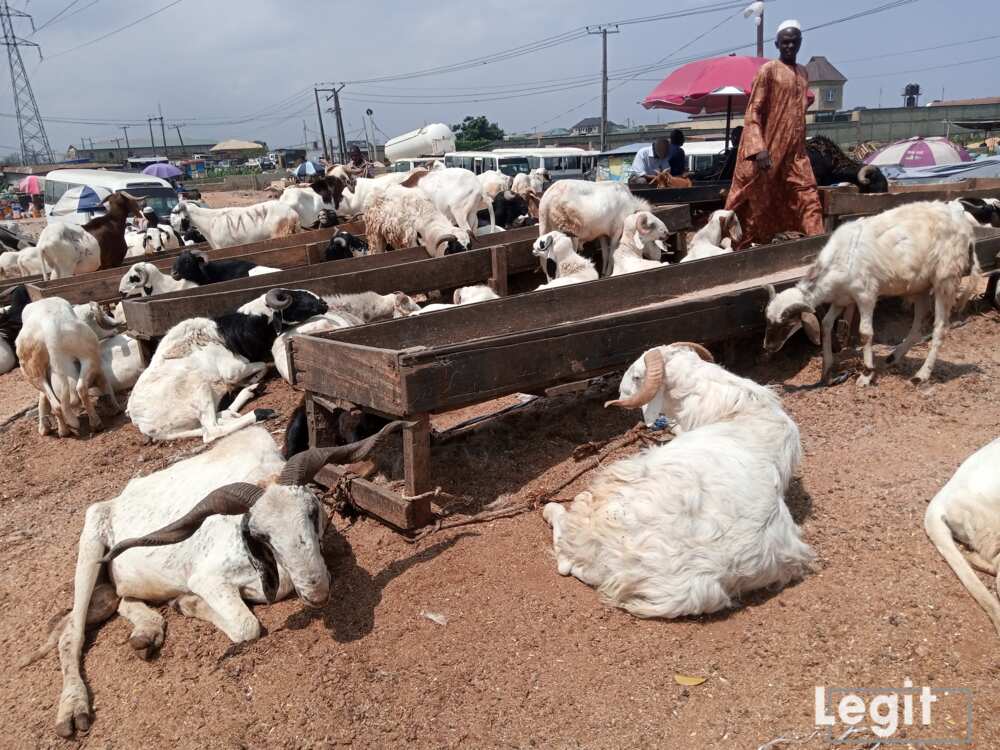 The survey conducted by our correspondent, revealed the high cost of maintenance. The sellers explained how they spend more to get the food consumed by the animals in recent time.
"We sell goat and rams here in the market. The cost of maintenance is more now, compared to before. Everything in the market is expensive so is the food we feed the animals with. We now manage how we give them the food because if they are not well taken care of, it becomes a loss on our part.
"For some months now, we relocated to this new site not far from our previous site due to the industry that is being constructed. This is also another thing that affected us as business owners because it was not planned for but we had to follow order given to us so we can keep our business moving. This affected our sales as some buyers who don't have our contact stopped coming to patronize us and the ones who are used to our previous site, when they come around and didn't see us there or get information on how to locate us here, they go elsewhere to get the animals.
"This period, we spend so much to get the food and it is not funny as it is doubled the amount. A bag of beans (the ones that have been selected by the beans sellers) we use to buy to feed them with that cost N2,000 and N3,000 before is now sold from N5,000 upwards. This is not easy for us because if you don't purchase it from them, someone else would. It is not an item that you bargain and they would reduce the cost price, this one there is a price tag already and you even beg them to keep and supply to you. This is one reason the animals are expensive because the cost of maintenance is added to the cost of purchase together the cost price increases further," A seller told Legit.ng.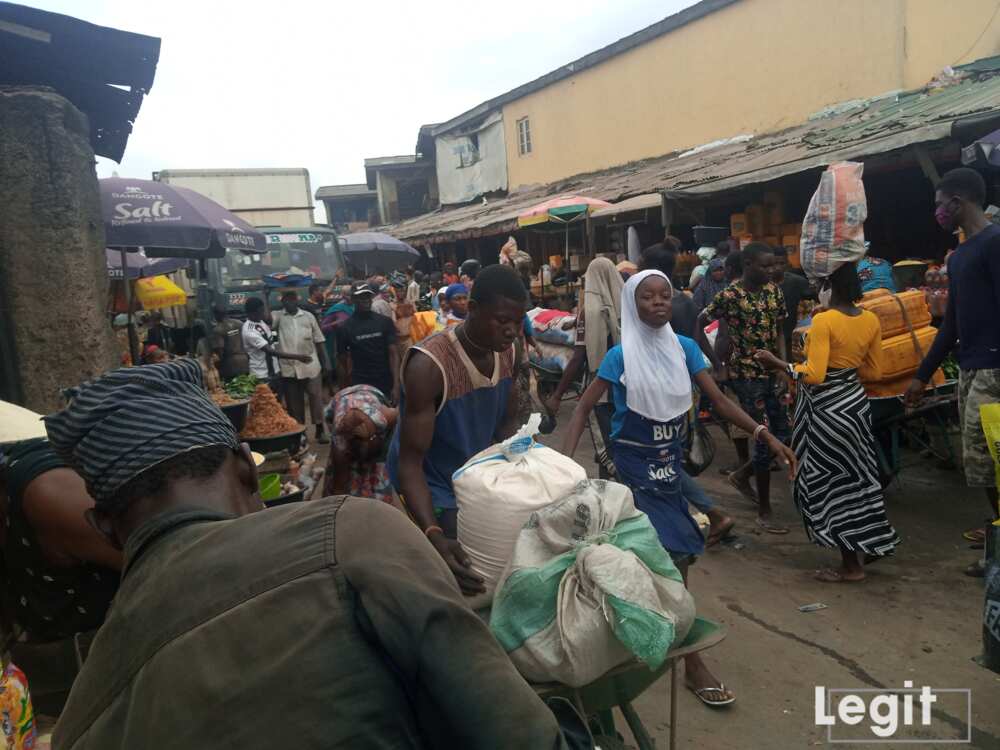 Traders who were anticipating bumper sales as the Salah celebration drew near, are presently counting losses as a result of the poor patronage that characterized this season.
Ram and goat are major livestock purchased by Islamic faithful's for Salah celebrations; although they are given at expensive rate yet traders informed of the availability of the feed depending on the bargaining power of the buyers and the size of the ram.
To sellers, increment in the cost price of the feed is expected and sales have not been affected as they are still recorded daily. A seller said the patronage is encouraging even as some buyers of the other religions purchase the animals to gift their Islamic friends, associate or colleague.
He said: "COVID-19 affected the purchasing power of buyers to a large extent this Salah. We are making sales although not very much but we are still selling because we sell to those who buy for their Muslim friends and family, colleagues or associate as gift for the season. We also sell to restaurant owners and even caterers and others who supply also to people in far places from here.
"Now, the money we pay for transportation on each ram being supplied is doubled as they also determine the cost price. We pay from N3,000 upwards per ram for transport fare and sometimes from N4,000 upwards. So, by the time we order for N100 or 50 rams we multiply them per N3,000 or N4,000 plus the total cost of purchase; this is why they are sold at a very expensive rate in recent time.
"The cost price of the animals vary, but they are given at affordable prices. We have rams that cost N35,000, N50,000, N75,000, N100,000 and N140,000 upwards; the sizes determines the cost price. Yet we have the ones of N25,000 but they are very small and not meaty. Yes, if you want the ones that you will slaughter and get good beef from, then you will pay more. For goat, we have the ones that are sold from N15,000 upwards and the ones that are sold from N25,000 upwards; the size and the gender determines its cost price too."
At the market, the presence of new yams inflated the cost price of the old yams as traders anticipate for bumper sales ahead of the celebrations.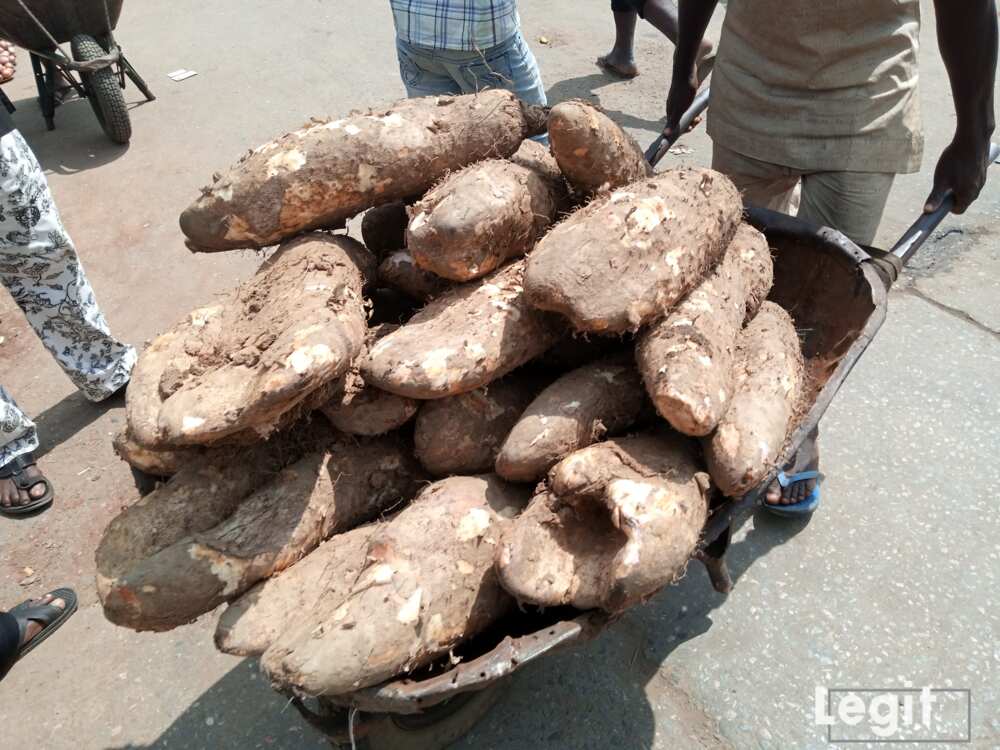 Traders hint on the increment in the cost price of the goods to the high cost of transportation and seasonal factors; adding that the celebration would take place in the city as most of the sellers were unable to travel due to the high cost of travel fares occasioned by the pandemic.
A seller confirmed thus: "The pandemic affected the cost price of all the goods in the market and even the economy; so yams are no exception. The cost price of yam as at now is influenced by its season and the high cost of transportation. New yams are in the market now and they are also very expensive while old yams are gradually leaving the market as they are out of season now. The goods are purchased from Benue state and other northern state, this makes them very expensive.
"Not all buyers would eat the new yam at this period of time; for them, it is not yet strong for consumption. A small tuber of yam is sold from N700 or N800 respectively while the big tuber of old yam is sold from N1,800 upwards. But for new yams, the big-sized tuber of yam are sold from N1,600 upwards and the small-sized are sold from N1,000 below. Five tuber of big-size old yam cost N11,000 and that of new yam cost N10,000. We are making sales but the quantity of purchase is at a reduced level.
"Most of us that wish to celebrate Salah with our families outside the state, couldn't do so due to high cost of travel fares. Before, we pay a meagre sum of money to travel but now, when we got to the park, fare hikes from N10,000 upwards as against its old price of N5,000 upwards. This is what we didn't expect or saw coming but we are grateful to Allah for sparing our lives till this time, we will overcome this difficult phase in no time."
There is stability in the cost price of foodstuff items while food items experienced a fluctuation in prices even as perishables increases further.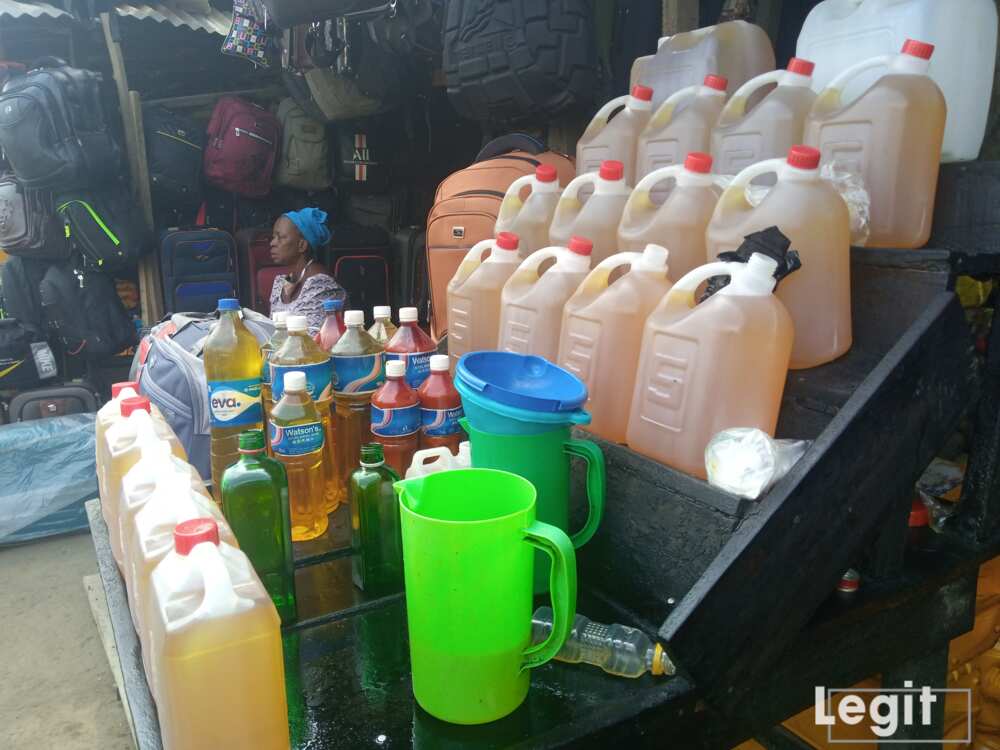 For palm-oil, the cost price is fair while that of groundnut-oil, the cost price had increased. The traders informed that the price influenced to a large extent the purchasing power of buyers and this in turn affects sales positively and negatively.
"When the prices of goods are affordable, it increases the purchasing power of buyers but when they are expensive, it reduces their purchasing power leading to a reduction in the quantity of purchase.
"The cost price of beans and garri increased a bit this week same with rice. A bag of local rice; the bag of stony rice cost N20,000 as against its old price of N18,000 and N19,000, the ones without stone had risen from N22,000 to N24,000 while the cost price of foreign rice is given from N28,000 upwards and some traders sell theirs from N30,000. For beans, the bag of olone is sold from N38,000 upwards while the bag of olotu beans is sold from N34,000 and N35,000 upwards. Oloyin beans, the bag is always very small and it is sold from N19,000 upwards and some sell from N20,000 upwards.
"Garri; a paint bucket is sold from N700 and N750 respectively. A bag of yellow bag is sold from N14,000 and the bag of white garri is sold from N13,000 upwards. Ogbono and egusi maintained their old price but patronage is low. A bag of ogbono is purchased from N80,000 upwards while a bag of egusi is sold from N65,000 and N70,000 upwards; some traders sell a bag of egusi from N55,000 depending on the type and the content of the bag.
"25-litre of palm-oil, fresh and quality ones from neighbouring state cost N12,000 and groundnut-oil cost N13,500 for the refill ones while the branded ones cost N15,500 and N16,000 upwards. Buyers have no choice than to purchase these goods from us and in turn, we are making good sales this period. We make more sales especially from caterers and restaurant owners as other buyers purchase in low quantity despite the Salah celebrations," A food stuff dealer at the market informed.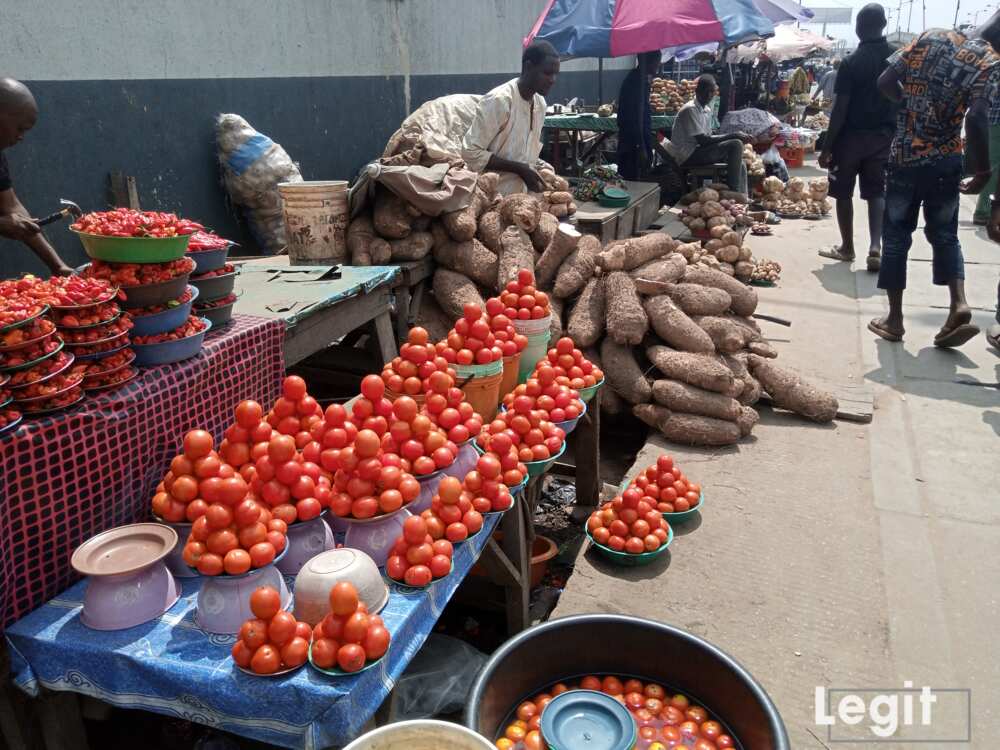 Just few hours ahead of the celebrations, the prices of provisional items soar by three to five percent in markets across the state while perishables becomes relatively low and frozen foods rises further.
A basket of round shaped Benue or Jos tomato is sold from N8,000 upwards as against its old price of N15,000 upwards same with pepper but onion is very expensive as a bag that cost N35,000 before is now sold from N38,000 upwards while a carton of frozen chicken cost N14,000 and that of turkey cost N16,000 and small carton of fresh panla fish cost N7,200 as against its old price of N5,500. The sellers attribute this latest development to the Salah celebrations even as some were satisfied with sales and others lament low patronage.
INTERVIEW: Nigerians in Benin City reveal how to end corruption via Legit TV
Source: Legit.ng